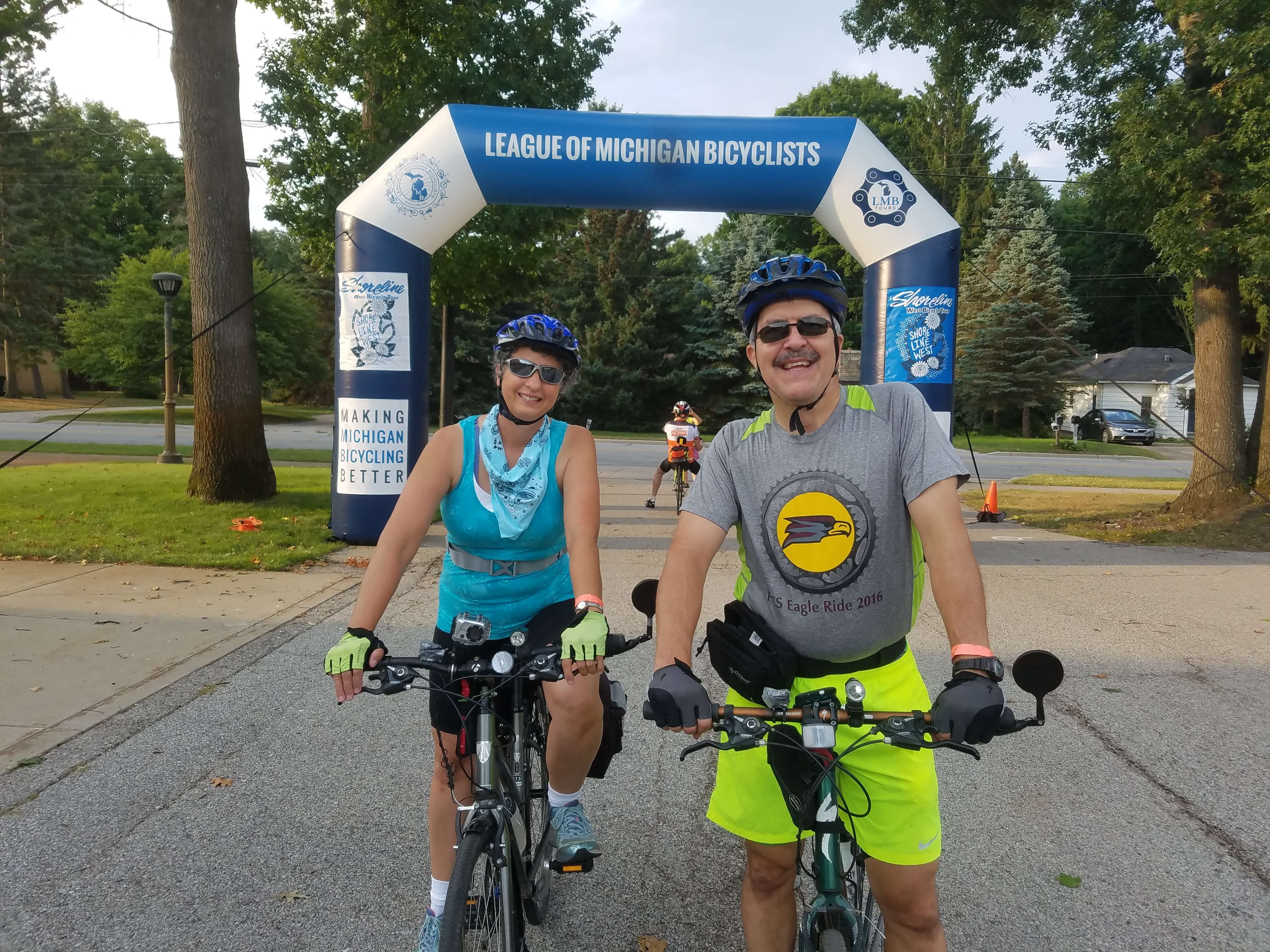 July 5, 2019
Travelogue of a First-Time Shoreline West Rider, by DeEtte Starr
from the Summer 2019 issue of Michigan Bicyclist
My bike odometer read 452 miles at the start of the League of Michigan Bicyclists (LMB) Shoreline West Bicycle Tour. This was visible testimony to my training for the nearly 400-mile, six-day ride. With a complex route along the Lake Michigan shoreline from Montague to Mackinaw City, this was an intense six days of riding with a single mid-week day off in Traverse City. My husband, Alan, and I looked forward to exploring on the beauty of Michigan's Lower Peninsula on two wheels.
I considered myself a novice cyclist, having biked the past four seasons mainly just with Alan. This would be our first multi-day group ride. Having LMB haul our gear, arrange our camping, and provide breakfast, dinner, and SAG stops appealed to us. Meeting friendly fellow cyclists and learning more about the cycling world was a bonus! Bicycle mechanics from D&K Bicycle Repairs of St Johns, MI, traveled with the group, as did a massage therapist, but the best part of the trip was exploring more of Michigan together.
We were a group of 350 riders – with 150 more joining in Traverse City for the final three days. We hailed from 30 states and four countries, ranging in age from an 11-year-old girl riding with her mother to an octogenarian who celebrated his 80th birthday by riding Route 66 from Chicago to California the previous year!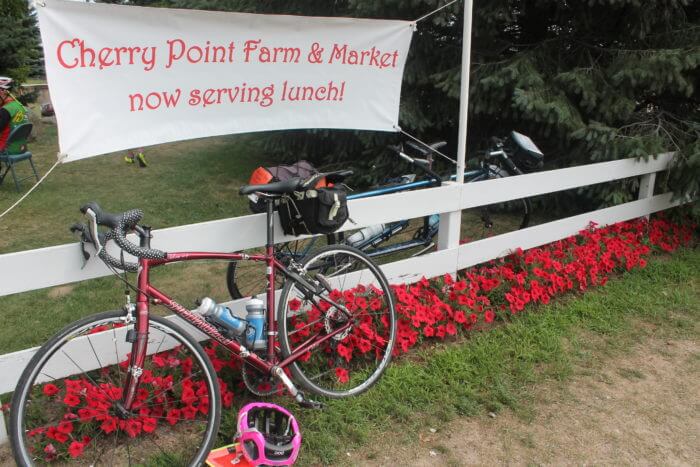 Day 1 – Montague to Ludington, 68 miles – At 27 miles we stopped to enjoy homemade pastries at the Cherry Point Farm & Market, which overlooked rows of cherry trees and lavender. Gliding along toward Silver Lake, we detoured slightly to see the Little Sable Point Lighthouse and take our first look at Lake Michigan. At 40 miles we came to Pentwater, ate a great lunch at Gull Landing, and enjoyed homemade gelato at Fudge & Frosting. We dipped our toes in Lake Michigan at Mears State Park, only to ride to another stunning Lake Michigan view rewarding us on our first night camping at Ludington High School.
Day 2 – Ludington to Frankfort, 65 miles – It began with rain, so we quickly packed up our wet tent and set out. Fortunately, the rain let up at Manistee, where we stopped for photos of its picturesque lighthouse on Lake Michigan. At Portage Lake we picked up scenic M-22 and followed it for the next day-and-a-half. We had a delicious lunch at the Onekama M-22 Grill. They served a delicious gluten-free flatbread Reuben sandwich which I devoured!
That gave me strength that afternoon to face the "Three Sisters": Onekama, Arcadia, and a nameless third hill. I strained my way up hills one and three, but the second one, nicknamed "Watermelon Hill" for the watermelon reward awaiting riders at the top, finally defeated me with its 12% grade. From atop the Arcadia Scenic Outlook the view was breathtaking up and down the coast, and the watermelon was deliciously cold and refreshing.
Upon arrival we treated ourselves with Dairy Crème ice cream and set up our tent near a few other riders in the shade of a little Baptist church.
Day 3 – Frankfort to Traverse City, 65 miles – This was my favorite day. We picked up at Sleeping Bear Heritage Trail and enjoyed winding through dunes and woods. Lunch was at Art's Tavern in cute Glen Arbor.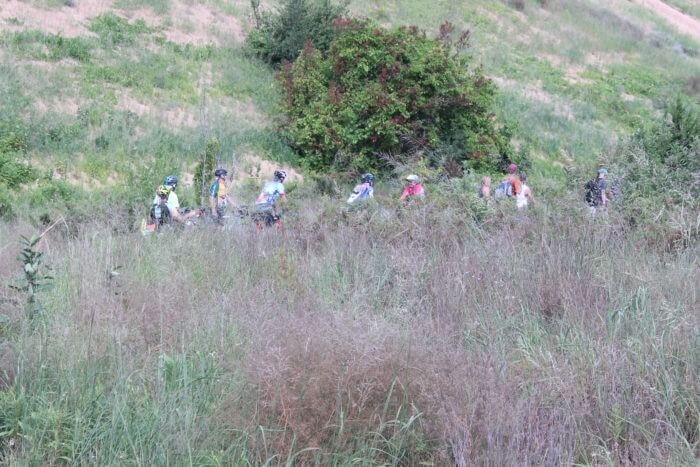 Continuing through Maple City, we encountered the four-mile-long Philosopher's Hill, so named because "there's nothing to do but philosophize" on the way up. I made it up by counting my pedal strokes in French (650 plus). We coasted into Traverse City via the TART Trail along West Traverse Grand Bay.
Day 4 – Traverse City, Layover Day, – There was an optional 40-mile ride up the Old Mission Peninsula that divides East and West Grand Traverse Bay, but we opted to rest, do laundry, and explore. It was nice NOT to ride our bikes for a day. Traverse City offers free buses during the summer, so we walked and rode, window shopped, ate ice cream, swam in beautiful West Traverse Bay, then met friends for dinner.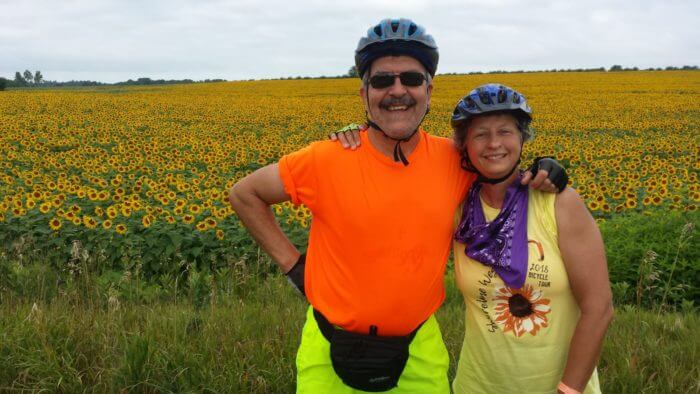 Day 5 – Traverse City to Charlevoix, 72 miles – Stunning fields of glowing yellow sunflowers between Traverse City and Elk Rapids made us smile and eased the pain of our longest day of riding. We cycled west around Torch Lake and along its southern shore to Alden. We made it to Charlevoix High School where the school band started playing as we rode by—a welcome coincidence! This school sits on a ridge at the edge of town, surrounded by peaceful countryside. I went outside in the middle of the night and felt I could touch the sky—black velvet with diamond stars and a clear view of the Milky Way. Definitely worth waking up for!
Day 6 – Charlevoix to Harbor Springs, 49 miles – Leaving Charlevoix, we took the Little Traverse Wheelway toward Petoskey, first riding past four famous houses built on Michigan Beach Park by eccentric architect Earl Young. Their odd mushroom-like architecture and concrete "thatch" roofs were so whimsical that I half-expected hobbits to appear. We rode south and took the short, five-minute Ironton Ferry ride across the south arm of Lake Charlevoix. We stopped for coffee and delicious pastries at Boyne City Bakery, owned by a Frenchman from Brittany.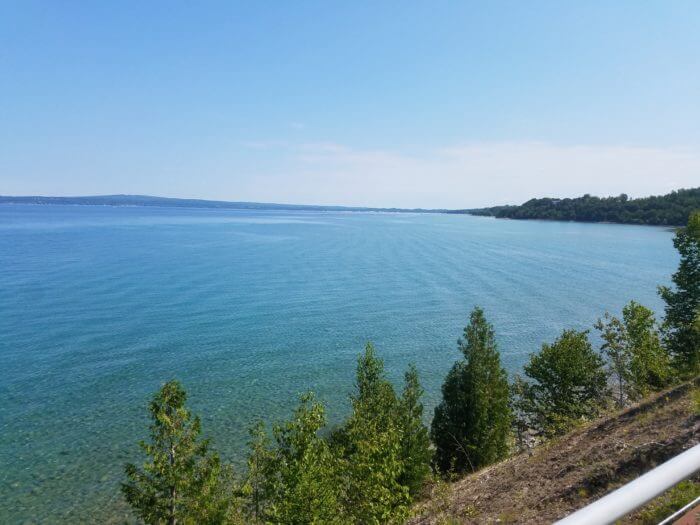 Along Little Traverse Bay to Petoskey we could see through the clear aquamarine water to the rocks below— you'd have thought it was the Caribbean. In Petoskey we caught the tail end of the outdoor farmers market, and ate lunch at Julienne Tomatoes, which was well worth the wait. Leaving town near Petoskey State Park. Alan and I picked up M-119, which rivals M-22 for scenic beauty. Coming into Harbor Springs, we opted to ride along Beach Drive to see the Wequetonsing Resort Homes, a historic area of 1880s-era Victorian summer houses along the water. After setting up our tent at Harbor Springs Middle School, we swam at the City Beach, had dinner, then strolled back down a long wooden staircase to enjoy downtown that evening. It was our last night to camp, and the next day would be our final day to ride.
Day 7 – Harbor Springs to Mackinaw City, 44 miles – On this spectacular day we rode M-119 all the way. About four miles out of Harbor Springs, we entered the "Tunnel of Trees," which stretches for 20 miles to Cross Village. About halfway through, we came upon the Trillium Woods Vintage Boutique, a little log cabin in the woods that sells piping hot lattes and antiques. Continuing on to Cross Village we spotted a huge white cross, raised to commemorate Père Jacques Marquette, the French Jesuit missionary. Riding along Sturgeon Bay for most of the remaining 20-25 miles, we were treated to more marvelous tropical blues of Lake Michigan. We turned inland as Sturgeon Bay curved north and stopped for a last ice cream reward at the Cecil Bay Trading Post. Tasty enough to make just about anyone forgive Michigan roads for a day. With a final push we entered Mackinaw City, rode two blocks to the beach, and triumphantly leapt into Lake Michigan in our biking clothes to celebrate. We had successfully finished the ride!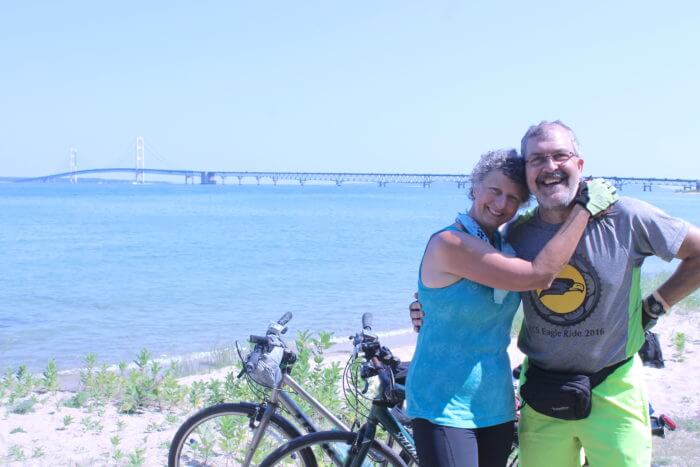 After a drink and a shower at Mackinaw City High School, the bicycle mechanics helped us deconstruct our bikes and load them into the trucks that formerly carried our bags. We then boarded buses for the return to Montague, said goodbye to new friends, and were whisked back in five hours over the roads we'd sweated along for six days.
My odometer now read 818, so the total was 366 miles in six days of unforgettable riding along the western shore of Michigan's Lower Peninsula. The week was over, yet the memories remain, so next year we hope to do it again—and introduce some friends to the spectacular Shoreline West Bicycle Tour.
As I remembered a fellow biker's t-shirt slogan, I thought this week truly was "Freedom on wheels!"
Learn more or register for Shoreline West (Aug. 3-10, 2019) at LMB.org/west
All photos © 2018, DeEtte Starr. Used with permission.
About the Author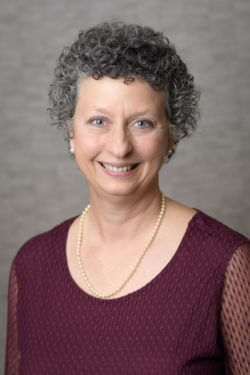 DeEtte rode many happy years on a 1973 Schwinn 10-speed, then won a new Trek hybrid five years ago for her participation in Indiana's Wabash Valley River Ride. She happily bikes with husband Alan when it's not winter. In her non-biking life, she's a Communications Specialist at the Purdue University School of Industrial Engineering. She writes news and features articles for web and print, takes photographs, creates videos, and maintains the website and five social media channels. She has three grown children, one daughter-in-law, and one daughter-in-law-to-be. This year she also plans to swim the one-mile Chesapeake Challenge in the Chesapeake Bay, Maryland.
Categorised in: Tales from the Road