The League of Michigan Bicyclists is expanding access to bicycling through our two granting programs, Better Bicycling Grants and Trailblazing Grants. These programs provide funds to bike shops, mountain bike associations, municipalities, community groups, and other nonprofits that are improving the lives of Michiganders through bicycling.
Better Bicycling Grants (formerly Micro Grants) will fund projects related to bicycle safety (on the road or on rail trails), programs that increase ridership (especially among youth, women, and underserved communities), on-the-ground advocacy efforts that stimulate community action or local policy change, and any innovative projects that demonstrate creativity and that serve as a model for other bicycle advocates and communities across Michigan.
Trailblazing Grants are intended to improve natural surface trails and projects related to mountain biking in Michigan. This grant program will launch in January 2024, so if you have a project in mind, check back here (or follow us on social media) for more information.
How are LMBs grants funded?
The main funding sources of both LMB grants is membership dues, tour registrations, and individual donations. These grants are made possible by people like you who care about bicycling in Michigan!
How can you help? Keep your membership active and donate directly to the grant program that means the most to you (click here). We're actively seeking sponsors committed to funding either grant program at $5,000 – 25,000 per year. A sponsorship at that level will have a direct impact on bicycling in Michigan, and we'll prominently feature the sponsor's name and logo on future marketing materials, LMB's website, member communications, and at award ceremonies. We'll also feature grant sponsors in promotions of our bicycling tour program. Since our tours attract riders from across the country, this offers sponsors a unique opportunity to reach a national audience.
Have a project you'd like to talk to us about? Unsure which grant to apply for? Want to make sure you qualify? Direct any questions to Development and Membership Director Nicky Bates at [email protected].
2022 Recipients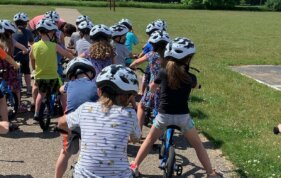 Congrats to our 2022 Micro-Grant recipients!
The League of Michigan Bicyclists is expanding access to bicycling through our two granting programs,...
Read More