What Every Michigan Bicyclist Must Know
This handy booklet is designed for bicyclists and is an excellent resource for anyone riding a bicycle in Michigan. Law Enforcement agencies and other organizations can request free copies for distribution. It is designed to help you safely and enjoyably share the public roads and trails of Michigan with other users. Although this publication includes information about many Michigan traffic laws, it is not meant to be a legal document or a substitute for the Michigan Vehicle Code. Remember that you are ultimately responsible for your own safety. Keep yourself and your bicycle in good condition and ride within your own limits.
What Every Michigan Bicyclist Must Know has been translated into Spanish and Arabic and is now available for purchase and download.
Version 4.0, updated 2019
Download English PDF Booklet (6.5 MB)
Download Spanish PDF Booklet (7.7 MB)
Download Arabic PDF Booklet (7.9 MB)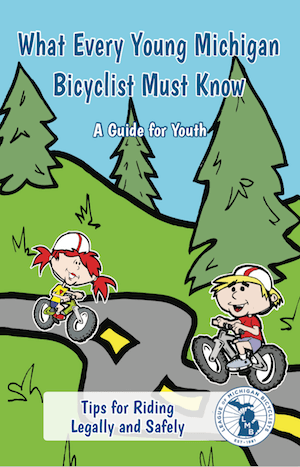 What Every Young Michigan Bicyclist Must Know
This companion piece to our adult publication, What Every Michigan Bicyclist Must Know, was created to help young bicyclists understand how to ride their bicycles legally and safely in Michigan.
The publication is filled with colorful illustrations by Michigan artist Ray Templin. The playful art is coupled with simple text developed by League staff and members to help make it fun and easy for children to learn about bicycle safety. This valuable resource was made possible solely through the generosity of LMB donors; we once again thank all of the individuals across the state that donated to make this project possible.
Version 1.7, updated 2019
Ordering Booklets
If you'd like print copies of these publications for yourself or your event, you can stop by our office and get up to 25 copies for free. Larger orders and shipping are also available.