The Bicycle Friendly Driver program is a 1 hour interactive class, aimed at educating drivers on the best and safest ways to share the road with people on bicycles. This class is currently in the process of being formatted as an online self-paced course.
Why sharing the road is the safest alternative for both motorists and bicyclists
What's legal and not legal, for both motorists and bicyclists
Common crashes and how to avoid them
Why bicyclists "take the lane" and what motorists should do in response
How to navigate bicycle related infrastructure such as: sharrows, bike boxes, and green lanes.
Sessions
Check back periodically for updated session availability.
Completion
Upon successful completion of the class, participants will receive a Bicycle Friendly Driver certificate and sticker which can be displayed on their vehicle.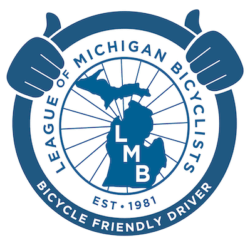 Business Sessions
You can request a Bicycle Friendly Driver Class at your business or organization by email at [email protected] or by calling the LMB at 517-334-9100.