Overview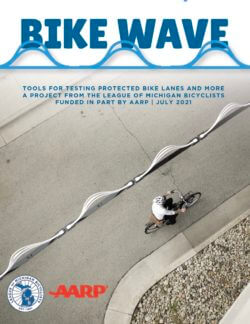 Bicycling makes life better. For too many people, though, the available bicycle infrastructure on Michigan roads is not sufficient to let them travel safely and comfortably to their desired destinations for work, school, shopping, or play. About half of the people interested in bicycling are "interested but concerned" about the safety of bicycling on roads; they prefer separated bike lanes or shared use paths over painted bike lanes or paved shoulders.
For Michigan communities, adding separated bike lanes to existing roads can be difficult. Best practices for design of protected lanes and intersections are not widely known. Deployment of protected lanes, even for a brief pilot, benefits from specialized materials. Decisions about long-term infrastructure often rest on long-term data gathering and extensive community engagement.
Bike Wave, a project from the League of Michigan Bicyclists (LMB) with support from AARP, aims to address these challenges. In summer 2021, LMB received an AARP Community Challenge grant to create a lending library of demonstration tools for communities to test protected bike lanes and curb extensions. Communities can apply to conduct pop-up demonstration projects in 2021 and 2022. Selected communities will receive Saris Wave Delineator separators for protected bike lanes, bike counters, and curb extender cones to use to pilot active transportation infrastructure improvements.
Participants
Participating communities will be listed here as they are selected.
How to Apply
Communities interested in participating can apply online at LMB.org/getbikewave.
Inspiration and Resources
The following resources may prove useful for communities to design their pilot project, deploy it successfully, and then decide whether to make it permanent. 
DESIGN
DEPLOY
DECIDE