Through our education programs, LMB works to develop safe behaviors and skills to reduce crashes, and shift public opinion to value the benefits of bicycling for all, including those who do not ride a bicycle.
Our vision is to give everyone who uses Michigan roads, trails, and paths the information they need to be safe, confident, and accountable. People in Michigan will respect bicyclists' right to use the road and embrace the positive effects of bicycling for healthy riders, clean air and prosperous communities.
---
Law Enforcement Education
With support from the Office of Highway Safety Planning, the League of Michigan Bicyclists is hosting training designed to teach safe bicycling practices. Although portions of the training are geared towards law enforcement, all interested members of the community are invited to attend.
In class, we'll cover these topics:
The latest statistics on bicycle/motorist crashes as well as information on how these crashes can be prevented.
The Michigan Compiled Laws relating to motorist, pedestrian, and bicycle traffic on Michigan's roadways and sidewalks.
Best practices for community education and enforcement of these laws.
Engineering remedies that, in addition to law enforcement and education, help to make the road safer for bicycle traffic to coexist with motorized traffic.
---
Community Education- LMB Safe Cycling               
During the LMB's Safe Cycling Course, we will cover the importance of visibility and predictability, lane positioning, intersection safety, how to communicate with all modes of traffic, and Michigan Motor Vehicle Laws.
After covering these topics, you will gain confidence and feel more secure when riding on the road by:
Understanding Michigan traffic laws as they pertain to bicyclists.
Learning skills which allow you to safely share the road with motor vehicles.
Acquiring new skills to communicate with all modes of traffic.
Understanding ways to be seen on the roadway with lights, reflective gear, lane placement, and more!
---
What Every Michigan Bicyclist Must Know
These handy booklets – available in both youth and adult versions – are an excellent resource for anyone riding a bicycle in Michigan. Organizations can request copies for distribution. It is designed to help you safely and enjoyably share the public roads and trails of Michigan with other users.
---
Bicycle Friendly Driver
The Bicycle Friendly Driver program is a 1 1/2 hour interactive class, aimed at educating drivers on the best and safest ways to share the road with people on bicycles.
---
Videos
These videos are intended to be used as a resource for the cycling and motorist community. Our goal is to empower cyclists and drivers to use the roadway in a safe way to reduce crashes and create a safer experience for all users. Feel free to share these videos within your community. These videos will help define the laws of the road, give cyclists the confidence to take the lane, and encourage safety.
---
Cycling Education
The League of Michigan Bicyclists uses the League of American Bicyclists' nationally accredited bike education program, Smart Cycling. Courses and curricula are taught by certified League Cycling Instructors (LCI).
LCIs have a great deal of flexibility in how they teach Smart Cycling. Obviously, kids will not ride exactly the same way adults do. Some people only want to know a few of the basics before throwing a leg over their bike. Others want to become really confident cyclists. Whether it's a lunch-and-learn at your office or a 9-hour Smart Cycling certification class, League of Michigan Bicyclists and Michigan's LCIs have bike education that fits your needs. Contact us if you are interested in having a class in your area.
---
Find an Instructor
League Cycling Instructors (LCIs) are ambassadors for better biking through education. After earning certification through a 3-day, League Coach-led seminar, LCIs teach Smart Cycling classes to children as well as adults. Their goal is to help people feel more secure about getting on a bike, to create a mindset that bikes are treated as a vehicle, and to ensure that people on bikes know how to ride safely and legally.
Use our regional directory to find an LCI in your area.
---
Smart Cycling
Smart Cycling is the name of the League of American Bicyclists' bike education program. The Smart Cycling curriculum teaches bicyclists to ride their bikes like vehicles and promote a set of rules and concepts that help bicyclists ride more effectively and safely as they gain experience and build confidence.
---
Bike Safety in Driver Education
The League of Michigan Bicyclists has partnered with Michigan Driver Education Associates to provide educational material to driver's education instructors.
If you are interested in learning more, please contact Mi-DEA.org or [email protected].
---
Bike Safety Quiz
How well do you know the rules of the road? Test your knowledge with this brief 15-minute quiz, with versions for people who drive and for people who ride bikes. At the end, you'll have a chance to re-try any questions you got wrong, so don't stress and take your best guess!
Please note: you must complete the quiz in a single session. If you leave and come back, it won't save your progress.
---
Questions? Contact Jeff!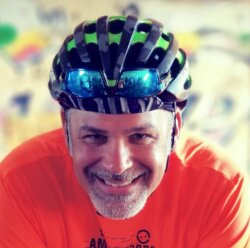 Jeffrey Carek is the Education Director for the League of Michigan Bicyclists.  Jeff retired from the Washtenaw County Sheriff's Office in 2016.  Following his retirement, he served as the Assistant Director for Public Service Training at Washtenaw Community College.  Most recently Jeff worked for MILO Cognitive as the Training Content Specialist.  He is an avid cyclist who embraces every aspect of the sport.  Along with riding he enjoys van life and anything outdoors with his wife, Wendy, and their three dogs.