December 1, 2021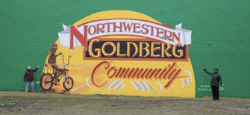 The 15th Street Block Club in Detroit applied for a Micro-Grant to build a bike repair station and bike racks in a run down park in their neighborhood. They hoped that installing these would encourage the neighborhood to use the park more and that the city of Detroit would respond by supporting their efforts to clean up the park.
Thanks to their hard work and a Micro-Grant from LMB, that's exactly what happened. Shortly after the bike repair station and the bike racks were installed, the city provided the funds for them to paint a mural and add benches and a path in the park. The addition of the bike repair station and bike racks has also caught the interest of a local news source, ModelD:
"Over the decades, it fell into disrepair, and the city eventually removed the playground equipment. The 15th Street Block Club adopted the park in 2011 to help restore it to its past glory. Last year, the block club obtained a grant from the League of Michigan Bicyclists to install bike racks and a bike repair station. The city installed the new bike benches, and a path running through the park. The city also arranged for the new mural.
The 15th Street Block Club cares for the park year-round. It also participates in community events, including programming for children like the neighborhood trunk or treat. Seay and Evans want the neighborhood to be welcoming to children and eventually want to see playground equipment installed in Crockett Park again.
"We wanted to put something in this neighborhood that's accessible to the children that live here," Evans says.
Evans, who was born in the neighborhood, moved back 5 years ago and appreciates the sense of community in the neighborhood. She says, "We don't always agree on everything, but an awful lot of times, when something's going on, you get a lot of people to chip in. And that's kind of gratifying."
You can read the rest of the article here:
https://www.modeldmedia.com/features/parks-nw-goldberg-032420.aspx
Categorised in: Micro-Grants