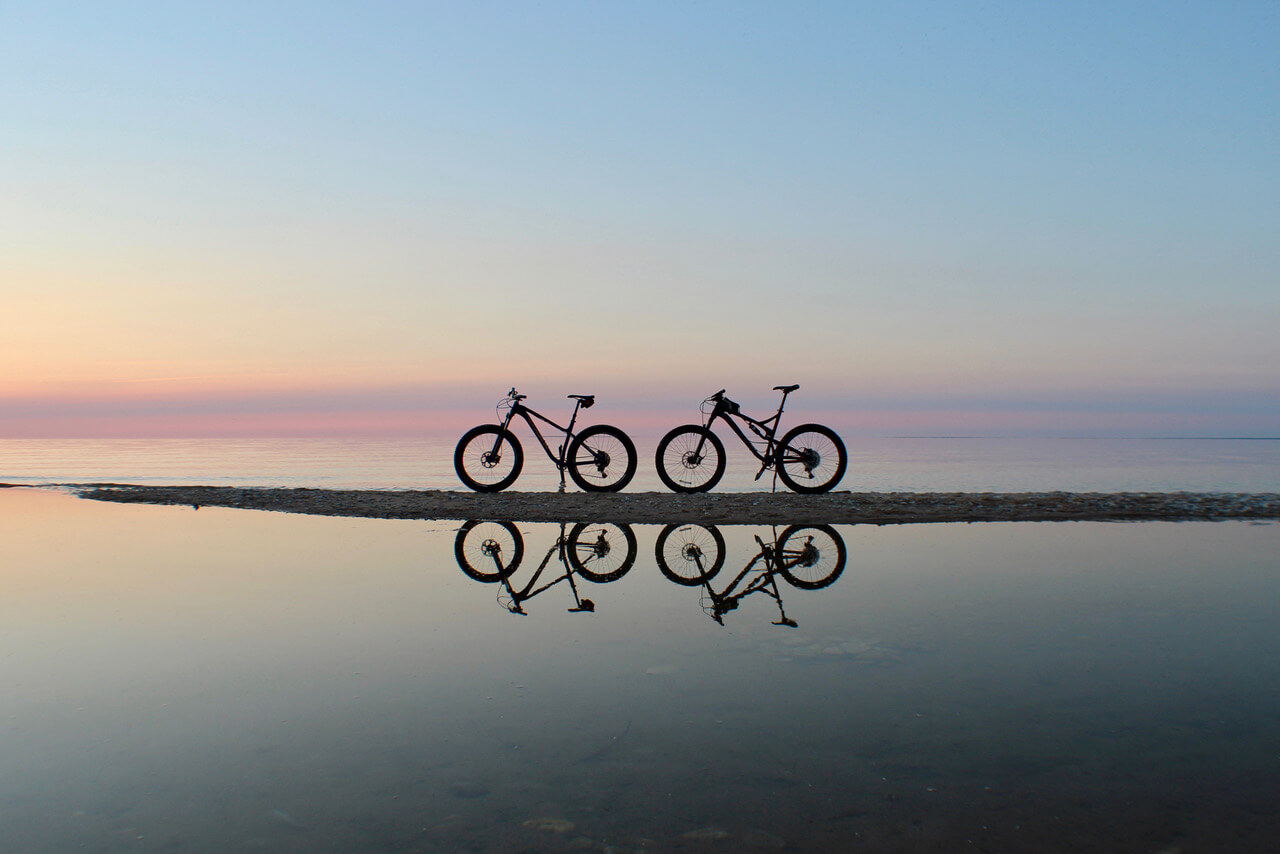 February 14, 2022
Photo: Barret Kaltz, submitted to the 2021 LMB Photo Contest
One of my favorite parts of our usual route for the Shoreline West bike tour is the south shore of Little Traverse Bay. The trail winds high along the bluffs, with a broad view out over the water of sailboats scattered across the bay, a gentle murmur of waves far below and a crisp breeze blowing off the lake. I looked forward to riding it again.
But in 2020, with record-high water levels on Lake Michigan, the bluff under the Little Traverse Wheelway eroded and a section of the pathway collapsed. Unless it can be rebuilt, which looks unlikely at this point, bicyclists will be re-routed and face fast-moving traffic on U.S. 31.
---
Shoreline erosion and severe storms are becoming more common. Last year, NOAA tracked 20 severe weather events that caused more than a billion dollars worth of damage, which "marks the seventh consecutive year (2015-21) in which 10 or more separate billion-dollar disaster events have impacted the U.S. The 1980–2021 annual average is 7.4 events."
These changes threaten our future ability to enjoy Michigan's beauty on the back of a bicycle. We have to act.
---
In September 2020, the state of Michigan announced a goal to become carbon-neutral by 2050, and cut greenhouse gas emissions by 28 percent by 2025 along the way. Toward that goal, the Department of Environment, Great Lakes, and Energy (EGLE) is developing the MI Healthy Climate Plan. The draft plan was released Jan. 14, and is currently open for public comment until March 14, 2022.
The draft plan is pretty good. But it could be better. It needs stronger, more concrete commitments to clean transportation, with safer infrastructure for people who bike and walk. That's where you come in. You can add your voice on behalf of beautiful bike rides for years and decades to come.
---
Take action this month
We've made it easy for you to send in comments on strengthening the MI Healthy Climate Plan for people who bike. Take a look at the template letter, add your own story, and send it by March 14 to have an impact on the draft Plan. If you prefer to give feedback verbally, you can attend the listening session on the evening of Feb. 14.
We're asking for two additions to the plan:
1) To reduce transportation climate emissions to the level needed, we must reduce the amount Michiganders drive. The plan should require transportation agencies to include greenhouse gas emissions in their decision making and urgently provide Michiganders with more transportation options by ensuring safe places to bike and walk, committing to a zero deaths vision and a Safe System approach, and funding major expansion of public transit.
2) We must also make it easier for people of all income levels to choose affordable and efficient forms of transportation. The plan should balance rebates and incentives for electric cars and trucks by including incentives for the purchase of electric bicycles, especially for lower-income households.
Solving big problems will take all of us. You can help bring people together for action, by talking to your friends and family about the climate, what it means to you, and what you hope to see for a better future. Need a conversation starter? Tell them about the email you just got from LMB. Share this message and invite them to take action, too. And ask if they'd like to join you sometime for a bike ride.
Hope to see you soon,
Matt Penniman
Communications and Advocacy Director
League of Michigan Bicyclists
Further reading: ten ways to confront the climate crisis without losing hope, the climate platform for Don't Look Up, how much energy it takes to move one person one kilometer.
Categorised in: Uncategorized