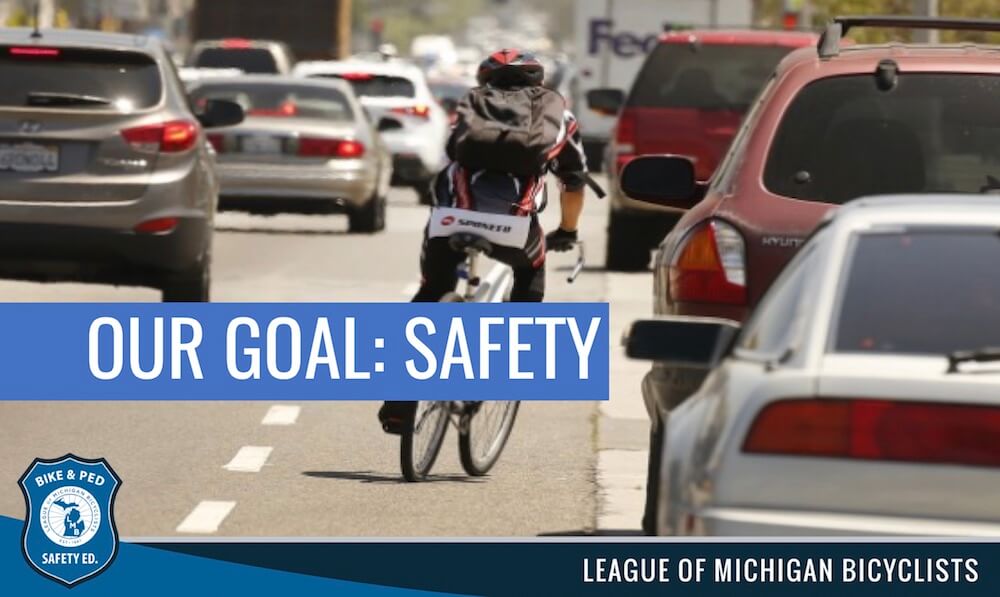 December 2, 2021
The League of Michigan Bicyclists (LMB) seeks a passionate bicyclist to serve as Education Director. This full-time position oversees LMB's education programming to coordinate bicycle safety and promotion efforts, including the management of an ongoing traffic safety grant from the Office of Highway Safety Planning (OHSP). LMB is located along the scenic River Trail in Lansing. Remote/hybrid working opportunities are available.
PRINCIPAL DUTIES AND RESPONSIBILITIES
Manage existing traffic safety grant from OHSP, including hosting in person and online trainings for bicyclists, pedestrians, law enforcement, motorists, and drivers education instructors, with the goal of reducing bicycle and pedestrian crashes and fatalities
Compile quarterly grant reports to measure and track program impact, metrics, and performance
Draft and submit annual OHSP grant renewal requests
Seek and apply for additional grant and sponsorship opportunities
Research, develop, plan, promote, deliver, and evaluate a wide range of educational offerings, including the League of American Bicyclists' (LAB) Smart Cycling Program (training provided)
Coordinate a network of certified League Cycling Instructors (LCI) to serve as ambassadors for better biking, providing engaging education opportunities for various ages and demographics
Recruit and manage a small team of volunteer/contract co-presenters for various trainings
Organize LMB mountain biking clinics and recruit lead trainers (mountain biking skills not required)
Manage the distribution of bicycle safety literature to partner organizations and groups
Serve as education ambassador on LMB bicycle tours and represent LMB at outside events and conferences as needed
Support other LMB activities including Bike it! Commuter Challenge and National Bike Month
Assist program applicants for LAB's Bicycle Friendly America program as needed
Foster strategic partnerships with allies such as Safe Routes to School, Specialized Foundation,
Brain Injury Prevention Association of Michigan, Michigan Driver & Traffic Safety Education Association, state agencies, local bicycle clubs and shops, and others
Regularly contribute content for LMB's Michigan Bicyclist Magazine, website, and social media
Serve as staff liaison to LMB's Education Committee
Participate in LMB fundraising efforts to sustain and grow this position
Other related organizational responsibilities as assigned

DESIRED QUALIFICATIONS
Previous experience as educator/trainer at a nonprofit, school, or business
Previous experience with grant writing, reporting, and management
Meticulous time management and tracking
Experience managing project budgets
Existing LCI certification or interest in obtaining certification (training available)
Mountain biking skills a plus (but not required)
Excellent written, interpersonal, and verbal communication skills, including public speaking
Strong bike handling skills with an understanding of traffic safety and group riding etiquette
Experience overseeing volunteers and project management
Strong working knowledge of MS Office including PowerPoint, G Suite, and video conferencing
Graphic design, email marketing, and database management experience a plus (training provided)
Professional demeanor, sense of humor, and a strong ability to collaborate
Self-motivated and self-directed, seeking guidance when appropriate
REQUIREMENTS
Ability to ride a bicycle and be comfortable riding in various settings
Flexibility to work non-standard hours for some evening and weekend events, including LMB tours
Available for occasional in-state travel (valid license, clean record, and proof of insurance required)
Social sensitivity skills and demonstrated ability to work with diverse populations
COMPENSATION
$40,000 – $60,000 commensurate with experience and qualifications. Benefits include paid time off, health coverage, employer-matched retirement plan, flexible work environment, and opportunities for bonuses.
SUPERVISION
The Education Director will report directly to the Executive Director and will coordinate regularly with LMB's grant manager at OHSP.
APPLICATION
Please email cover letter and resume as a single document to John Lindenmayer, Executive Director: [email protected]. Name your file as "FirstName_LastName.pdf" and send with subject line "Education Director". LMB will begin reviewing applications on December 15, 2021 but the position will remain open until filled.
ABOUT LEAGUE OF MICHIGAN BICYCLISTS
Founded in 1981 to lead Michigan's bicycle movement, LMB is a growing statewide 501(c)(3) nonprofit organization consisting of bicycle shops, clubs, events, organizations, and individual bicyclists united around making Michigan bicycling better. With our members and partners, LMB works to improve lives through bicycling. For more information visit www.LMB.org.
LMB is an equal opportunity employer, committed to creating a diverse and inclusive staff and workplace. All qualified applicants will receive consideration for employment without regard to race, color, age, religion, gender, gender identity or expression, sexual orientation, pregnancy, political ideology, marital status, national origin, ethnicity, genetics, disability, veteran status, and all the other fascinating characteristics that make us different. We strongly encourage applications from people who have historically been under-represented in the bicycle industry, advocacy, and nonprofit work.
LMB is a COVID safe work environment doing everything we can to keep our team safe. LMB staff remain primarily remote at this time. Interviews for this position will be conducted via Zoom.
LMB is an at-will employer. This is a full-time exempt position. The above position description describes the position currently available and is not intended to be an employment contract. LMB reserves the right to modify the duties or position description at any time.
Categorised in: Jobs