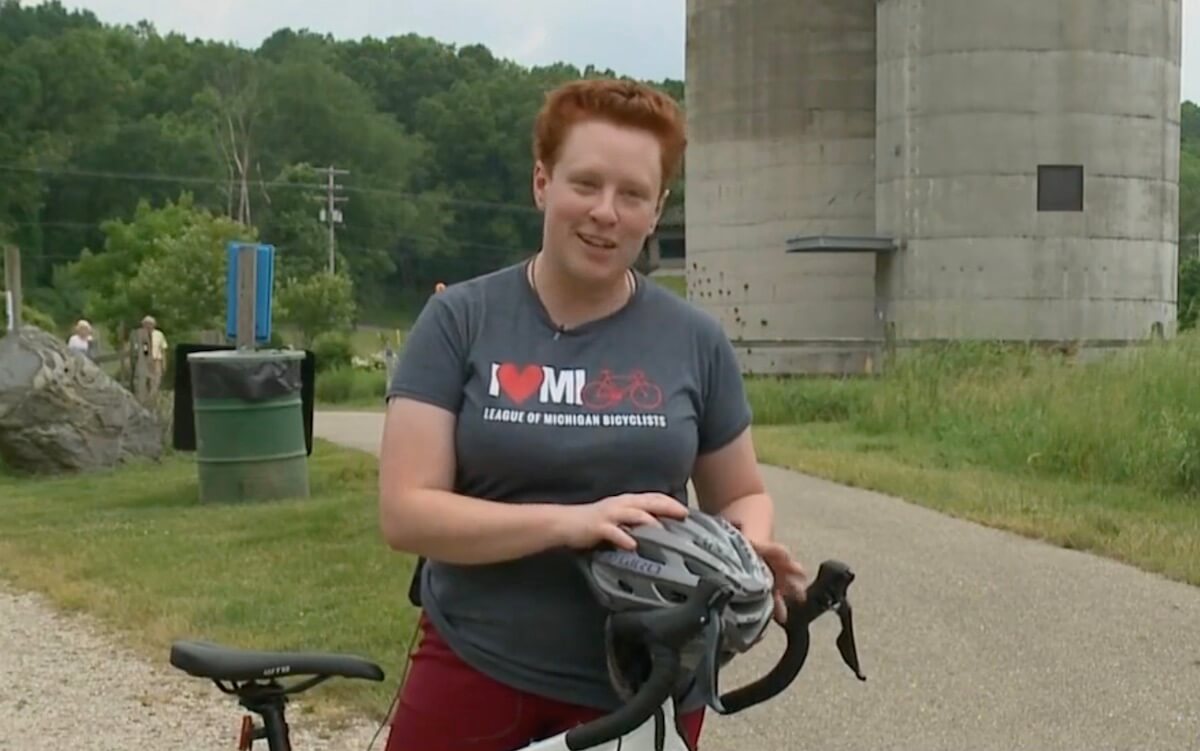 June 30, 2020
This year, LMB is partnering with the Brain Injury Association of Michigan and their Think aHEAD campaign to remind you: Wear a helmet. Save your brain.
"If you'll do anything to protect important devices like a smartphone and tablet, why wouldn't you do the same for your most valuable possession: your brain?"
Recently our Education Coordinator, Erin Sloan-Turner, met up with Fox17 out of West Michigan to share safety tips and talk about our fun new virtual events.
Erin would like to remind everyone of a few tips that include:
The two finger rule for a helmet – Two fingers from eyebrows to the helmet, and no more than two fingers space in your chin strap

Ride with lights for visibility

Check your brakes to ensure a safe ride

Don't forget to air up your tires
… and share your bike joy
Our summer-long virtual tour invites you to get out and ride as often as possible while raising funds for LMB and supporting the "Think aHEAD" campaign of the Brain Injury Association of Michigan. This is a chance for you to help make Michigan bicycling better.
Five ways to participate:
1. Register to take part in United States of Bikes!
2. Ride your bike! Bicycling has enjoyed a resurgence and this is a great time to get out and ride – keeping safe distancing in mind, of course.
3. Share your bike-joy! Post those helmet-wearing photos on Instagram, Facebook, or Twitter with #USofBikes. Bike joy can be commuting, running a bike errand, taking an epic ride, going on a family outing, doing community service, or a pic of your favorite LMB t-shirt out in the world! At the end of the summer, we'll give away a $50 gift card to American Cycle & Fitness to one randomly-chosen photo submitter!
4. Set a Ride Smart, Ride Safe example. With all the bikes being dusted off and heading outdoors, this is a great time to model for drivers and riders proper hand signals, sharing the road and using a helmet! Don't forget to post those helmet wearing photos as a way to support and promote "Think aHEAD" and LMB! Not a social media person? You can also send your photo to [email protected] if you prefer.
5. Join our community by becoming a member, donating, and following our Facebook, Instagram, and Twitter pages.
Remember to be a good role model and wear a helmet when you ride your bike. For more information on our new virtual events go here.
Categorised in: Uncategorized