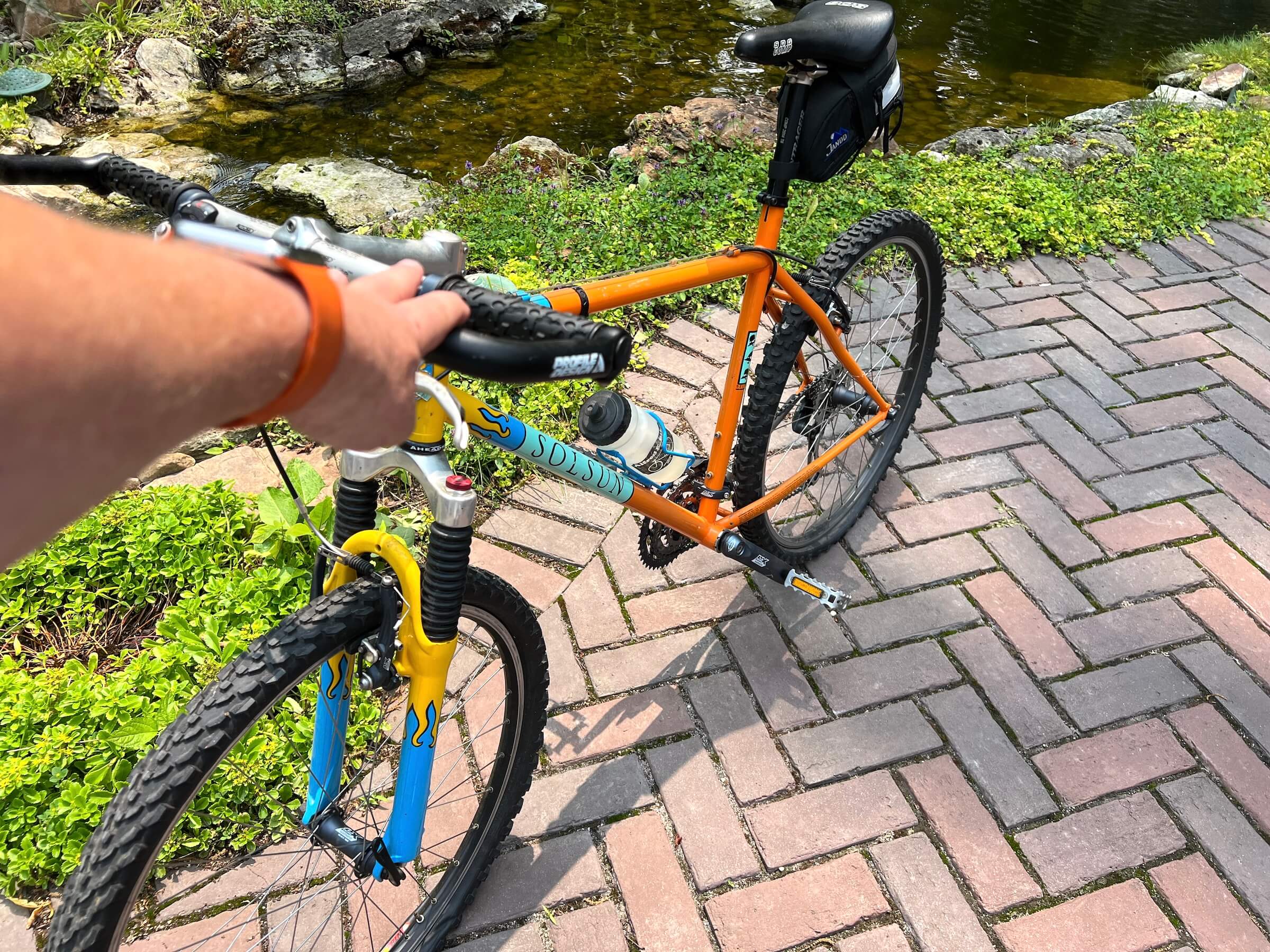 October 31, 2023
LMB was grateful to sit down for a Zoom interview with Larry Bell, founder of Bell's Brewery, for a chat about his origin story: the bike trip that first brought him to Kalamazoo and the brewery that made history. Larry sold the company at the end of 2021 and is no longer involved with operations, but offered a wealth of insight into the early days of cubitainers and cream stouts. The following interview has been edited for length and clarity.
BICYCLING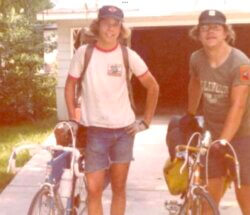 Tell us about how it all started for you. What was your first bike ride in Michigan?
When I was 15, it was October of '73 and I was up north with my mom and dad. We were driving home on a Sunday from the U.P. back to Chicago through Wisconsin, and I saw a guy on the road with bike panniers. I'd never seen anything like this before. This is so stupid cool, right? Wow, you could get on a bike and have everything with you and just go do it. This fermented in my head for a little bit and I started putting together a plan and writing some letters.
I called my best friend who was a year older than me. In the summer of '74, we were both going to be 16. I said, "This is the last summer that we're going to have [where] we don't have to work or be doing something. We still get a free pass this summer. I've got this plan for us to go on a bike trip. We're going to bicycle around Lake Michigan and go away for a month." I talked him into it, and eventually our parents agreed to let us go.
We each had $140. We left on July 7th. We rode to Warren Dunes and then the next day up to Holland. Right away we realized that being on US 31 was way too much traffic for us. So two nights in, we call the parents and say, "We're changing the route. We're heading to White Cloud." And a little bit after that, we said, instead of calling every day, we're going to call every other day. I mean, what were they going to do?
We would get up at four and hit the road at five to avoid traffic. We learned to drink coffee on the trip. Neither of us had ever drank coffee before. So by eight o'clock you could have 40 miles in, cruising along. We could get cruising at 13 miles an hour, a good pace. We'd stop and usually by noon we could have our biking portion of the day done.
In four days' time, we went from Park Forest, Illinois to Interlochen. We took in a show, saw the play Bus Stop. Then we're riding farther north. I remember the last four miles, riding on the shoulder of I-75 coming up to the bridge. There's nothing at that point that said, "no bicycles." We're like, "Oh my God, this is so cool. We're going to ride across the Mackinac Bridge! Wow."
And just as we get up there, there's some guy. "You two! No." It was almost as cool. They threw us and our bikes in the back of a pickup truck, charged us a dollar each, and drove us across the bridge.
Then we rode over, wound up in Gulliver, where my family house was, then up to Houghton and we converted our bike gear to backpack gear and went to Isle Royale for five days and hiked there.
This is 1974, we met some hippie guy named Mike who taught us about granola and every outhouse had written in it "Frodo lives." It was quite a time. We rode down across the U.P. to Green Bay and stayed with my friend's aunt for a night. We were watching the Watergate hearings there. We rode back through Wisconsin to Illinois and after 31 days we had done 1,400 miles and made it home. Just an amazing, amazing trip. Everything really went quite well for us on that trip.
The next year we were both working. Now you gotta work, you gotta get money for college and all that. We decided, "Let's do a bike trip for five days." Leave Park Forest, go back to Warren Dunes and then we'll ride up to Yankee Springs and on this trip, everything went wrong. There were equipment failures on both bikes, brakes that were going out, bad things happened. Around Hartford we got caught in a hailstorm. It was bad, bad weather and we got beat up by hail. We were so far behind, there was no way that we could make it to Yankee Springs. It's just not
gonna happen. What are we gonna do? We'll ride into Kalamazoo and see what our options are.
We called Western Michigan. They said, "We don't rent rooms. There's Kalamazoo College."
And [Kalamazoo College] said, "Come over and say hello." So we go over.
My friend was president of the debate team. I said, "You're the talker, you go in and talk to him," and he's in there forever.
He finally comes out and says, "I got a room."
I said, "That's great. What took so long?"
"Well, in order to do it, I told him that you were interested in the college and I gave up all your information." And we wound up our five day trip there, and then Kalamazoo College came and recruited me, and that's how I wound up coming to Kalamazoo.
But, you know, I had this big experience and then, when Jason [Aric Jones] and John Myers all came to me about the bike team, that just seemed like a great idea to me. Bells never really connected with road bikers so much. But the mountain bike team came along and Bells was getting big enough to do this sort of thing. And, wow, that was a great relationship. And besides New Belgium out west and Sierra Nevada, I think Bell's was probably the first one in our part of the country to be sponsoring a bike team. As time went on, you saw a lot of craft breweries getting involved once they discovered just how much stinking beer mountain bikers can drink.
Everybody wanted to be involved. We had a team and they were good. They were on the podium a lot. They got us a lot of exposure. Then we got to develop jerseys and doing a new Oberon Jersey every year became a hot commodity.
I think we were sponsors of the bike team for ten years. Eventually they were going different ways and it petered out. And we, Bells, went a different way in just sponsoring a couple of big rides in Michigan, between Iceman and Copper Country on Labor Day up in Copper Harbor.
When they first came to me, I didn't really understand. But in hindsight, boy, what a great investment that all turned out to be to connect with that community. And I think there's a lot of folks in that community that care about the environment and what's out there, which was also a focus for both me and Bells. Things fit together pretty good as far as your corporate identity and culture goes.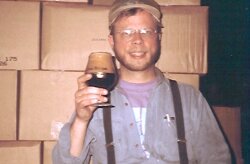 Can you tell us a little about your environmental work?
My freshman year of high school, I joined the Sierra Club. If you're in the brewing business, water is your main ingredient. You have to care about water quality, right? And you have to care about wastewater.
What really kicked it into high gear for me was the Enbridge oil spill, the Line 6 oil spill in the Kalamazoo River. Enbridge tried to secretly build a remediation pad right next door to the brewery, out in Comstock without getting permits or anything. We outed them to the township.
I wound up having to sue Enbridge and won. They had to move their operations, but I got to know Enbridge up close and personal, and I didn't really like what I saw. Then everybody in the state woke up to Line 5 that runs under the straits.
We formed a group called the Great Lakes Business Network that was put together as a group of progressive businesses, whose businesses relied upon clean water, who were anti-Line 5. Through that, I've tried to lead efforts in raising awareness about what's happening with the pipeline. I've been part of events in Lansing, on Mackinac Island, working with politicians. That battle continues to move on.
BREWING
I'd love to rewind for a minute. We jumped from Kalamazoo College to sponsoring the mountain bike team. Would you mind sharing the origin story of the brewery itself and how that came about?
When I left Kalamazoo College, I got a job at a small startup called Sarkozy Bakery. I was their first full time employee. I had collected beer cans back in the seventies. I had a love of beer already. Now, I'm working at a bakery—which is also yeast and grain fermentation.
One of the other bakers offered me some home brew. He opens up this quart of beer and it foamed all over the place and it wasn't so good. He wasn't such a great baker either.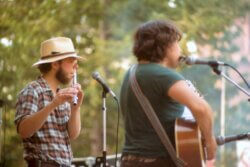 I thought, "I can do better than him." I was moving into a house with three other guys. In January of 1980 I went out and bought a home brew kit. The book I was able to get is a horrible, awful book on home brewing. But that's what I had. By March, I was bottling in the basement. I started improving. My one housemate was getting a horticulture degree at Western and he had a different kind of project up in the attic.
The kind that might involve some indoor grow lights.
Yes. By the summer we were able to host some parties where we were self-sufficient, you know. My home brewing kept getting bigger and bigger. I got taken under the wing again by the chair of the Board of Trustees of Kalamazoo College, Paul Todd. Paul was the founder and president of a company called Kalamazoo Spice Extraction Company, Kalsec. Kalsec makes hop products for the global brewing industry.
Paul introduced me to the world of hop chemistry. They hired me to do some experimental brewing with some of the hop products they were developing for the home brew industry in England. I wound up pitching Paul on starting a brewery, and he said he would put up $10,000 if I could raise $10,000 from other individuals. Eventually I raised $32,000 and got a $7,000 loan.
I was home brewing at this house, and selling beer out of the basement for 10 bucks a case, totally illegal. At that time, if you got caught doing that — and the law is still the same — it's five years in federal penitentiary and/or a $500,000 fine, and you may never, for the rest of your life, be licensed for alcoholic beverages. Now things are getting popular and one night there's a knock on the door at 10 o'clock at night. "Oh, shit, I'm going to jail."
As I opened the door, it was my buddies, the bluegrass band, Great Lakes Grass. "Larry, we're going on the road. We got $10 for a case of that cream stout."
That's when I said, "I gotta fish or cut bait." I wrote to the federal government and said, "What do I gotta do to get a license?" I still have the letter they sent back. It's a very discouraging letter, which pissed me off and made me want to do it all the more.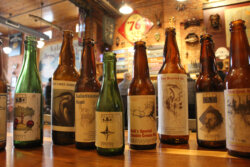 The home brew shop opened in 1983 and it was a way to buy my own ingredients wholesale. People who stopped in the shop pitched them on buying stock in this upstart brewery. In September of 1985 the brewery opened for business. It was a legalized home brewery at that point. We had a 15-gallon soup pot and some plastic garbage pails for fermenters. We're washing bottles and sterilizing, capping, labeling bottles all by hand.
[Selling by the glass at the brewery] was illegal so I could give it away, but I couldn't sell it. We changed that law and Bells was the first brewery in the state to sell beer by the glass to the public on June 11th, 1993. I had studied with this guy out in Albany, New York, Bill Newman. Newman was selling beer in a bladder, a medium density polyethylene bladder with a spigot that you put in a corrugated box. We didn't have the growlers we have now, we had these cubitainers. We would just fill it off the tap, a gallon of beer, and for $8 I sold those. People come in, have a free beer, fill their cubitainer, make friends.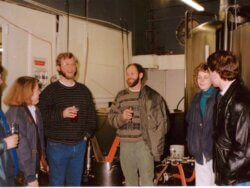 Quite honestly, the quality of the product in the early days was not there, but people were so excited just to have flavor in beer. They would overlook your faults in those early days.
What was the early lineup?
It was Great Lakes Amber Ale and Bell's Beer. Amber Ale is really what built it in the early days. By the late eighties, we had dropped the "Great Lakes" and just went with Bell's because that's what everybody was calling it anyways. SoulSun comes along and that's a whole different thing. That blows up and turns into Oberon and becomes the big seller carrying the brewery.
Oberon and Amber and then Two Hearted comes along. Two Hearted was the offseason of Oberon. We didn't have enough equipment to make both, but then eventually in 2004, Two Hearted becomes all year round. Two Hearted became number one. Oberon became, especially in Michigan and the Great Lakes Region, the big beer in the summertime.
The Home Brewers Poll and Zymurgy used to have a vote of all the members of the American Home Brewers Association. At the time I sold the brewery, Two Hearted was the number one beer in the country for four years running. I feel good about that, like I got to go out on top.
I've definitely seen big snooty beer reviewers say, "Oh, what's this Midwest beer that somehow got ranked number one? It can't possibly be that good." And then they try it and say, "Oh, I stand corrected."
There's the Great American Beer Festival in Denver every year. My friend Bill Owens decides to have a side circus, called the Alpha King Challenge, for the biggest, hoppiest, but best-balanced beer in America. In the first year, there were 10 entries: nine from the West Coast and Two Hearted. Lo and behold, who's the winner? Two Hearted.
There was a ceremony, it was a circus. I had to kneel and I got a crown with a $100 bill stuck to it, a crisp hundo, and a blue box with two Tiffany crystal beer mugs. I went to the festival floor with one of my new Tiffany mugs and my crown, and had my crew fill it up with Two Hearted. I was living the life.
I entered once in the Colorado State Fair and I was late to get there. I had to drive down to Pueblo. I finally get there. The award ceremony is over, but I got on a Bell's logo shirt. I'm going around to all the Colorado breweries, trying beers and he says, "Aren't you… ?" And then, "Hang on, you won some medals." They come out and he says, "Lean down," and he puts nine medals on. That didn't go over real well with the Colorado breweries. I believe Amber Ale won the gold medal for that category, not Fat Tire.
Did you ever imagine this whole industry would have grown this big?
Nobody had a clue what was gonna happen to us. My original goal was to get to 30,000 barrels, and I had a personal goal of how much money I wanted to make. When we got to 30,000 barrels, we're just blowing through that. Craft brewers at that time could do no wrong. You were just going as fast as you possibly could with growth and equipment. It was a really exciting time to be involved in the beer business. The fact that we found a niche and hit a nerve with the public of something that they really wanted was amazing. And it was a very fun ride.
LIFE AFTER BEER
What would you say is your go-to beer, after you get done with a ride or a hike these days?
I'm gonna get in trouble here. So, what was it? Four years ago? No. When did I have cancer? In 2020 I had kidney cancer. You're lying in the hospital at the height of COVID. And it's scary.
I'd always been a supporter of the North Country Trail. I decided I wanted to section hike the North Country trail across Michigan. I'd already ridden my bike across Michigan. Now I'm gonna hike it. I started off on that adventure and got involved with the North Country Trail community.
Around Kalamazoo, we have, I think the second largest chapter for the North Country Trail, over 400 members. They've got all the volunteers they need. So up north in the U.P., I'm volunteering with the Hiawatha Shore to Shore Chapter. They gave me two options for trail that I could be the trail adopter on and maintain. You may find this very surprising, but I'm going to be maintaining the three miles of trail at the mouth of the Two Hearted River.
A little bit different chapter. There have been some days when I take on a particularly long hike, maybe in cold weather. 15 miles is pretty long for me. Maybe at 12 miles, I might sit down and have a beer, maybe a stout.
Since selling the brewery, which was a little traumatic for me… I've gone a different way sometimes. I just don't want to think about beer so much. For the pontoon boat up north, I got myself a retro 30 pack of Hamm's. You don't even think about that. You're drinking beer just on the water.
As we travel, I still enjoy exploring beer. We were recently down in the Bahamas [and] Dominican Republic. I went to the grocery store. My luggage is always heavier coming home because I've got full bottles of beer. I got the Presidénte can for the baseball team, because I still collect. I'm always looking to try out a little bit. I don't drink heavier beers as much as I did in my youth. And honestly with just one kidney, beer is probably harder on me than some other things. So, it happens. I hate to tell you guys, you get older, you don't drink as much beer as you do in your youth.
I'm out there doing the trail, 1160 miles across Michigan. I hope to complete that in 2026. I checked the box when I was young, bicycling across Michigan. Now, I want to check the box of walking across Michigan.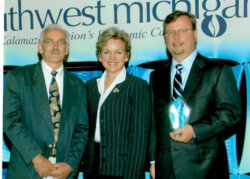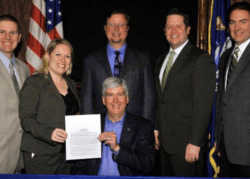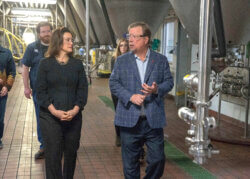 What makes Michigan so special?
I think we've got some nice, varied terrain. When you're hiking along and all of a sudden there's the Niagara escarpment comes out and it's this cliff. It's pretty cool that you can get back and see beaver dams and all kinds of different water features. There's nothing like hiking on Michigan pine straw. Man, that makes the feet feel good.
It's good for your mind just to get out there. All you really have to do is educate people so they know it's out there. and how relatively easy it is to find a trail in your neighborhood.
Is there a place in Michigan that holds a special place in your heart?
My favorite day of this adventure of hiking so far was late in August 2021. I was doing a 13 mile hike over in the eastern U.P. There's a parking lot on Lake Superior called The Shallows. The trail hits Lake Superior about a half mile from the parking lot. You can follow the trail or you can walk 50 feet and get to the beach. I put my swimming trunks on in the woods and you can walk 300 yards out into Lake Superior. 100 yards out and it's still only a foot deep. The water is warm and there's nobody there.
I spent some time swimming there – just one of those glorious days. Any day that you can go swimming in Lake Superior and not run out with all your parts shriveled up, it's pretty good.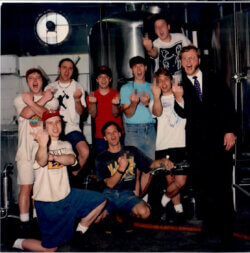 Categorised in: Uncategorized