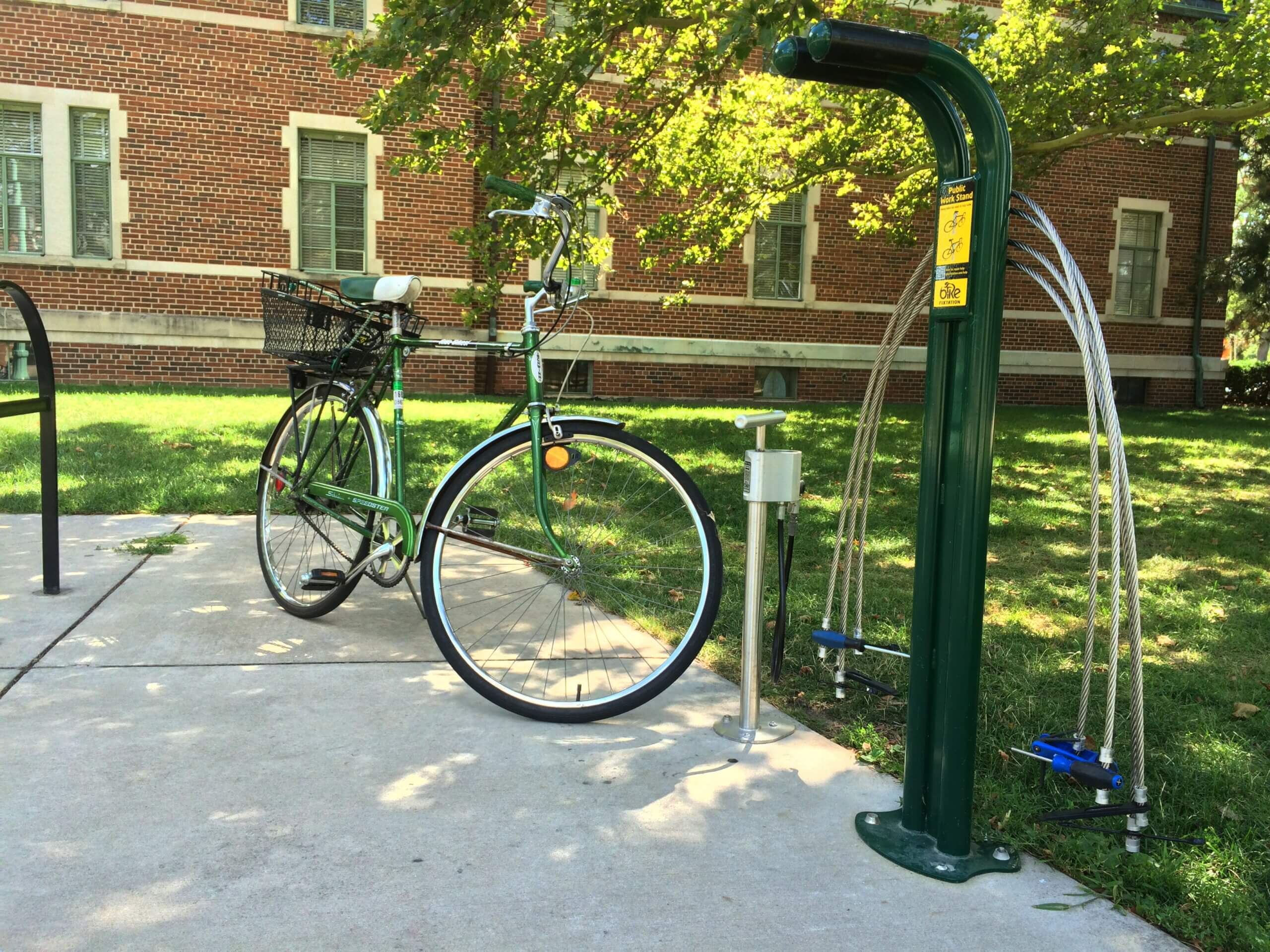 May 13, 2022
"Bicycling on campus allowed me to take my time into my own hands and quite honestly, in my opinion, it's the most efficient way to commute," Haley Dietz, recent MSU grad, reflected on her cycling experience at MSU. "But what kept me cycling on campus was the way the bike lane allows you to see Michigan State. My favorite view is still biking along the Red Cedar. Once I experienced campus this way, biking to class became almost meditative for me."
In recent years, Michigan State University has stepped up its dedication to bicycling in and around campus. After being recognized as a Bicycle-Friendly University by the League of American Bicyclists since 2011, MSU was finally awarded Gold status in Feb. 2021. Michigan State is one of only 31 universities in the US to be granted this recognition, and the first in Michigan.
A wide range of efforts, including progress in infrastructure, education, and advocacy, have made this possible for MSU. These include new campus bike garages, bike fixing and tire pumping stations, new bike lane separators, and bike counting equipment at all campus signalized intersections. As additional projects, MSU has improved bike parking facilities, pushed for Complete Streets (with sidewalks, crossways, and bike lanes in roadways), and designated special bike lanes within the river trail. The university also established MSU Mobility, a community of 40 researchers engaged in interdisciplinary research on mobility and sustainable transportation. 
For schools across the country, becoming more bicycle-friendly is an appealing prospect, but knowing where to start isn't always simple. Feedback from the Bicycle-Friendly America program offered by the League of American Bicyclists serves as a good roadmap. Tim Potter, Sustainable Transportation Manager at MSU Bikes, played a major role in establishing the college division of the program.
"I encouraged [the League] to consider starting a program just for universities and higher ed," Potter said. "Before that, universities that wanted to apply could only apply as businesses or communities."
With the dense and bustling environment on a typical college campus, they are important focus areas for bicycling advancement. The League analyzes a campus' cycling infrastructure and resources, and gives input on many facets of bicycle friendliness, including education, planning, engineering, and more.
"[The League] gives us a roadmap to know what kinds of things we can do to continue to improve," Potter said. "You have a nice checklist of things to work towards."
Historically, MSU has been committed to cycling expansion — beginning with the MSU Cycling Club in 1894, which contributed to the first gravel path for bikes. This later progressed into 18 inch on-campus bike paths, and eventually safe bike paths integrated into all new campus roadways. In 2006, the MSU Bikes Service Center was founded. 
While on-campus cycling is a primary focus for the university, expanding efforts "outwards" has also been a major goal. Trailheads that lead out of campus have received attention in recent years to improve routes for student commuters and other campus visitors. Focus areas have included the Shaw Lane cycle track connection to the Meridian Township pathway, the campus river trail connection to Harrison Rd, and the Bear Lake pathway, which connects Cavanaugh Rd to Forest St. 
MSU's sustainable transportation efforts do not end with cycling. MSU recently launched an electric autonomous bus — a project led by MSU Mobility intended to test new automated technology. 
"Mobility is a huge focus of the university," Laura Young, MSU's Sustainability Program Coordinator, said. "We have 40 some researchers around mobility — it's very interdisciplinary. They look at social dimensions in addition to just technology. That group really recognizes the importance of micro-mobility."
For MSU, expanding on infrastructure and mobility tactics proves not only beneficial to those utilizing them, those in the academic setting studying them as well. The staff and students on campus participating in mobility research play a critical role in pushing the cycling agenda forward on campus. 
"We use the campus as a living lab," Young said. "Enabling research and education to happen for our students and for the faculty, to actually study these issues in a real-world way and come up with real-world solutions for the campus, is really neat."
Looking forward, MSU's commitment to bicycling safety will likely only grow. Maintaining its status as a Bicycle friendly university means not only safety to local riders, but also serves as a pull factor for prospective students and visitors. Local riders can rest assured — MSU's cycling benefits are here for the long term.
Categorised in: Uncategorized