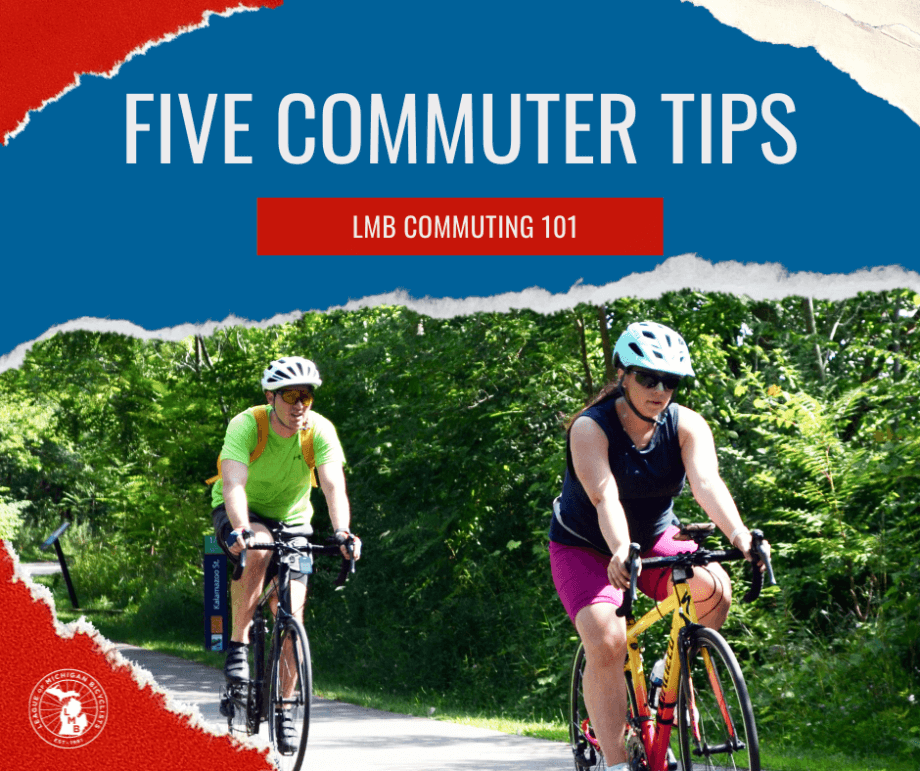 August 16, 2021
As our Bike It! challenge draws closer, we're going to share some commuting tips and tricks – from route planning, to safety and goal-setting – and here are five to start. 
Brush up on bike laws: 
While bicyclists can often choose to ride on roads or sidewalks in Michigan, those who ride on motorways must obey most of the same laws as vehicle drivers. Ride on the right, obey stop signs and signals, and indicate turns with hand signals. To refresh your road safety knowledge, visit LMB.org/mustknow and review our "What Every Michigan Bicyclist Must Know" booklet.
Maintain your bike:
Make sure your bike is functioning properly, and prepare for the unexpected. Do an ABC check before each ride: Air in the tires, Brakes that grip well, Chain and cogs in good condition. Consider an annual tune-up at your local bike shop, and learn how to repair a flat or damaged chain.
Plan your route:
Before you start, check out different bike route options, while taking into account your traffic comfort. Sometimes you can avoid busy streets by taking bike paths or side streets, even if it's a bit less direct. Apps like Strava, BikeMap, or even Google Maps are great resources. 
Set realistic goals:
Bicycling to work daily may be a walk in the park for some folks, but not for everyone. If you're just starting out, consider starting at two or three days a week and working up. You might bike one way and share a ride the other way. Knowing yourself and your limits will make your commutes more enjoyable.
Plan for the weather:
Check the forecast and plan ahead. Low temperatures require layers of insulation that you can remove as you warm up. High temperatures? Prepare to get sweaty – you may need to pack baby wipes or shower when you arrive, if possible. A good rain jacket is key for staying drier on damp days.
Categorised in: Uncategorized