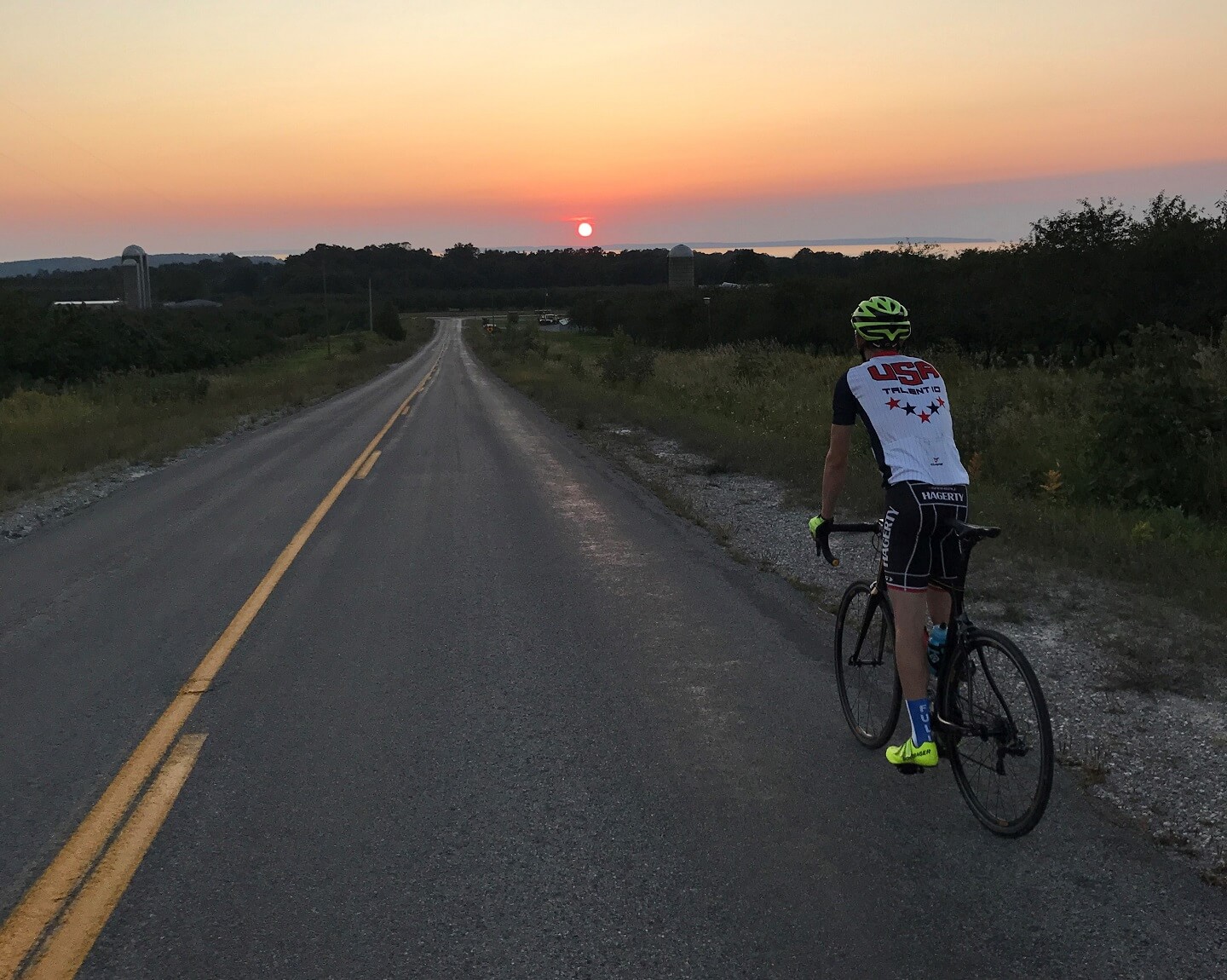 December 7, 2018
Fellow Cyclist,
You have a lot to be proud of this year. With your fantastic support, participation, and encouragement, 2018 has been one of the best years ever for the League of Michigan Bicyclists. None of this would have been possible without the sustained, persistent advocacy of bicyclists and supporters like you. We need your continued help to build on our success with the new legislative class of 2019 in the Michigan House and Senate.
Let me tell you about a few of the reasons to celebrate.
I'm most excited to share that we fought hard and won the passage of seven new bicycle-friendly laws over the course of the latest legislative session.
In October 2017, Gov. Snyder signed our e-bike legislation into law, to clarify the definition of e-bikes and denote where it is lawful to ride them (Public Acts 138, 139, 140 of 2017.) In May, the Governor also signed a bill to prevent drivers from being senselessly ticketed if a bicycle or rack obstructs their license plate (PA 147 of 2018.)
And in June, Gov. Snyder signed three bills that achieve a long-awaited statewide safe passing requirement and improve Michigan Driver Education with one hour of dedicated time for bicycle safety (PA 277, 279, 280 of 2018.)
We are especially proud of the 3-foot safe passing law, and so grateful to all of you who called, wrote, or emailed your legislators in support. While our preference would be for a 5-foot law and we see opportunities for further improvement, we are glad that Michigan has joined more than 30 other states in requiring drivers to give cyclists a specific amount of passing space. It is a yard better – and a yard safer – than where we were a year ago!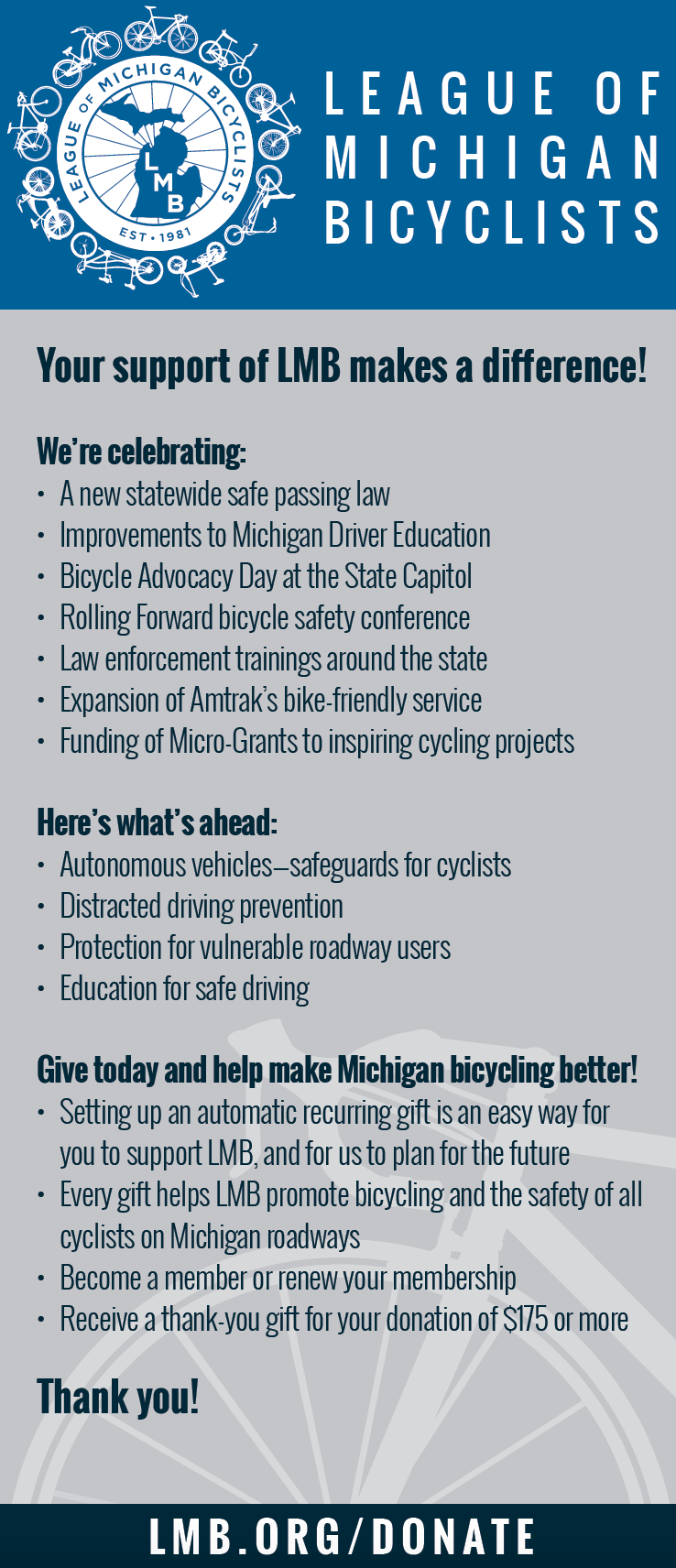 There's more to celebrate besides our legislative victories. We also brought people together to make Michigan bicycling better in many ways:
In May, we hosted around 100 cycling enthusiasts for another successful Lucinda Means Bicycle Advocacy Day at the State Capitol. Cyclists met with their state lawmakers and made personal connections that proved invaluable in the final push for our safe passing law.

In June, we co-hosted Rolling Forward, a two-day bicycling safety conference, along with a wonderful group of partners: the City of Grand Rapids, the Greater Grand Rapids Bicycle Coalition, the Michigan Department of Transportation, Michigan State University, and the Office of Highway Safety Planning.

Throughout the year, we hosted nine law enforcement trainings around the state to educate officers on bicycle safety law. We welcomed participants from many Michigan communities, including Muskegon, Detroit, Lansing, Portage, Northville, Flint, and Mt. Pleasant. We look forward to expanding our training series to include sessions for driver education instructors in 2019.

We recently partnered with MDOT and Amtrak on a series of press events, announcing the expansion of bike-friendly trains. You can now make a reservation to take your bicycle with you when you ride any of the three Amtrak train lines serving Michigan.
Your gift to LMB does so much good throughout Michigan. This year we expanded our Micro-Grant program, which fosters innovative bicycling initiatives across the state. We've been able to award $28,000 to twenty-six inspiring projects that promote safe bicycling and encourage ridership, especially among youth, women, and underserved communities. There are many more worthy applicants than funds available. With your support, we hope to award grants to even more grassroots projects in 2019.
For example, there's Carver Camp, a place where underserved children from Detroit get the chance to explore the great outdoors. Upon arriving at the camp, each participant borrows a bicycle so they can ride through the area. The kids learn how to ride safely and confidently, how fun cycling can be, and that cycling can be a viable form of transportation. Their micro-grant was awarded to purchase bicycles that will serve campers for many years.
Then there's the Michigan Scholastic Cycling Association, which works to establish and maintain safe, quality scholastic cycling programs. Their grant supports the More Girls on Bikes project to increase the number of young women participating in cycling and to increase their riding confidence by exploring and building new skills. The program will engage young women in interscholastic cycling and train female coaches and mentors.
Please help us continue making Michigan bicycling better for all with a year-end gift to LMB.
There's still so much to do. We often hear about bicyclists who are injured or killed on Michigan roads, including one young woman who was struck by a driver in Lansing. She nearly lost her life and suffered a serious brain trauma. With the support of her husband, parents, and sister, she is gradually regaining the ability to speak and walk, but the full extent of her recovery is still uncertain. Her life's course has been changed forever. Our work isn't done yet.
We have some high hills to tackle ahead. Looking forward to the next year, we see so many areas where our advocacy can make a difference for the safety of bicyclists, pedestrians, and others:
Autonomous vehicles. We joined the League of American Bicyclists in signing on to a letter opposing the AV START Act in its current form. While autonomous vehicles (AVs) have the potential to increase safety, a regulatory framework for their development must include safeguards for bicyclists. For example, a survey by Bike Pittsburgh found that many AVs failed to follow the state's four-foot safe passing law. Your support will help put these crucial "vision tests" in place for AVs.

Distracted driving. With the increase in smart phone use by distracted drivers, bicycle fatalities doubled in Michigan between 2012 and 2016. We need to build strong coalitions that can advocate for enhanced penalties and clear education about the deadly choice to drive with your eyes on a phone.

Legislation to protect vulnerable roadway users. Too often, the courts fail to deliver justice for cyclists who are injured or killed. Stronger legislation would offer clear guidance to judges and juries.

Education for safe driving. We're building an online driver safety quiz, to let drivers and bicyclists check their knowledge of Michigan law and safe practices.
LMB works on behalf of all bicyclists, whether you ride the roadways, tour the trails on a mountain bike, or just like to cruise with your family. All year long, LMB serves as the voice of the bicycling community, advocating for bicycle-friendly legislation, training law enforcement officials, educating both adults and children in cycling safety, and more. We interact with legislators through one-on-one conversations, welcoming new lawmakers to office and building strong working relationships over time.
Your support makes it possible to take on new challenges and cement the victories we have achieved together this year, by ensuring every driver and law enforcement officer in Michigan knows the 3-foot passing standard and the life-saving importance of driving without distractions.
Please review our donation form and decide what kind of gift to LMB is right for you.
Thank you again for your commitment to make Michigan bicycling safe, comfortable, and convenient for all.
With gratitude,
John Lindenmayer
Executive Director
P.S. Recurring donations give an extra boost by helping us predict our future resources. If you're able, please consider a monthly or quarterly gift.
Contributions to the League of Michigan Bicyclists, a 501(c)(3) non-profit whose mission is to promote bicycling and increase the safety of bicyclists on Michigan roadways, are tax deductible.
Categorised in: Uncategorized