2023 Date Release on 11/25/2022
Camping Tour with Hotel Options   
NEW 1 and 2 day options now available!!! We have added 1 and 2 day options as of 05/27/22 please click registration costs below to see the details of the 1 and 2 day options.
The 2022 Michigander Rider Guide is here CLICK HERE to download your copy.
The 2022 Michigander will be along the Great Lake-to-Lake Trails Route #1, starting in South Haven, heading east, and ending in Port Huron. This unique collection of rail-trails, pathways and country roads allow you to relax and enjoy beach towns, classic landscapes and quaint villages from the shores of Lake Michigan to Lake Huron.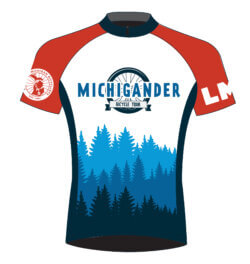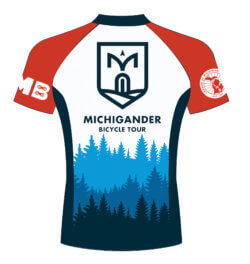 Our 2022 Jersey designs are here!
Add a jersey when you register or if you forgot you can visit our store to purchase one! We support the full range of Primal sizing in our shop! 
REGISTER FOR 2 day Michigander
REGISTER FOR 1 day Michigander
Did you know that our bike tours are for everyone? Yes everyone! Touring bikes, Road Bikes,Tricycles, E-Bikes, Handcycles, Recumbents, Gravel Bikes, and Mountain Bikes, bring them all! We didn't list what you want to ride? Let us know and we will see what we can do to make it happen. If you are facing a disability or have a unique challenge in participating in one of our tours please reach out to [email protected] and we will contact you directly to discuss the needs and accommodations.
---
              Please note this video is from our friends at MTGA and is being used to show the great attributes of the route we are using this year.
Michigander Info
Learn more about Michigander
This tour will be a blend of what the Michigander has been and what you have come to love about LMB tours. The route for the 2022 event will be along the Great Lake-to-lake Trails Route #1. We will be stopping in towns along the way on this camping point to point tour. The start will be in South Haven Michigan heading east and ending in Port Huron. This route takes advantage of Michigan having more miles of trail than any other state. In 2022 you'll travel along the cool and shaded Great Lake-To-Lake Trail #1. This unique collection of rail-trails, pathways and country roads allow you to relax and enjoy beach towns, classic landscapes and quaint villages from the shores of Lake Michigan to Lake Huron.
While Michigan is famous for its role in America's national automobile culture, perhaps less known is Michigan's role as a major Underground Railroad (UGRR) route helping thousands of freedom seekers find safety in Michigan and Canada. Explore them both along the Great Lake-to-Lake Trail #1 and learn more about the people who played key roles in transforming the nation. We are working on incorporating some of these historical stops into the route.
Experience the Great Lake-To-Lake Trail #1:
Ride along the legacy of the rails on the rail trails and pathways. Railways like Michigan Central Railroad, Grand Trunk Railroad, Kalamazoo and South Haven Railroad, and Michigan Air Line Railway created much of the route used today on our Great Lake-to-Lake Trail Tour. Amtrak continues to provide train service between many of our trail towns including Kalamazoo, Battle Creek, Jackson, Pontiac, and Port Huron.
Enjoy a gentle Great Lakes climate that provides a diversity of fruits and vegetables. This bounty gives craft brewers, micro-distillers, vintners and restaurateurs an extensive palette to entertain your palate. Along the way you can find Coney's, pasties, blueberry beer, maple syrup bourbon and many other items to tickle your tastebuds!
Included with your registration:
Awesome, incredible, friendly, helpful Volunteers
Beautiful  scenery
SAG Stops with hydration and light snacks
SAG wagons that patrol the route
Catered breakfast and dinner
Overnight camping
Showers
Luggage transport for two bags
Electronic charging station in camp
E- Bike charging in camp
Professional Bicycle Mechanic**
Free long term parking
Registration packet with an event t-shirt and other fun swag
Daily route info meetings with cue sheets, GPS turn by turn directions
**PLEASE NOTE: Minor adjustments are free. Any repairs, parts, assembly, disassembly, and shipping will incur a fee.
Some things are new:
Low car traffic
Great family route
Gravel Options
Rail Trail primary route
Outdoor dining option
Ice-cold beverages and individually wrapped salty snacks available in camp daily
Winery and Brewery Tour options COMING SOON!
Farewell Party COMING SOON!
Learn more about LMB
Take a minute to remember the first time you rode your bike. Grinning from ear to ear as you pedaled down the street or across the fields feeling the freedom, independence, and fun of being on your bike.
So let's get on our bikes and recapture that feeling of simple freedom, independence, and fun!
Did you know LMB works to provide education and training to Drivers and Bicyclists through our driver's education program, our law enforcement training, and our bicycle skills training? Did you know LMB is instrumental in giving bicyclists a voice in government through legislation, like the 3-foot passing law? Did you know LMB's Micro-Grant Program helps fund local advocacy work and community bicycling programs especially among underserved populations?
Did you know LMB tours provide a majority of the funding to do this work? So enjoy an awesome tour while supporting LMB making Michigan bicycling better through your registration and purchases!
No matter what you ride, why you ride or where you ride, LMB works for all bicyclists to Make Michigan Bicycling Better. Educating new drivers, law enforcement, and children. Advocating to create and pass legislation concerning safe passing, distracted driving, and helping local bike shops last spring. Helping develop bicycling infrastructure across the state and supporting other bicycling events. Your Michigander registration helps to fund LMB's work. Thank You!
Click here for registration costs
Member Pricing
Adult Member: $550
Non-Rider Member: $355
Minor Member: $355
Regular Pricing
Adult: $590
Adult Non-Rider:$395
Minor Rider or Non: $395
2 Day – Includes meals and camping spot
Adult: $240
Adult Non-Rider:$195
Minor Rider or Non: $195
2 Day: You will check in Friday July 29th at Pinckney High School. You will be served dinner and have a camping spot as part of your registration. You will then wake up and roll out with us for the remainder of the tour ending in Port Huron on JUly 31st. For an extra fee there is a bus for this option to take you back to Pinckney HS at the conclusion of the event.
Single Day – includes meal no camping space
Adult: $120
Adult Non-Rider:$45
Minor Rider or Non: $45
Single day: You will check in the morning of the ride and can pick any day of riding once in the registration portal. No camping spot is included and there is NO Transportation for this option. Pick the 60 ish mile segment of the route of your choice starting in South Haven on 07/27/22, Galesburg on 07/28/22,  Marshall on 07/29/22, Pinckney on 07/30/22, or Rochester on 07/31/22 and roll along on a fully SAG supported day of riding. Breakfast and dinner are included on riding day.
Click here for bus costs
Pre Tour Bus – Ride your bike back to your vehicle. Start with charter bus transportation from the finish line in Port Huron to the start in South Haven on the morning of July 26. Bicycle loading begins at 8 a.m. in Port Huron. Long term parking in Port Huron is included. Price $110.
Post Tour Bus – Ride a charter bus back to your vehicle. Finish with charter bus transportation from the finish line in Port Huron back to your car in South Haven. Drive to the start in South Haven on  July 26. Ride your bike to Port Huron. Ride the charter bus back to South Haven on on the afternoon of July 31. Long term parking in South Haven included. Price $110—this is the only option for 2 day riders. 
Please note if you want to join as a member to get discounted pricing you will receive an email shortly after joining for access to the member only registration pages. 
---
Learn about our covid safety Policy
LMB COVID Safety Policy
LMB has adopted the following COVID safety policy for risk mitigation on our 2022 tours. This policy is subject to change depending on pandemic conditions and health guidance. Because the virus that causes COVID-19 is extremely contagious, no level of risk mitigation can guarantee that you will not be exposed. Participation in all LMB events is at your own risk.
All participants, staff, and volunteers must show proof that they are fully vaccinated and up to date. 
Fully vaccinated means a person has received their primary series of COVID-19 vaccines.
Up to date means a person has received all recommended COVID-19 vaccines, including any booster dose(s) when eligible.
Click above for more detail. 
---
Need to rent a tent?
TENT PROVIDER COMING SOON Contact [email protected]
Need a Hotel or Airport Shuttle? Click Below
---
PLEASE NOTE: FINAL ROUTES, LOCATIONS, AND TIMES OF SERVICE MAY CHANGE.
RIDER GUIDES WILL BE READY SOON WITH MANY OF THE SPECIFIC DETAILS OF THE TOUR
MICHIGANDER ITINERARY
To start, click each day below to expand the section and see details. Use the Michigander Itinerary as a source for route maps, guides to local attractions and an easy way to develop your sightseeing plans. Please note, routes and itineraries may change without notice due to road closures, construction or inclement weather.
Welcome to Michigander!
July 26th Check In
Gather in the beach town of South Haven and enjoy the farmers market, local coffee shops, restaurants and merchants. Stop by New Holland Brewing for a tasting. Head down to the beach for warm sand, sun and fun. Tour the local countryside visiting vineyards and artists or get on the water. But don't forget to come see us downtown and pick up your registration packet. Later, at our wine and cheese reception, meet your fellow riders and go over a few basic rules. Then finish the day soaking in the sunset over Lake Michigan. Check in will be at the campsite.
July 27th - South Haven to Galesburg (50 miles)
You begin riding The Great Lake-to-Lake Trail through a tunnel of trees along the Kal-Haven Trail state park, one of the oldest rail-trails in the United States. Stop for a picture at the historic railroad station in Bloomingdale. Cycle past the ghost town of Menthe, once America's largest mint growing region. Take lunch in Kalamazoo where you can relax at Rustica, Theo & Stacy's or one of the many artisan coffee shops and craft brewers. Stop by Bell's Brewing facility in Comstock Park and take a tour and a taste. After an amazing day riding the quiet bike trails of the Great Lake-to-Lake Trail, the day ends in the village of Galesburg. Mileage 50.
July 28th - Galesburg to Albion (65 Miles)
Pedal along picturesque Gull Lake and stop at the Gilmore Car Museum for a museum tour. After filling your mind and satisfying your curiosity, it's onward past Fort Custer National Cemetery to Battle Creek where you'll find the largest UGRR monument in the United States. One block over is the memorial to resident Sojourner Truth, a freedom seeker, abolitionist and women's rights advocate. At end of the Calhoun County Trail just outside of Historic Bridge Park you begin the first real road segment of the Great Lake-to-Lake Trail into Marshall. Marshall is home to one of the largest national Historic Landmark Districts in America. So take some time as you pedal through to enjoy one of the best collections of 19th century homes in a small town. Stop by the nearby Marshall History Museum to learn the story of how the UGRR town of Marshall came to protect the Crosswhite family. Head over to Dark Horse Brewing Company and weather permitting, enjoy a pint on the patio. After a few miles of quiet country roads you'll reach the next overnight town of Albion, home to Albion College. Mileage 65.
July 29th - Albion to Pinckney (60 Miles)
Your tour continues along quiet, shady country roads that take you to Sweet Seasons Apple Orchard where you can enjoy a donut and cup of cider. If you pick up some local honey, maple syrup, or cider, we'll be happy to transport your goodies to camp. Soon you're back on trails like the Falling Waters Trail and MLK Equality Trail into downtown Jackson. Tour the downtown murals of Bright Walls and then enjoy a refreshment at the Grand River Brewery. Finish your day on the Great Lake-to-Lake Trail pedaling along the Mike Levine Lakelands Trail State Park. Here you'll find the road to Hell which is paved only with good intentions (a scenic gravel road), down here at the creamatory you can savor the best ice cream in Hell! Mail a postcard inviting your friends to join you and enjoy a glass of ice water in the saloon. But please don't sign any contracts in Hell! Pedal your way up out of Hell in the peace and quiet of pastoral farmland and small villages before pedaling into our next overnight in Pinckney. Make sure to wash off the soot and sulfur before showing up for dinner! Mileage 60.
July 30th - Pinckney to Rochester (60 Miles)
Begin with a peaceful woodland start through Mike Levine Lakelands Trail and Island Lake Recreational Center. Today is dedicated to hard working individuals and organizations like Mike Levine, League of Michigan Bicyclists, and Michigan Trails & Greenways Alliance. Their vision and commitment allow us to ride most of the day on sequestered trail systems. The temporary bypass in Auburn Hills provides a reminder how the Great Lake-to-Lake Trail #1 creates a scenic and safe route through protected sanctuaries in the home of America's auto industry and one of the largest metro areas in the United States. Mileage 60.
On today's optional Henry Ford Museum Excursion, you'll swap riding for walking and enjoy a full day at the Henry Ford. Shuttles leave right after breakfast and rejoin for dinner in Rochester.
Rochester is a beautiful village known for it's lights festival, high end boutiques, and lovely parks. Feast on our last night and prepare to finish tomorrow on the shores of Lake Huron..
July 31th - Rochester to Port Huron (55 Miles)
Cycle along the Macomb Orchard Trail into the small town of Richmond. Then cycle along back roads to the Bridge to Bay Trail and follow the St. Clair River exploring light-ships, North America's first underwater train tunnel, the Thomas Edison Depot Museum, and Michigan's first lighthouse located at the eastern terminus of the Great Lake-to-Lake Trail #1. Mileage 55.
Departure
From the terminus of the Great Lake-to-Lake Trail #1 you'll meet up with your private transportation, board the return charter bus to South Haven or our private shuttle to Detroit Metro Wayne County Airport (DTW) and Port Huron hotels. Details on costs for this service and how to sign up coming soon. The tour concludes at 4:00 PM local time.
Please note, registered participants will receive detailed itineraries and timelines each day during the Rider Meeting.
---
Bicycles on Michigander
CLICK HERE FOR BICYCLE INFO
You can ride any human-powered cycle in good mechanical condition on Michigander. This includes trikes, recumbents, tandems, unicycles, and of course e-bikes. The standard route is designed to accommodate gravel or wide tire road bikes. Mountain, hybrid, cyclocross, and gravel bikes will have a blast on both the standard route and the optional gravel sections.
LMB provides a professional mechanic for the entire tour. Minor adjustments are free. Any repairs, parts, assembly, disassembly, and shipping will incur a fee. Each SAG Stop and SAG wagon carry basic tools and a floor pump. They also carry spare tubes for sale. Our daily Super SAG Stop will have a generator available to provide charging for E-bikes. Our SAG service is designed to transport all the above-named cycles!
To create a safe and scenic tour, Michigander will at times travel along crushed limestone trails and unpaved country roads. To best traverse the standard route on a road bike or touring bike, consider fitting the widest possible tires. Any optional routes or loops labeled "Gravel" can have long sandy sections and are best attempted with a 37c or wider tire that has a tread or knobby surface.
Bike transport is included as part of your charter bus transportation. Click here for details on how to prepare your bike for truck transport. We try to be as careful as possible, but we are not responsible for damage during transport by our trucks or SAG.
Click here for details on shipping your bike to and from the tour.
SAG on Michigander
CLICK HERE FOR SAG INFO
LMB thinks of SAG as the "Support Assistance Group." SAG service includes mobile SAG wagons, stationary SAG stops, SAG shuttles, and Sweep. SAG vehicles are marked with LMB flags and magnetic LMB signs
SAG stops are stationed along the primary route. During the Riders Meeting as we review the next day's route, we'll provide the approximate location of these SAG stops. They are spaced on an average about 15 miles apart, but this will vary depending on route conditions. SAG Stops are rest stops located on route and identified with LMB signage. They are stocked with water, electrolytes, light snacks, basic tools, floor pumps, and close to restrooms or porta-potties. Our daily Super SAG Stop will also have a generator to provide e-bike charging.
SAG wagons will provide assistance to riders experiencing physical or mechanical issues along the primary route and gravel route. SAG wagons will transport riders and their bikes to a SAG stop or to seek medical treatment. Please be aware that SAG wagons do not go to camp, they stay on the route to provide the fastest possible service in emergency situations.
SAG shuttles will periodically travel along the route picking up riders at SAG stops and transport them to camp.
Each SAG Stop and SAG wagon carry basic tools and a floor pump. They also carry spare tubes for sale. Our SAG service is designed to transport all supported cycles! Please note, SAG support is not available off route or after hours.
LMB provides a professional mechanic for the entire tour. Minor adjustments are free. Any repairs, parts, assembly, disassembly, and shipping will incur a fee. The mechanic will be posted on the route each day and also in camp each afternoon. If your bike requires repair beyond the capacity of our mechanic, you will be referred to the nearest bike shop.
Private SAG's are allowed.  A private SAG is a person or group of people who are on the tour to provide support to their rider. We simply ask for vehicle and rider information, and for drivers to use alternate routes that intersect with the tour route to help keep riders safe. If a private SAG wants to use overnight facilities, meals, and tour resources then we ask that they register as Private SAG/Non-Riders.
Meals on Michigander
CLICK HERE FOR MEALS INFO
Registration includes meals EVERY RIDING DAY! You'll enjoy professionally catered breakfasts and dinners with options for vegetarian, vegan and gluten-free lifestyles. Breakfast is 6:30 – 8:00 am, dinner is 5:00 to 7:00 pm. Meals vary and you'll always find a few staples offered each day. For breakfast you'll always be able to find oatmeal, yogurt, granola, fresh fruit and cereal in addition to various hot dishes. During dinner you'll always be able to find fresh salads, fruit, bread, peanut and almond butter, along with hot entrees, side dishes and dessert. All meals are served in camp except where noted in the itinerary. You're on your own for lunch every day.
A hungry biker is an unhappy biker.  So, keep an eye out in camp for the pop-up food truck or vendor. You never know who will drop in during the afternoon selling carnival food, pizza slices, hotdogs, and other treats!  Each day you can find sweet and salty snacks along with ice-cold beverages at the service desk between 2 pm and 9 pm.
Luggage on Michigander
CLICK HERE FOR LUGGAGE INFO
How serious is the weight limit for bags?
Serious. Each rider may bring two bags (duffle bags are ideal). Each bag cannot weigh more than 35 pounds. This weight limit includes your tent and sleeping bag. Bags over the limit will be charged $35 per bag. We ask you to honor the limit and help protect the health of both you and our volunteers. Remember, you'll have to haul these bags to the camping area and back!
Can I bring an extra bag?
Yes! If you need more luggage space then please purchase the additional bag option for $35. Any bag over the 35-pound weight limit will be charged the extra bag fee.
Michigander Merch
CLICK HERE FOR MERCH INFO
The 2022 Jersey design is complete. Make sure to add a Michigander Jersey to your cycling gear line up. You can add one during registration and they will be available in our online store for preorder after 03/09/22.
You can order other LMB Gear at the link below as well (note sizes limited on some styles):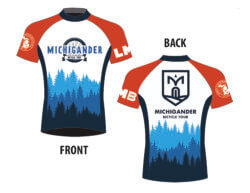 ---
Ride Safe, Ride Smart
Helmets are required whenever a rider is on a bicycle.
Riders must be able to complete the daily route. Please train.
Riders must be equipped and able to change a flat tire.
Riders must carry at least one water bottle or equivalent for hydration.
Riders must have a rear reflector or red blinking light mounted on their bicycle.
Be ready to have FUN!
LEARN ABOUT OUR CANCELLATION POLICY
---
Well, after the last few years, we here at League of Michigan Bicyclists (LMB) are looking forward to our first hosting of  Michigander! This staple event has been held by our friends at the Michigan Trails and Greenways Alliance (MTGA) for decades and we are excited to bring this great tour into our offerings! Please note if you are a 2020/2021 Deferred Rider check your email and mailbox for your instructions on how to register. If you are a LMB Member you can access the registration from the member portal button below and then choose the tour you want from the drop down menu once you are logged in. 
Location
7357 Baseline Rd
South Haven, MI