2023 Date Release on 11/25/2022
Hotel Based Tour – No Camping Options
Thank you to everyone who came out for Sunrise Adventure! We enjoyed our time with all of you and are excited to see you again next year!    
Update: 06/01/2022: Late registration price increase has been cancelled.
Sunrise Adventure Rider Guide is now available. CLICK HERE to get your PDF copy.
Join the League of Michigan Bicyclists for a Sunrise Adventure in Alpena, Sanctuary of the Great Lakes. Cycle your choice of routes, either short, medium or long, down forested roads and past historic lighthouses. Enjoy a glass-bottom boat cruise to see some of the 200 shipwrecks lying just off the Lake Huron coast, learn their history at the Great Lakes Maritime Heritage Center, kayak the beautiful inland waters of Thunder Bay River, and leave your worries behind as you relax in Alpena's peaceful downtown.

Our 2022 Jersey designs are here!
Add a jersey when you register or if you forgot you can visit our store to purchase one!
We support the full range of Primal sizing in our shop! 
REGISTER FOR SUNRISE ADVENTURE
Did you know that our bike tours are for everyone? Yes everyone! Touring bikes, Road Bikes,Tricycles, E-Bikes, Handcycles, Recumbents, Gravel Bikes, and Mountain Bikes, bring them all! We didn't list what you want to ride? Let us know and we will see what we can do to make it happen. If you are facing a disability or have a unique challenge in participating in one of our tours please reach out to [email protected] and we will contact you directly to discuss the needs and accommodations.
---
Sunrise Adventure Info
Learn more about Sunrise Adventure
Alpena, Sanctuary of the Great Lakes where LMB's Sunrise Adventure focuses on FUN. Enjoying bicycling along the relaxed Lake Huron shore while supporting the community of Alpena and enjoying the childlike joy of riding your bike. Unlike our other tours which are focused on camping and longer point to point riding distances, Sunrise is a relaxed hub and spoke hotel tour. With Alpena as our home base and shorter riding options, you can take the time to relax, explore, and enjoy this Father's Day weekend.
Cycle your choice of routes down forested roads and past historic lighthouses. Enjoy a glass-bottom boat cruise to see some of the 200 shipwrecks lying just off the Lake Huron coast, learn their history at the Great Lakes Maritime Heritage Center, kayak the beautiful inland waters of Thunder Bay River, and leave your worries behind as you relax in Alpena's peaceful downtown.
We are also are working on opportunities to help you get to know your fellow participants, taste the local beer and wine, and explore Alpena's food and entertainment. Check out the Meals section below for up to date information.
Wow – a weekend of great riding, exploring shipwrecks, breweries, wineries, lighthouses, Lake Huron, and a National Marine Sanctuary …… now that's what you call an LMB tour! The whole family will enjoy cycling and sightseeing on LMB's Sunrise Adventure.
Learn more about LMB
Take a minute to remember the first time you rode your bike. Grinning from ear to ear as you pedaled down the street or across the fields feeling the freedom, independence, and fun of being on your bike.
So let's get on our bikes and recapture that feeling of simple freedom, independence, and fun!
No matter what you ride, why you ride, or where you ride, LMB works for all bicyclists to Make Michigan Bicycling Better. Educating new drivers, law enforcement, and children. Advocating to create and pass legislation concerning safe passing, distracted driving, and helping local bike shops last spring. Helping develop bicycling infrastructure across the state and supporting other bicycling events.
Did you know LMB works to provide education and training to Drivers and Bicyclists through our driver's education program, our law enforcement training, and our bicycle skills training? Did you know LMB is instrumental in giving bicyclists a voice in government through legislation, like the 3-foot passing law? Did you know LMB's Micro-Grant Program helps fund local advocacy work and community bicycling programs especially among underserved populations?
Your Sunrise Adventure registration helps to fund LMB's work. Thank You! So enjoy an awesome tour while supporting LMB making Michigan bicycling better through your registration and purchases!
Click here for registration costs
Member Pricing
Adult Member: $225
Non-Rider Member: $40
Minor Member: $40
Regular Pricing
Adult: $265
Adult Non-Rider:$50
Minor Rider or Non: $50
Late Registration—Canceled
Adult: $500
Adult Non-Rider:$225
Minor Rider or Non: $50
Please note if you want to join as a member to get discounted pricing you will receive an email shortly after joining for access to the member only registration pages. 
---
Learn about our covid safety Policy
LMB COVID Safety Policy
LMB has adopted the following COVID safety policy for risk mitigation on our 2022 tours. This policy is subject to change depending on pandemic conditions and health guidance. Because the virus that causes COVID-19 is extremely contagious, no level of risk mitigation can guarantee that you will not be exposed. Participation in all LMB events is at your own risk.
All participants, staff, and volunteers must show proof that they are fully vaccinated and up to date. 
Fully vaccinated means a person has received their primary series of COVID-19 vaccines.
Up to date means a person has received all recommended COVID-19 vaccines, including any booster dose(s) when eligible.
 Click above for more detail. 
---
PLEASE NOTE: FINAL ROUTES, LOCATIONS, AND TIMES OF SERVICE MAY CHANGE.
RIDER GUIDES WILL BE READY SOON WITH MANY OF THE SPECIFIC DETAILS OF THE TOUR
Sunrise Adventure Itinerary
To start, click each day below to expand the section and see details. Use the Sunrise Adventure Itinerary as a source for route maps, guides to local attractions, and an easy way to develop your sightseeing plans. Please note, routes and itineraries may change without notice due to road closures, construction or inclement weather.
Click each day below for daily details.
Thursday - Check-In and Reception.
Packet Pick Up (2:00 to 8:00 PM)
Pre-Tour Orientation (5:30 to 6:00 PM)
Rider's Reception (6:30 to 9:00 PM)
Join us at the Great Lakes Maritime Heritage Center between 2 – 8 pm for packet pick-up. Right next to the check-in table will be our service desk where you can get merchandise, maps, and sign up for one of the excursions. Make sure to check out all the discounts and swag to help you plan the weekend. If you need some bike work, check out Harborside Cycle & Sport located in downtown Alpena and a great supporter of LMB. If your looking for a few miles to ride, try exploring the town riding along the Alpena Bi-Path.
6:30 – 7:30 pm: Pre-Tour Orientation in the of the Great Lakes Maritime Heritage Center.
At 6:00 PM,  on the grounds of the museum, we'll enjoy a private reception with complimentary wine, cheese, and snacks.  Make sure to wear your wristband as it's your admission ticket! We're sure you'll enjoy this time to meet your fellow riders and enjoy the offerings of Michigan vintners!
Friday - Lake Huron, Amish Country and Watermelon.
If you missed Packet Pick Up yesterday, today it will be located downtown just outside of Harborside Cycle & Sport from 7:30 – 9 am near the starting line.
Sunrise Adventure begins, of course, with spectacular views of the sunrise over Lake Huron! After a hearty breakfast, head downtown where we'll have a shotgun start at 8:30 AM. Of course, feel free to start earlier or later, SAG support today begins at 8:30 AM and continues until 4:30 PM. Our Sunrise Scavenger Hunt begins today so make sure to pick up the list at the starting line, or anytime at the service desk!
Today, cycle out to Hubbard Lake the 12th largest inland lake in Michigan. At the top of Mt. Mariah (Watermelon Hill), soak in the spectacular views of the lake and celebrate reaching the top with some delicious treats!!  Then meander through Amish country on the way to Ossineke, a quaint village with sandy beaches along Lake Huron. Make sure to stop and get your picture with Paul Bunyan and Babe! Afterward, as you pedal along the coast of Lake Huron, stop and get a photo crossing the 45th Parallel placing you halfway between the Equator and the North Pole. You're just a little off-center! As 322 miles due west in Poniatowski, Wisconsin lies the exact center of the northern half of the western hemisphere, phew that was complicated!  After freshening up, come downtown and enjoy the Riders Alley Reception and Alpena's nightlife.

Saturday - Wooden Boats on the water..., Lighthouses, Shipwrecks and BBQ
---
All the routes for today are out and back so the miles you ride depends on your starting point. This is a great way to choose a comfortable distance and be supported by the outstanding LMB Volunteers along the entire route! There is a lot going on in Alpena today so you may want to adjust your miles accordingly. SAG support begins at 8:30 AM and continues until 4:30 PM.
The Alpena Farmers Market is open 8 AM to 1 PM and just a few blocks from the start/finish so you may want to stop by to pick up a few locally fresh items. All three routes today will take you to Presque Isle Harbor on Lake Huron. The Presque Isle Harbor Wooden Boat Show is open today from 10 AM until 4 PM. Stop by and support these local festivities!
Just a short ride from Presque Isle Harbor you will find the Old and New Presque Isle Lighthouses and have an opportunity to tour the light keeper's cabin and climb the old light tower. It has a reputation for being haunted…so they say. There is plenty of maritime history here to keep those aficionados interested, and the picnic area is an ideal setting to stop and have a snack.
The 56 and 39-mile routes pass the Maplewood Tavern is closed now so at a minimum we will set up a SAG stop here. It's a SAG stop and the start/finish point for those who want to ride the 39-mile route. Unfortunately, the 21-mile loop does not pass the tavern.
If you've purchased Shipwreck Cruise tickets, come enjoy an afternoon on the water with our 2-4 PM cruise. You'll spend 2 hours in a glass-bottomed boat touring Lake Huron shipwrecks in Thunder Bay, capturing their images. Don't get full because tonight is our farewell BBQ dinner.
From 6 – 8 pm, everyone is invited to join us for an incredible confluence of goodness for a BBQ supported by local vendors- Nowicki's Sausage will be catering a great BBQ for us on Saturday night on the rooftop of the NOAA Maritime Museum. Make sure to grab your ticket today.
Sunday - Go Your Own Way
The last tour sunrise is upon us! We have four route options to finish out this awesome weekend You can venture along more paved roads or take the peaceful trail routes!
Trail Routes – The out and back rail trail routes can be customized from a 1 mile warm-up all the way to the 38.5 mile long route. The 18-mile short route along the North Eastern State Trail (NEST) is a flat ride on fine crushed limestone. For those who want a few more miles, keep pedaling to Posen for a total of 38.5 miles. Posen is a sleepy little village and the "Potato Capital of Michigan", its rich farmlands and rolling woods provide an excellent backdrop for a peaceful finale. SAG support begins at 8:30 AM and continues until 2:00 PM when Sunrise Adventure officially closes.
With Sunrise Adventure in our rearview mirror, it's time to say goodbye to both old friends and new ones made this weekend. As you pack up your gear and head home you'll understand why Sunrise Adventure is a wonderful, relaxing experience year after year!

Please note, registered participants will receive detailed itineraries and timelines each day during the Rider Meeting.
---
Bicycles on Sunrise Adventure
CLICK HERE FOR BICYCLE INFO
You can ride any human-powered cycle in good mechanical condition on Sunrise Adventure. This includes trikes, recumbents, tandems, unicycles, and of course e-bikes. The standard route is designed to accommodate road bikes. Mountain, hybrid, cyclocross, and gravel bikes will have a blast on the routes. If you are using a standard road bike or touring bike, consider fitting wider tires for comfort.
LMB provides a professional mechanic for the entire tour. Minor adjustments are free. Any repairs, parts, assembly, disassembly, and shipping will incur a fee. Each SAG Stop and SAG wagon carry basic tools, a floor pump, and spare tubes. Our daily Super SAG Stop will have a generator available to provide charging for E-bikes. Our SAG service is designed to transport all the above-named cycles!
To create a safe and scenic tour, Sunrise Adventure will at times travel along crushed limestone trails and unpaved country roads. To best traverse the route on a road bike or touring bike, we recommend fitting the widest possible tires. Road bikes with 23c-28c tires will do fine on the route but may have to work a little harder on unpaved sections. Any optional routes or loops labeled "Gravel" can have sandy sections and are best attempted with a 37c or wider tire that has a tread or knobby surface.
SAG on Sunrise Adventure
CLICK HERE FOR SAG INFO
LMB thinks of SAG as the "Support Assistance Group." SAG service includes mobile SAG wagons, stationary SAG stops, SAG shuttles, and Sweep. SAG vehicles are marked with LMB flags and magnetic LMB signs
SAG stops are stationed along the primary route. During the Riders Meeting as we review the next day's route, we'll provide the approximate location of these SAG stops. They are spaced on an average about 15 miles apart, but this will vary depending on route conditions. SAG Stops are rest stops located on route and identified with LMB signage. They are stocked with water, electrolytes, light snacks, basic tools, floor pumps, and close to restrooms or porta-potties. Our daily Super SAG Stop will also have a generator to provide e-bike charging
SAG wagons will provide assistance to riders experiencing physical or mechanical issues along the primary route and gravel route. SAG wagons will transport riders and their bikes to a SAG stop or to seek medical treatment. Please be aware that SAG wagons do not go to Alpena, they stay on the route to provide the fastest possible service in emergency situations.
SAG shuttles will periodically travel along the route picking up riders at SAG stops and transport them to the start/finish in Alpena.
Each SAG Stop and SAG wagon carry basic tools and a floor pump. They also carry spare tubes for sale. Our SAG service is designed to transport all supported cycles! Please note, SAG support is not available off route or after hours.
LMB provides a professional mechanic for the entire tour. Minor adjustments are free. Any repairs, parts, assembly, disassembly, and shipping will incur a fee. The mechanic will be posted on the route each day and also in camp each afternoon. If your bike requires repair beyond the capacity of our mechanic, you will be referred to the nearest bike shop.
Private SAG's are allowed.  A private SAG is a person or group of people who are on the tour to provide support to their rider. We simply ask for vehicle and rider information, and to use alternate routes to intersect with the tour route which helps keep riders safe. If private SAG wants to use overnight facilities, meals and tour resources then we ask that they register as Private SAG/Non-Riders.
Meals
CLICK HERE FOR MEALS INFO
We will be having a Saturday Night BBQ featuring local food vendors (more details coming soon) Be sure to grab you ticket for an additional cost during your registration.
For all other meals we ask that you patronize the local restaurants, breweries, and shops for all your meal needs.
Lodging
CLICK HERE FOR LODGING INFO
Visit the Alpena Area Convention & Visitors Bureau for great lodging options, including camping. We recommend staying close, so you can enjoy all that Alpena has to offer. Unfortunately  the hotels in Alpena are no longer doing block reservations for us, here are some direct numbers to call to book a reservation.
Alpena Days Inn (989) 356-6118
Holiday Inn Express & Suites (989) 340-1800
Ramada Alpena (989) 356-2151
Alpena Resorts (989) 356-9087
Other options include: AirBNB and VRBO
Please remember, lodging is not included with your registration and you are responsible for making any lodging arrangements for this tour.
Transportation Options
CLICK HERE FOR INFO
All Riders
Since Sunrise Adventure starts and ends at your lodging in Alpena, you only have to get yourself, gear and bike to the start/finish line.
PACKING LIST
Sunrise Adventure does not provide lodging. If you are not camping, you'll want to edit that portion of the packing list. Required rider gear remains for all events. A list of required and recommended items can be found –  HERE.
Sunrise Adventure Merch
CLICK HERE FOR MERCH INFO
The 2022 Jersey design is complete. Make sure to add a Sunrise Adventure Jersey to your cycling gear line up. You can add one during registration and they will be available in our online store for preorder after 03/09/22.
You can still order the 2019 Jersey along with our other LMB Gear (note sizes limited on some styles):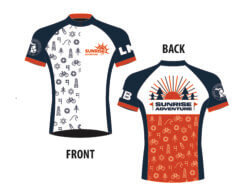 ---
T-Shirt Upgrades
A standard cotton T-shirt is included with all registrations. Upgrade to a moisture management performance fabric T-shirt for $20. We're still designing the 2022 t-shirt so stay tuned to your email for the big reveal!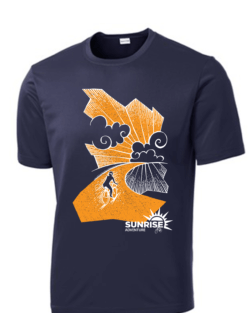 ---
Ride Safe, Ride Smart
Helmets are required whenever a rider is on a bicycle.
Riders must be able to complete the daily route. Please train.
Riders must be equipped and able to change a flat tire.
Riders must carry at least one water bottle or equivalent for hydration.
Riders must have a rear reflector or red blinking light mounted on their bicycle.
Be ready to have FUN!
---
LEARN ABOUT OUR CANCELLATION POLICY
---
Well, after the last few years, we here at League of Michigan Bicyclists (LMB) are looking forward to our weekend Sunrise Adventure! Please note if you are a 2020/2021 Deferred Rider check your email and mailbox for your instructions on how to register. If you are a LMB Member you can access the registration from the member portal button below and then choose the tour you want from the drop down menu once you are logged in. 
Location
665 Johnson St
Alpena, MI 49707