2023 Date Release on 11/25/2022
Camping Tour with Hotel Options
Your Shoreline West Riders Guide is ready CLICK HERE to download your copy! 
Be part of an unforgettable vacation as you pedal tree-lined roads and past breathtaking waterfront views. Enjoy local wineries, brewpubs, farmer's markets, crystal-clear lakes, historic resort towns, and the iconic Sleeping Bear Dunes National Lakeshore, voted Most Beautiful Place in America! This fully supported tour begins in Montague and ends at the head of the world-famous Mackinac Bridge. Come and see why the westside of Michigan is a must-cycle destination for all ages.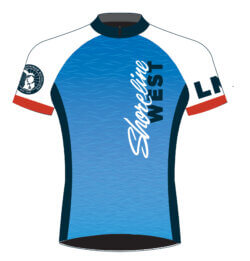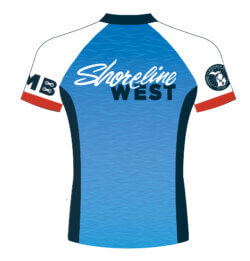 Our 2022 Jersey designs are here!
Add a jersey when you register or if you forgot you can visit our store to purchase one!
We support the full range of Primal sizing in our shop! 
REGISTER FOR Shoreline WEST 7 Day
REGISTER FOR Shoreline WEST 3 Day
PLEASE NOTE: The Shoreline West 3 day ride starts in Traverse City and ends in Mackinaw City. Details below in the Itinerary drop down section.
Did you know that our bike tours are for everyone? Yes everyone! Touring bikes, Road Bikes,Tricycles, E-Bikes, Handcycles, Recumbents, Gravel Bikes, and Mountain Bikes, bring them all! We didn't list what you want to ride? Let us know and we will see what we can do to make it happen. If you are facing a disability or have a unique challenge in participating in one of our tours please reach out to [email protected] and we will contact you directly to discuss the needs and accommodations.
---
Shoreline West Info
Learn more about Shoreline West
Lake Michigan's shoreline is a spectacular feast for the senses. Enjoy the feast on LMB's 2022 Shoreline West Bicycle Tour, August 6 – 13, 2022. Be part of an unforgettable vacation as you pedal tree-lined roadways past breathtaking lakeshore views. Enjoy local wineries, micro-breweries, farmstands, crystal-clear lakes, historic resort towns, and the interesting people on the tour!
Still included with your registration:
Awesome, incredible, friendly, helpful Volunteers
Beautiful  scenery
SAG Stops with hydration and light snacks
SAG wagons that patrol the route
Catered breakfast and dinner
Overnight camping
Showers
Luggage transport for two bags
Electronic charging station in camp
Professional Bicycle Mechanic**
Free long term parking
Registration packet with an event t-shirt and other fun swag
Daily route info meetings with cue sheets, GPS turn by turn directions
**PLEASE NOTE: Minor adjustments are free. Any repairs, parts, assembly, disassembly, and shipping will incur a fee. 
Learn more about LMB
Take a minute to remember the first time you rode your bike. Grinning from ear to ear as you pedaled down the street or across the fields feeling the freedom, independence, and fun of being on your bike.
So let's get on our bikes and recapture that feeling of simple freedom, independence, and fun!
Did you know LMB works to provide education and training to Drivers and Bicyclists through our driver's education program, our law enforcement training, and our bicycle skills training? Did you know LMB is instrumental in giving bicyclists a voice in government through legislation, like the 3-foot passing law? Did you know LMB's Micro-Grant Program helps fund local advocacy work and community bicycling programs especially among underserved populations?
Did you know LMB tours provide a majority of the funding to do this work? So enjoy an awesome tour while supporting LMB making Michigan bicycling better through your registration and purchases!
No matter what you ride, why you ride or where you ride, LMB works for all bicyclists to Make Michigan Bicycling Better. Educating new drivers, law enforcement, and children. Advocating to create and pass legislation concerning safe passing, distracted driving, and helping local bike shops last spring. Helping develop bicycling infrastructure across the state and supporting other bicycling events. Your Shoreline WEST registration helps to fund LMB's work. Thank You!
Click here for registration costs
7 Day Costs
Member Pricing
Adult Member: $625
Non-Rider Member: $420
Minor Member: $420
Regular Pricing
Adult: $665
Adult Non-Rider:$430
Minor Rider or Non: $430
Late Registration 7 Day—Date coming soon
Adult: $995
Adult Non-Rider:$695
Minor Rider or Non: $695
3 Day Costs
Member Pricing
Adult Member: $460
Non-Rider Member: $250
Minor Member: $250
Regular Pricing
Adult: $500
Adult Non-Rider:$260
Minor Rider or Non: $260
Late Registration 3 Day—Date coming soon
Adult: $750
Adult Non-Rider:$500
Minor Rider or Non: $500
Click here for bus costs
Pre Tour Bus – Ride your bike back to your vehicle. Start with charter bus transportation from the finish line in Mackinaw City to the start at Montague High School on Saturday morning August 6. Bicycle loading begins at 8 a.m. at the Mackinaw City Rec Complex. Long term parking in Mackinaw City included. Price $110.
Post Tour Bus – Ride a charter bus back to your vehicle. Finish with charter bus transportation from the finish line in Mackinaw City back to your car in Montague. Drive to the start at Montague High School on August 6. Ride your bike to Mackinaw City. Ride the charter bus back to Montague High School on Saturday afternoon August 13. Long term parking in Montague included. Price $110 3 day riders pick this option to get back to your car in Traverse City.
Please note if you want to join as a member to get discounted pricing you will receive an email shortly after joining for access to the member only registration pages. 
---
Learn about our covid safety Policy
LMB COVID Safety Policy
LMB has adopted the following COVID safety policy for risk mitigation on our 2022 tours. This policy is subject to change depending on pandemic conditions and health guidance. Because the virus that causes COVID-19 is extremely contagious, no level of risk mitigation can guarantee that you will not be exposed. Participation in all LMB events is at your own risk.
All participants, staff, and volunteers must show proof that they are fully vaccinated and up to date. 
Fully vaccinated means a person has received their primary series of COVID-19 vaccines.
Up to date means a person has received all recommended COVID-19 vaccines, including any booster dose(s) when eligible.
 Click above for more detail. 
---
Need to rent a tent? Click below.
Need a Hotel or Airport Shuttle? Click Below 
---
PLEASE NOTE: FINAL ROUTES, LOCATIONS, AND TIMES OF SERVICE MAY CHANGE.
RIDER GUIDES WILL BE READY SOON WITH MANY OF THE SPECIFIC DETAILS OF THE TOUR
Shoreline WEST Itinerary
To start, click each day below to expand the section and see details. Use the Shoreline WEST Itinerary as a source for route maps, guides to local attractions, and an easy way to develop your sightseeing plans. Please note, routes and itineraries may change without notice due to road closures, construction or inclement weather.
Saturday August 6th - Montague Check-In
Check-in for 7-day riders.
Pre-tour bus from Mackinaw City to Montague.
Optional ride (no SAG support).
Welcome to Shoreline West! Join us in the afternoon at Montague High School between 2 pm and 6:30 pm for packet pick-up. Once you've settled in, feel free to visit the White Lake area or hit the beach at Duck Lake Channel or Lake Michigan – the former will put a smile on your face, while the latter will definitely wake you up! If you're hoping to get a feel for some local history, the White River Light Station Museum is worth a visit. There are plenty of charms to be found in downtown Montague as well, including the world's largest weathervane.
Our first dinner will be served at the high school between 5 pm and 7 pm. We want to thank the Montague Band Boosters who have served us a great meal for many years! It's great to know that some of your registration goes to support this local school band! Once you've had your fill, we will convene for a mandatory rider meeting at 7:00 pm. Welcome to Shoreline West!
Note: There will be no access to the school facilities on Friday night, but you may camp at the school. School facilities will be open for use on Saturday at 10:00 am.

August 7th - Montague to Ludington (60 miles)
After enjoying a hearty catered breakfast, thanks again Montague Band Boosters, get ready to sample a little bit of everything that Lake Michigan has to offer. Our route will begin with a brief cut south and west to join with the coast. After that, it's smooth sailing as we wind our way north towards Ludington, all the while shadowed by pristine beaches and breathtaking views. In the process, we'll pass the Little Sable Point Lighthouse. Built in 1874, it is one of the oldest brick lighthouses on the Great Lakes, and an excellent spot for a quick break.
Just on the outskirts of Silver Lake, we pass by one of our favorite stops of the whole trip: Cherry Point Market, where you can chill out with your fellow riders and sample some of the delicious home-baked goods on offer. On your way around Silver Lake, feel free to explore the dunes on one of several dune rides offered there.
The best lunch stop today is the small but bustling Pentwater. A number of public parks in the town offer excellent access to Lake Michigan.
As we get closer to Ludington, check out the Consumers Energy Pump Storage Facility, which offers a scenic overlook of the coastline that is sure to impress.
The fun doesn't stop once we've arrived in Ludington, though. Our dinner tonight is provided by long time tour partner and supporter Dawn Fresh, for years they have provided you with breakfast and dinner in Ludington, Traverse City, and Charlevoix. They are a local family operated business that also owns Ebels General Store. After getting your fill, check out the Waterfront Walkway which stretches from Stearns Park to Waterfront Park, where a number of awesome sculptures depict scenes from local history. Around 7:00 pm, you can watch the docking of the SS Badger, a historic car ferry that runs daily to Manitowoc, Wisconsin. You can also choose from a number of great beaches and a state park. All this and it's just the first day!

August 8th -Ludington to Frankfort (64 miles)
On our second day, you'll get a peek at some of Michigan's more varied terrain. Fuel with breakfast at camp, then make your way towards Frankfort, on the way, enjoy the charming towns of Manistee and Onekama. Each has its own unique character and strong history. In Manistee, the North Pierhead Lighthouse was established in 1927 and is still in use today.
Just after passing through Arcadia and Jungle Inn Drive, you'll reach today's big climb up Watermelon Hill. At a 12% grade, the half-mile climb can be challenging – but your mind is sure to be set on the juicy watermelon we'll be serving at the top. As you enjoy your reward, be sure to climb the steps to the top of the scenic overlook. The view is absolutely stunning.
Frankfort is an ideal town for us to stay in: easily walkable with a number of great restaurants and shops. Tonight we again work to benefit local education by having Frankfort High School provide us a catered dinner in camp. Afterward, you can then finish out the evening by strolling along Betsie Lake down to Lake Michigan and watch the sunset from the public beach. On your way back, check out Stormcloud Brewing on Main Street,

August 9th Frankfort - to Traverse City (62 miles)
Early check-in for 3-day riders.
Today is the day many of you have been waiting for – Shoreline West Jersey Day!! Oh yeah, and Sleeping Bear Dunes National Lakeshore, a federally protected stretch of coastline that is consistently voted one of the most beautiful places in the country.
We'll fuel up with another great breakfast from Frankfort High School and then roll out past the Point Betsie Lighthouse, established in 1858 and is still active today. Until 1996, the U.S. Coast Guard used the attached quarters as a residence.
Along the way, you can also stop at Riverside Canoe Trips, a popular rest stop for our riders who are looking for some light refreshments. You might even be able to sneak in a quick float in a canoe or kayak!
As we enter Leelanau peninsula and approach the small town of Empire, the terrain will begin to transform into the characteristic beauty of the Sleeping Bear Dunes Lakeshore. The rolling hills will take us past coastal dunes and clear lakes, dense beech-maple forests, and bluffs that tower nearly 500 feet over the water. You'll need to see it to believe it. And on Shoreline West, you get just that!
According to Ojibwe legend, the lakeshore is named after a mother bear who fled with her two cubs from a forest fire on the Wisconsin shore of Lake Michigan. The three of them swam across the lake, but upon reaching the safety of the opposite shore, the mother realized that her cubs were nowhere in sight. She decided to wait for their return. The Great Spirit, impressed with her resilience, created the North and South Manitou Islands to commemorate the cubs, and then covered the sleeping mother bear with sand. The mound that is the original 'sleeping bear' can still be seen today.
Glen Arbor provides an ideal opportunity to stop for lunch and enjoy some local cherry delights. As we leave town, the scenery will change again into the rolling hills of peaceful farming communities. After a few challenging climbs, you'll be rewarded with a long descent into Traverse City. Tonight Dawn Fresh Catering is back to provide us a hearty meal so you have the energy to start exploring the many attractions that make this the Cherry Capital of Michigan!
Riders who opted for the Early Check-in when registering may check-in at the Civic Center in Traverse City today from 3:00 – 5:00 pm.
August 10th - Layover and Traverse City 3 Day Rider Check-In
After a few challenging days of riding, you owe it to yourself to take it easy during our layover day! The Traverse Bay area is one of the top vacation destinations in the Midwest, and you're sure to see why as you explore all of the wonders that it has to offer – from local wineries and breweries to kayak tours to independent boutiques, you're sure to find something that strikes your fancy.
For those whose legs are still itchy for more pedaling, feel free to cruise up the Old Mission Peninsula, which is known for its beautiful homes, bright cherry orchards, and plentiful wineries. It is also possible to visit the Old Mission Lighthouse, established in 1870 and deactivated in 1933. These routes are unsupported but you'll find plenty of places to fuel and hydrate.
Today starts with Dawn Fresh serving us breakfast, but not lunch or dinner, so you're free to enjoy some of the best restaurants in northern Michigan. Check at the info desk to see if there are any coupons for local dining and attractions. LMB will also offer you a chance to rest your legs but still see the area with two charters today, One to Old Mission Peninsula on a tour of local wineries and the second on a rambling tour of several local downtown breweries and distilleries. For those who want to see the town on their own, there is an extensive bicycling infrastructure along with public transportation and rideshare options, so get out there and enjoy!!
Riders who opted for the 3-day portion of Shoreline West can check-in today from 3:00 – 5:00 pm (recommended), and August 10, 6:30 – 8:00 am.  Please bring your confirmation letter and photo ID to check-in. Camping will be at the Civic Center. Your first meal will be breakfast on Thursday, 6:30 – 8:00 am so go out and enjoy dinner in Traverse City!
August 11th Traverse City - to Boyne City (71 miles)
August 12th Boyne City- to Harbor Springs (46 miles)
Regardless of how you get there, Harbor Springs offers much to the touring cyclist. The ride into town along Beach Drive takes us past some beautiful summer homes, while Harbor Springs itself hosts gift shops, great restaurants, tasteful art galleries, a large marina, ice cream, coffee and fudge shops galore! It's fitting that we share our last meals tonight and tomorrow morning supporting local schools. Harbor Springs Schools always does a fantastic job feeding our hungry group and we're grateful for their help!

August 13th Harbor Springs - to Mackinaw City (43 miles)
Ride end.
Post-tour bus returns to Montague.
The final day,  Shoreline West ends with a scenic smorgasbord!! As you pedal through the historic and endlessly scenic Tunnel of Trees, along the shores of Lake Michigan and sneak a peek of the Mighty Mac on your way to our final destination of Mackinaw City, your mind is sure to be overflowing with all of the memories made over the past days. The final day is a beautiful send off and sure to fill your feed with awesome pics.
Passing through the town of Cross Village, be sure to stop and check out the Legs Inn where we'll have a Super SAG stop complete with snacks and hydration. The historic building is built on a bluff overlooking the lake, so it's a great place to fuel up while looking out on the lighthouses and islands visible from the back. As we cycle past Sturgeon Bay and reach Cecil Bay, make sure to stop by the Cecil Bay Trading Post and grab yourself an ice cream cone! If you're riding the bus back, make sure to get here by noon so you'll have pleeeenty of time to enjoy pictures at the Mackinac Bridge!
Once you see the unmistakable towers of the Mackinac Bridge, you'll know that you're nearing our destination. Enjoy these last few miles, visit Fort Michilimackinac which began in 1715 as a French outpost, then head back to the Mackinaw City Rec Center. Here we bid our new and old friends goodbye, rest our legs and start planning for next year!
The Post-Tour Bus back to Traverse City and Montague departs Mackinaw City Recreation Center at 2 pm. If you are riding the post-tour bus, you will not have time to visit Mackinac Island.
Please note, registered participants will receive detailed itineraries and timelines each day during the Rider Meeting.
---
Bicycles on Shoreline West
CLICK HERE FOR BICYCLE INFO
You can ride any bicycle in good mechanical condition on Shoreline West. This includes trikes, recumbents, tandems, unicycles, and e-bikes. The standard route is designed to accommodate road bikes. Mountain, hybrid, cyclocross, and gravel bikes will have a blast on the routes. If you are using a standard road bike or touring bike, consider fitting wider tires for comfort. All main routes on Shoreline West this year are paved.
LMB provides a professional mechanic for the entire tour. Minor adjustments are free. Any repairs, parts, assembly, disassembly, and shipping will incur a fee. Each SAG Stop and SAG wagon carry basic tools and a floor pump. SAG and the mechanic also carry spare tubes for sale. Our daily Super SAG Stop will have a generator available to provide charging for E-bikes. Our SAG service is designed to transport all the above-named cycles!
To create a safe and scenic tour, Shoreline West may at times travel along crushed limestone trails and unpaved country roads. This year optional routes include over 10 miles of such surfaces. Any optional routes or loops labeled "Gravel" can have long sandy sections and are best attempted with a 37c or wider tire that has a tread or knobby surface.
Bike transport is included as part of your charter bus transportation. Click here for details on how to prepare your bike for truck transport. We try to be as careful as possible, but we are not responsible for damage during transport by our trucks or SAG.
Click here for details on shipping your bike to and from the tour.
SAG on Shoreline West
CLICK HERE FOR SAG INFO
LMB thinks of SAG as the "Support Assistance Group." SAG service includes mobile SAG wagons, stationary SAG stops, SAG shuttles, and Sweep. SAG vehicles are marked with LMB flags and magnetic LMB signs
SAG stops are stationed along the primary route. During the Riders Meeting as we review the next day's route, we'll provide the approximate location of these SAG stops. They are spaced on an average about 15 miles apart, but this will vary depending on route conditions. SAG Stops are rest stops located on route and identified with LMB signage. They are stocked with water, electrolytes, light snacks, basic tools, floor pumps, and close to restrooms or porta-potties. Our daily Super SAG Stop will also have a generator to provide e-bike charging
SAG wagons will provide assistance to riders experiencing physical or mechanical issues along the primary route and gravel route. SAG wagons will transport riders and their bikes to a SAG stop or to seek medical treatment. Please be aware that SAG wagons do not go to camp, they stay on the route to provide the fastest possible service in emergency situations.
SAG shuttles will periodically travel along the route picking up riders at SAG stops and transport them to camp.
Each SAG Stop and SAG wagon carry basic tools and a floor pump. They also carry spare tubes for sale. Our SAG service is designed to transport all supported cycles! Please note, SAG support is not available off route or after hours.
LMB provides a professional mechanic for the entire tour. Minor adjustments are free. Any repairs, parts, assembly, disassembly, and shipping will incur a fee. The mechanic will be posted on the route each day and also in camp each afternoon. If your bike requires repair beyond the capacity of our mechanic, you will be referred to the nearest bike shop.
Private SAG's are allowed.  A private SAG is a person or group of people who are on the tour to provide support to their rider. We simply ask for vehicle and rider information, and to use alternate routes to intersect with the tour route which helps keep riders safe. If private SAG wants to use overnight facilities, meals and tour resources then we ask that they register as Private SAG/Non-Riders.
Meals on Shoreline West
CLICK HERE FOR MEALS INFO
Registration includes meals EVERY RIDING DAY! You'll enjoy professionally catered breakfasts and dinners with options for vegetarian, vegan and gluten-free lifestyles. Breakfast is 6:30 – 8:00 am, dinner is 5:00 to 7:00 pm. Meals vary and you'll always find a few staples offered each day. For breakfast you'll always be able to find oatmeal, yogurt, granola, fresh fruit and cereal in addition to various hot dishes. During dinner you'll always be able to find fresh salads, fruit, bread, peanut and almond butter, along with hot entrees, side dishes and dessert. All meals are served in camp except where noted in the itinerary. You're on your own for lunch every day.
A hungry biker is an unhappy biker.  So, keep an eye out in camp for the pop-up food truck or vendor. You never know who will drop in during the afternoon selling carnival food, pizza slices, hotdogs, and other treats! LMB punch cards make getting a snack in camp easy and economical. Each day you can find sweet and salty snacks along with ice-cold beverages at the service desk between 2 pm and 9 pm.
Luggage on Shoreline West
CLICK HERE FOR LUGGAGE INFO
How serious is the weight limit for bags?
Serious. Each rider may bring two bags (duffle bags are ideal). Each bag cannot weigh more than 35 pounds. This weight limit includes your tent and sleeping bag. Bags over the limit will be charged $35 per bag. We ask you to honor the limit and help protect the health of both you and our volunteers. Remember, you'll have to haul these bags to the camping area and back!
Can I bring an extra bag?
Yes! If you need more luggage space then please purchase the additional bag option for $35. Any bag over the 35-pound weight limit will be charged the extra bag fee.
Shoreline West Merch
CLICK HERE FOR SHORELINE MERCH INFO
The 2022 Jersey design is complete. Make sure to add a Shoreline West Jersey to your cycling gear line up. You can add one during registration and they will be available in our online store for preorder after 03/09/22.
You can still order past Jerseys along with our other LMB Gear (note sizes limited on some styles):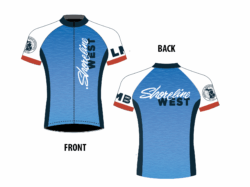 ---
Ride Safe, Ride Smart
Riders must wear a helmet whenever on a bicycle.
Riders must come prepared to complete the daily distance. The terrain can be hilly.
Riders must carry spare tubes, a flat repair kit, and be able to change a flat tire.
Riders must carry sufficient hydration on their bicycle.
Riders must have a rear reflector or red blinking light mounted on their bicycle
Be ready to have FUN!
---
Testimonials
"I love Michigan, to ride my bike, and this tour was like a trip back in time to childhood places I knew and loves. I really enjoyed meeting so many people from all over…that be the best part of the trip!"

B. Flannery, Highland, MI

"I love the beautiful route! I love that there are too many things to do each day. I love the wonderful, helpful staff and volunteers! I love the maps and daily information sheets. Loved all of the fruit and vegetables offered with the meals. I've done numerous state rides over the years and while they all have something to offer, this is my all-time favorite ride."

J. Grey, Milton, FL

"It goes through a beautiful part of the state; wonderful to meet so many people from out of state and fun to 'show off' Michigan. Makes me proud to be a Michigander. I like large group rides, and I like the energy it generates."

D. Sherman, Honor, MI

"Not being familiar with Michigan, I enjoyed seeing the beautiful countryside and becoming acquainted with the charming towns along the route. Specifically, I enjoyed the miles of Michigan's respect for keeping the countryside trash-free. The spectacularly crystal-clear lake water was stunning, and being an avid swimmer, I made sure that I took time out from riding to get some laps in! I also enjoyed meeting so many nice bicyclists who participated in the ride. One of the most incredible highlights of the ride were the long-term volunteers who were the backbones of the tour."

J. Dvorak, Columbus, IN

---

LEARN ABOUT OUR CANCELLATION POLICY

---
Well, after the last few years, we here at League of Michigan Bicyclists (LMB) are looking forward to our Shoreline West tour! We still have the  7-Day and 3-Day tour options so c'mon out and ride with LMB!  Please note if you are a 2020/2021 Deferred Rider check your email and mailbox for your instructions on how to register. If you are a LMB Member you can access the registration from the member portal button below and then choose the tour you want from the drop down menu once you are logged in. 
Location
4900 Stanton Blvd
Montague, MI 49437