A True Off-the-Grid Adventure!
Update, 4/28/20: All LMB tours have been canceled for 2020. We hope you can join us July 10-17, 2021!
Update, 1/5/21 on 2021 tours: We are still determining our registration opening date and some of the details for the tours, including capacity. We've got a lot of additional considerations this year to hold the tours safely, as you might imagine. We'll be sure to announce the opening date with plenty of advance notice, so watch for an announcement soon!
MUP? Michigan Upper Peninsula Bicycle Tour!
Gravel, Road, Mountain, Rail Trail, Casual, Racer, Young Rider, we advocate for all, to Make Michigan Bicycling Better. Our MUP Tour helps to fund LMB's mission to make bicycling safe and convenient for everyone in Michigan. It also supports LMB's Micro-Grant Program to help fund on-the-ground advocacy work that promotes safe bicycling, especially among youth and underserved populations.
The Upper Peninsula (UP) contains 29% of the land area of Michigan but just 3% of its total population. Residents are frequently called Yoopers (derived from "U.P.-ers"). Locals are proud of their heritage, the region's rugged natural beauty and wonder about the "trolls" who live below the Mackinac Bridge on the Lower Peninsula. The area's culture is rooted in its Scandinavian heritage and history rooted in the early fur trade, copper and iron mining, lumber, and of course the delish Cornish pasties (savory handheld pies favored by miners). More people visit the UP to see the many waterfalls than anything else and we'll cycle past 17 of them during the week.
The central U.P. is comprised of rocky outcrops over Lake Superior, sandy beaches along Lake Michigan, huge sand dunes near Grand Marais, dense forests and pastoral farmland. Come ready to ride and experience Michigans Upper Peninsula!
Thank you for riding with League of Michigan Bicyclists in 2020.
---
SORRY REGISTRATION IS CLOSED!
---
Fees
MUP registration fees are based on membership status and registration date. Members enjoy exclusive members-only access and early-bird discounts from December 2 through December 31. We welcome all to join the League of Michigan Bicyclists to make Michigan bicycling better. Prior to registering, please take a moment to review and understand our Cancellation and Refund Policy.
Registration dates are as follows:
Early Registration is January 2 – May 14, 2020
Regular Registration is May 15 – June 26, 2020
Late Registration is June 27 – July 11, 2020
Registration Fees are as follows:
Members, please make sure to log in when you register to access member rates. Need to Join or Renew? Do it before you register and save!
Non-Members, please make sure to log in when you register to access Early Registration rates. Want to save more? Become a Member!
LMB Members:

December Special $465
Early Registration $475
Regular Registration $475
Late Registration $995

Non-Members:

Early Registration $495
Regular Registration $525
Late Registration $995

Minors (17 & under):

Early Registration $300
Regular Registration $335
Late Registration $695

Non-Riders/Private SAGs:

Early Registration $300
Regular Registration $335
Late Registration $ 695
---
Route Overview
Even though this tour often sells out, we couldn't resist making it even better! This year our tour begins with two nights in Marquette followed by three nights in Munising. A mid-tour layover day in Munising gives you plenty of time to explore nearby Grand Island National Recreation Area and Pictured Rocks National Lakeshore which is unlike any other place in Michigan. From Munising, we'll pedal down through Hiawatha National Forest to Manistique and Lake Michigan before taking two days back through Hiawatha National Forest to get back to Marquette. Seven days, four camps, two Great Lakes, one National Lakeshore, one National Recreation Area and one National Forest, now that's a tour!
More rustic than our Shoreline West tour, enjoy cycling along Lake Superior, Lake Michigan, quiet pastoral farmland, and wooded rolling hills while fully supported with both SAG wagons and SAG stops. Each day is fully paved and suitable for road bikes, but if you need a little dirt on your shirt, ask about the dirt road options available on several days during the tour.

MUP is primarily a paved road bicycle tour. If we take a detour, cyclists may have a small, gravel trail to add to their story!
Itinerary
Routes are subject to change. Click each day below for daily details.
Sat 7/11/2020 - Marquette Check-In
Presque Isle route on RideWithGPS!
Check-In at the Superior Dome on the campus of Northern Michigan University for packet pick-up. Once you've settled in, feel free to enjoy the town of Marquette where you'll find several french style patisseries, our tour coffee provider Velodrome Coffee, and several breweries. For those needing to loosen up the legs, take a 12 mile ride out to beautiful Presque Isle and around Marquette on the Iron Ore Trail. Tonight we'll enjoy a light reception with snacks and beverages. For those who want a hearty dinner, check out the many restaurants downtown!
Sun 7/12/2020 - Marquette to Big Bay and Back (Zero to 61 miles)
We start the day with breakfast and great coffee provided by one of our tours sponsors Velodrome Coffee. Today you can ride a little or clock in almost a metric century. The distance choices are infinite on this, fully supported, out and back route along scenic Big Bay Road. Choose your distance depending on what you want today. The route captures lots of natural beauty, miles of Great Lakes and the primary industries of tourism, mining, and farming. Just a short distance along the route is Sugarloaf Mountain Natural Area which consists of a 3,200 foot trail of pathway and stairway segments that lead to a summit 470 feet above Lake Superior, the picture is worth the climb! The sleepy village of Big Bay lies at the end of the road where you can stop at Thunder Bay Inn for a bite to eat. If your feeling adventurous head on down the gravel road to the Big Bay Lighthouse before heading back to Marquette. Today dinner is on the road as you head back into town. The Burger Bus (a food truck) will be providing your afternoon meal right on the route! If your still hungry, buy a second burger or head-on into town and sample one of the many fine restaurants.
Christmas in July Monday 7/13/2020 - Marquette to Munising (42 miles)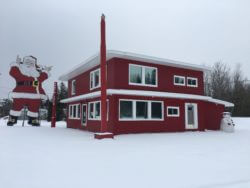 Put on your favorite holiday jersey, it's Christmas in July!
We start the day with breakfast and great coffee provided by one of our tours sponsors Velodrome Coffee. After breakfast in camp, the second day follows along the shoreline of Lake  Superior as you leave Marquette and travel along the Iron Ore Heritage Trail. Then ride through the villages of Lakenenland and Au Train. The quirky Lakenenland Sculpture Park about 15 miles outside of Marquette is a must-see, featuring scrap-iron sculptures and interactive exhibits. Feel free to stop and swim, or just visit Au Train for lunch. Then make sure to stop at our special SAG stop at Christmas (yes Virginia, there is a Santa Clause) and take your Christmas in July photo to post on your social media page. After a good chuckle, head on to Munising, the gateway to Pictured Rocks National Lakeshore. MUP will spend 3 nights here, which means you don't have to move your tent until Thursday morning! Fuel up at the catered dinner tonight because tomorrow is a big mileage day!
Century Tuesday 7/14/2020 - Munising to Grand Marais to Munising (20-100 miles)
We start the day with breakfast and great coffee provided by one of our tours sponsors Velodrome Coffee. Put on the jersey of your favorite century ride because today is Century Tuesday, a day to test your legs.
Or not! It's an out and back along the entire length of Pictured Rocks National Lakeshore and fully supported. So you can ride anywhere from 20 to 100 miles with full SAG support and experience the incredible beauty of Pictured Rocks National Lakeshore. Riding along the scenic Au Sable Point Trail you'll get a chance to explore some of the most iconic places in the central UP including Pictured Rocks National Lakeshore, Log Slide Overlook, Grand Sable Banks, Grand Sable Falls, and the Au Sable Lighthouse. If you choose to go the full distance to Grand Marais, you can stop in this little village to pick up your MUP Century patch before going to see the locally famous Pickle Barrel house, swim in Lake Superior, fuel and hydrate at the local establishments and then head back to home base in Munising. All through today's ride, you'll have a chance to explore optional gravel sections by detouring off the paved route down several spurs. But be warned, today is not the day to experiment! Please only attempt these loops if you are an experienced gravel rider with a bike that can handle softer surfaces! Once back in camp, you'll be ready for a locally catered hearty dinner before heading out into town.
VIP Boat Tour Wednesday 7/15/2020 - Layover Day in Munising
Today we'll serve breakfast as usual along with coffee provided by our tour coffee sponsor Velodrome Coffee, but you are free for lunch and dinner so you can enjoy the many offerings in Munising!! After testing your legs yesterday, today you can relax, explore Munising and local sights by bike, kayak, glass-bottom boat or even on foot! Take a bike ride out to Sand Point Beach or Miners Castle and Miners Falls, tour the many hidden waterfalls in the area, hike (or gravel bike) around Grand Island, or visit shipwrecks through a glass-bottom boat. Of course, you can also just hang out in camp catching up on your bike maintenance and beauty sleep.
The best way to spend the day in our opinion is to join us on a VIP boat tour to view the beautiful cliffs and waterfalls of Pictured Rocks from the water! See below for details.
Throwback Thursday 7/16/2020 - Munising to Manistique (57 miles)
Today starts with breakfast and sadly the last day we can enjoy coffee from one of our tours sponsors Velodrome Coffee. It's Throwback Thursday!! Put on your favorite vintage jersey for a shore to shore ride across the spine of the UP.
Starting at the shore of Lake Superior, you'll quickly find yourself climbing out of the basin onto mile after mile of smooth pavement and trees coming almost right up to the shoulder. Enjoy rolling through the Hiawatha National Forest founded in 1909 by President Theodore Roosevelt. Along the way is Kitch-iti-kipi, Michigan's largest spring. It is 200' in diameter, 42′ deep and delivers 10,000 gallons of crystal clear water per minute. Just the ticket for the end of a woodland ride. From here it's a few miles into Manistique and Lake Michigan. Take time to head down to the water and drop a tire into the water so you can tell everyone how you cycled shore to shore!
TGIF 7/17/2020 - Manistique to Eben Junction (64 miles)
Today as usual, we start with breakfast in camp. It's TGI Friday! While everyone else is looking forward to the weekend, we've been having fun all week. To show how much, wear your most crazy, fun jersey! Tonight during dinner we'll judge them and award the winner with an awesome prize!
Last year we took this route down from Munising. This year we head north and west to the village of Eben Junction and the last night of the tour. An old railway junction, Eben Junction is the home of the Eben Ice Caves where the winter ice creates some amazing formations, during the summer Eben Junction is a sleepy quiet town, perfect for our last night together where we'll enjoy something special as a thanks to you for being a part of the 2020 MUP.
Goodbye LMB Saturday 7/18/2020 -Eben Junction to Marquette (37 miles)
We awake today a little sad and a little happy. Alas, all good things must come to an end. Put on your old or new MUP jersey and enjoy the final miles of riding in the UP.
After 7 days exploring and enjoying the Michigan Upper Peninsula, today you ride for home. Enjoy the last breakfast because tailwinds, headwinds, and crosswinds won't matter as the final day takes you west and north into Marquette. It's a short route back to the bustle of the city and the Superior Dome so take the time to enjoy the ride and reflect on your MUP friends new and old.
---
Bicycle
You can ride any bicycle in good mechanical condition on MUP. This includes trikes, recumbents, tandems, unicycles, and e-bikes. Mountain, hybrid, cyclocross, and gravel bikes will have a blast on the routes. If you are using a standard road bike or touring bike, we recommend fitting the widest possible tires (32c if they'll fit) to best traverse the 7 miles of crushed limestone trails and un-paved country roads. Road bikes with 23c-28c tires will do fine on the route but may have to work a little harder. Any optional routes or loops labeled "Gravel" are best attempted with a 32c or wider tire.
---
Lodging
We'll camp each night at a local school. While MUP does not affiliate with any hotel, for those who chose not to camp, you can find nearby lodging for every night. Check with the local visitor's bureau in Marquette, Munising, and Manistique for more information.
---
Tent Services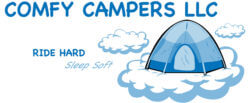 Comfy Campers Tent Service is available on this tour! You can choose full service or a la carte and have their friendly staff set up and take down your camp. They supply you with a tent, air mattress, bath towel, and/or camp chair. Please visit the Comfy Campers website for more information and to sign up.
---
Pictured Rocks VIP Boat Tour
You can see Pictured Rocks by hiking or by boat. We'll see this incredible natural wonder by boat! Get ready for an amazing tour of more than 30 miles of colorful sandstone cliffs, sometimes towering over 200 feet and dropping straight into Lake Superior.
Join us on Wednesday, July 15 as we cruise along Pictured Rocks National Lakeshore, voted the most beautiful place in Michigan by Condé Nast Traveler!
What makes this a VIP tour? Well, glad you asked! As you enter the boat you'll be given a lovely gift bag filled with all kinds of goodies, then enjoy a meal and non-alcoholic beverages as you tour the mineral-rich rock formations and waterfalls, followed onshore with a relaxing beer, wine and cheese reception. A great value at $75 per person. Tickets are limited.
---
MUP 2020 Jersey
We're still designing the 2020 Jersey so stay tuned to your email for the big reveal of our 2020 Jersey.
You can still order the 2019 Jersey along with our other LMB Gear (note sizes limited on some styles):
---
T-Shirt Upgrade
A standard cotton T-shirt is included with all registrations. Upgrade to a moisture management performance fabric T-shirt for $20. We're still designing the 2020 t-shirt so stay tuned to your email for the big reveal!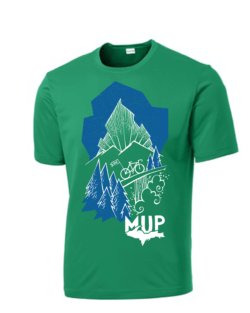 ---
Optional Third Bag
Riders are politely reminded that their luggage should be limited to two soft-sided bags each weighing forty pounds or less. Can't fit it all in two? Add an extra bag for a small fee.
---
Safety Requirements
Helmets are required whenever a rider is on a bicycle.
Riders must be able to ride 60+ miles a day. The terrain can be hilly.
Riders must carry spare tubes and be able to change a flat tire.
Riders must have at least one and preferably two water bottles on their bicycle.
Riders must have a positive attitude at all times!
---
Learn about our cancellation policy
---
FAQ
More questions? Check out the Rider Info on the right side of this page, and Click here to view the FAQ
Location
1401 Presque Isle Ave
Marquette, MI 49885