2023 Date Release on 11/25/2022
Camping Tour – REGISTRATION CLOSES AT MIDNIGHT ON JULY 1 2022!!! 
YOUR 2022 MUP Rider Guide is here CLICK HERE to access you copy. 
This year our tour begins with two nights in Marquette followed by three nights in Munising. A mid-tour layover day in Munising gives you plenty of time to explore nearby Grand Island National Recreation Area and Pictured Rocks National Lakeshore which is unlike any other place in Michigan. We'll pedal down through Hiawatha National Forest to Manistique and Lake Michigan before taking two days back to Marquette. Each day is fully paved and suitable for road bikes, but if you need a little dirt on your shirt, ask about the dirt road options.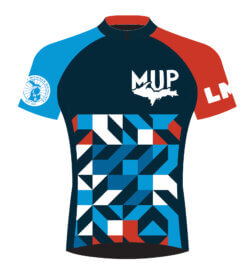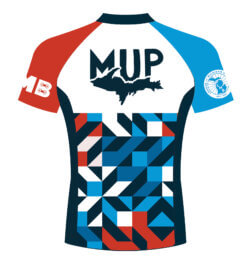 . 
Our 2022 Jersey designs are here!
Add a jersey when you register or if you forgot you can visit our store to purchase one!
We support the full range of Primal sizing in our shop! 
Did you know that our bike tours are for everyone? Yes everyone! Touring bikes, Road Bikes,Tricycles, E-Bikes, Handcycles, Recumbents, Gravel Bikes, and Mountain Bikes, bring them all! We didn't list what you want to ride? Let us know and we will see what we can do to make it happen. If you are facing a disability or have a unique challenge in participating in one of our tours please reach out to [email protected] and we will contact you directly to discuss the needs and accommodations.
---
MUP Info
Learn more about MUP
Situated on the campus of Northern Michigan University and just a few blocks from Lake Superior, MUP Central kicks in Marquette on the grounds of the world's largest wooden dome, aptly named the Superior Dome! We'll journey along Lake Superior via rail trails and quiet lakeshore roads exploring lighthouses, waterfalls, and of course, Pictured Rocks National Lakeshore, Grand Island National Recreation Area, and Munising by boat, kayak, and bicycle. After a layover, we conduct a shore to shore transect of Michigan by saddling up on the shores of Lake Superior and riding through Hiawatha National Forest to Lake Michigan, enjoy a wine tasting in Manistique, and then meander back to Marquette on Saturday. Wow, seven days, century rides, breweries, wineries, the two greatest Great Lakes, a National Lakeshore, a National Recreation Area, and a National Forest… now that's what you call an LMB tour!
Still included with your registration:
Awesome, incredible, friendly, helpful Volunteers
Beautiful  scenery
SAG Stops with hydration and light snacks
SAG wagons that patrol the route
Overnight camping
Showers*
Luggage transport for two bags
Electronic charging station in camp
Professional Bicycle Mechanic**
Free long term parking
Registration packet with an event t-shirt and other fun swag
Daily route info meetings with cue sheets, GPS turn by turn directions
*All but the last night showers will be available, hey this is the UP afterall we are "roughing it" a bit. We are working on resolving this.
**PLEASE NOTE: Minor adjustments are free. Any repairs, parts, assembly, disassembly, and shipping will incur a fee. 
Some things are new:
Gravel road options
Outdoor dining option
Ice-cold beverages and individually wrapped salty snacks available in camp daily
Pictured Rocks Century options
Winery and Brewery Tour options COMING SOON!
Farewell Party COMING SOON!
Learn more about LMB
Take a minute to remember the first time you rode your bike. Grinning from ear to ear as you pedaled down the street or across the fields feeling the freedom, independence, and fun of being on your bike.
So let's get on our bikes and recapture that feeling of simple freedom, independence, and fun!
Did you know LMB works to provide education and training to Drivers and Bicyclists through our driver's education program, our law enforcement training, and our bicycle skills training? Did you know LMB is instrumental in giving bicyclists a voice in government through legislation, like the 3-foot passing law? Did you know LMB's Micro-Grant Program helps fund local advocacy work and community bicycling programs especially among underserved populations?
Did you know LMB tours provide a majority of the funding to do this work? So enjoy an awesome tour while supporting LMB making Michigan bicycling better through your registration and purchases!
No matter what you ride, why you ride or where you ride, LMB works for all bicyclists to Make Michigan Bicycling Better. Educating new drivers, law enforcement, and children. Advocating to create and pass legislation concerning safe passing, distracted driving, and helping local bike shops last spring. Helping develop bicycling infrastructure across the state and supporting other bicycling events. Your MUP registration helps to fund LMB's work. Thank You!
Click here for registration costs
Member Pricing
Adult Member: $625
Non-Rider Member: $420
Minor Member: $420
Regular Pricing
Adult: $665
Adult Non-Rider: $430
Minor Rider or Non: $430
Late Registration—Date coming soon
Adult: $995
Adult Non-Rider:$695
Minor Rider or Non: $695
Please note if you want to join as a member to get discounted pricing you will receive an email shortly after joining for access to the member only registration pages. 
---
Need to rent a tent? Click below.
---
Learn about our Covid Safety Policy
LMB COVID Safety Policy
LMB has adopted the following COVID safety policy for risk mitigation on our 2022 tours. This policy is subject to change depending on pandemic conditions and health guidance. Because the virus that causes COVID-19 is extremely contagious, no level of risk mitigation can guarantee that you will not be exposed. Participation in all LMB events is at your own risk.
All participants, staff, and volunteers must show proof that they are fully vaccinated and up to date. 
Fully vaccinated means a person has received their primary series of COVID-19 vaccines.
Up to date means a person has received all recommended COVID-19 vaccines, including any booster dose(s) when eligible.
 Click above for more detail. 
---
PLEASE NOTE: FINAL ROUTES, LOCATIONS, AND TIMES OF SERVICE MAY CHANGE.
RIDER GUIDES WILL BE READY SOON WITH MANY OF THE SPECIFIC DETAILS OF THE TOUR
MUP ITINERARY
PLEASE NOTE: FINAL ROUTES, LOCATIONS AND TIMES OF SERVICE MAY CHANGE.
To start, click each day below to expand the section and see details. Use the MUP Itinerary as a source for route maps, guides to local attractions and an easy way to develop your sightseeing plans. Please note, routes and itineraries may change without notice due to road closures, construction or inclement weather.
Click each day to view details and routes.
Saturday - Marquette Check-In
Sunday - Marquette to Big Bay (Zero to 65 miles)
Monday - Christmas in July! Marquette to Munising (44 miles)
Tue - Century City - Munising to Grand Marais (Zero to 100 miles)
Wed - Layover Day in Munising
Thur - MUP Transect - Munising to Manistique (64 miles)
TGIF - Manistique to Chatham (61 miles)
Sat - MUPday -Chatham to Marquette (38 miles)
Please note, registered participants will receive detailed itineraries and timelines each day during the Rider Meeting.
---
Bicycles on MUP
CLICK HERE FOR BICYCLE INFO
You can ride any human-powered cycle in good mechanical condition on MUP. This includes trikes, recumbents, tandems, unicycles, and of course e-bikes. The standard route is designed to accommodate road bikes. Mountain, hybrid, cyclocross, and gravel bikes will have a blast on both the standard route and the optional gravel sections.
LMB provides a professional mechanic for the entire tour. Minor adjustments are free. Any repairs, parts, assembly, disassembly, and shipping will incur a fee. Each SAG Stop and SAG wagon carry basic tools and a floor pump. They also carry spare tubes for sale. Our daily Super SAG Stop will have a generator available to provide charging for E-bikes. Our SAG service is designed to transport all the above-named cycles!
To create a safe and scenic tour, MUP will at times travel along crushed limestone trails and unpaved country roads. This year the standard route includes almost 10 miles of such surfaces. To best traverse the standard route on a road bike or touring bike, consider fitting the widest possible tires. Any optional routes or loops labeled "Gravel" can have long sandy sections and are best attempted with a 37c or wider tire that has a tread or knobby surface.
Bike transport is included as part of your charter bus transportation. Click here for details on how to prepare your bike for truck transport. We try to be as careful as possible, but we are not responsible for damage during transport by our trucks or SAG.
Click here for details on shipping your bike to and from the tour.
SAG on MUP
CLICK HERE FOR SAG INFO
LMB thinks of SAG as the "Support Assistance Group." SAG service includes mobile SAG wagons, stationary SAG stops, SAG shuttles, and Sweep. SAG vehicles are marked with LMB flags and magnetic LMB signs
SAG stops are stationed along the primary route. During the Riders Meeting as we review the next day's route, we'll provide the approximate location of these SAG stops. They are spaced on an average about 15 miles apart, but this will vary depending on route conditions. SAG Stops are rest stops located on route and identified with LMB signage. They are stocked with water, electrolytes, light snacks, basic tools, floor pumps, and close to restrooms or porta-potties. Our daily Super SAG Stop will also have a generator to provide e-bike charging.
SAG wagons will provide assistance to riders experiencing physical or mechanical issues along the primary route and gravel route. SAG wagons will transport riders and their bikes to a SAG stop or to seek medical treatment. Please be aware that SAG wagons do not go to camp, they stay on the route to provide the fastest possible service in emergency situations.
SAG shuttles will periodically travel along the route picking up riders at SAG stops and transport them to camp.
Each SAG Stop and SAG wagon carry basic tools and a floor pump. They also carry spare tubes for sale. Our SAG service is designed to transport all supported cycles! Please note, SAG support is not available off route or after hours.
LMB provides a professional mechanic for the entire tour. Minor adjustments are free. Any repairs, parts, assembly, disassembly, and shipping will incur a fee. The mechanic will be posted on the route each day and also in camp each afternoon. If your bike requires repair beyond the capacity of our mechanic, you will be referred to the nearest bike shop.
Private SAG's are allowed.  A private SAG is a person or group of people who are on the tour to provide support to their rider. We simply ask for vehicle and rider information, and for drivers to use alternate routes that intersect with the tour route to help keep riders safe. If a private SAG wants to use overnight facilities, meals, and tour resources then we ask that they register as Private SAG/Non-Riders.
Meals on MUP
CLICK HERE FOR MEALS INFO
Registration includes meals EVERY RIDING DAY! You'll enjoy professionally catered breakfasts and dinners with options for vegetarian, vegan and gluten-free lifestyles. Breakfast is 6:30 – 8:00 am, dinner is 5:00 to 7:00 pm. Meals vary and you'll always find a few staples offered each day. For breakfast you'll always be able to find oatmeal, yogurt, granola, fresh fruit and cereal in addition to various hot dishes. During dinner you'll always be able to find fresh salads, fruit, bread, peanut and almond butter, along with hot entrees, side dishes and dessert. All meals are served in camp except where noted in the itinerary. You're on your own for lunch every day.
A hungry biker is an unhappy biker.  So, keep an eye out in camp for the pop-up food truck or vendor. You never know who will drop in during the afternoon selling carnival food, pizza slices, hotdogs, and other treats! Each day you can find sweet and salty snacks along with ice-cold beverages at the service desk between 2 pm and 9 pm.
Luggage on MUP
CLICK HERE FOR LUGGAGE INFO
How serious is the weight limit for bags?
Serious. Each rider may bring two bags (duffle bags are ideal). Each bag cannot weigh more than 35 pounds. This weight limit includes your tent and sleeping bag. Bags over the limit will be charged $35 per bag. We ask you to honor the limit and help protect the health of both you and our volunteers. Remember, you'll have to haul these bags to the camping area and back!
Can I bring an extra bag?
Yes! If you need more luggage space then please purchase the additional bag option for $35. Any bag over the 35-pound weight limit will be charged the extra bag fee.
MUP Merch
CLICK HERE FOR MERCH INFO
The 2022 Jersey design is complete. Make sure to add a MUP Jersey to your cycling gear line up. You can add one during registration and they will be available in our online store for preorder after 03/09/22.
You can still order past Jerseys along with our other LMB Gear (note sizes limited on some styles):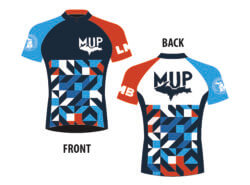 ---
Ride Safe, Ride Smart
Helmets are required whenever a rider is on a bicycle.
Riders must be able to complete the daily route. Please train.
Riders must be equipped and able to change a flat tire.
Riders must carry at least one water bottle or equivalent for hydration.
Riders must have a rear reflector or red blinking light mounted on their bicycle.
Be ready to have FUN!
---
LEARN ABOUT OUR CANCELLATION POLICY
---
Well, after the last few years, we here at League of Michigan Bicyclists (LMB) are looking forward to our  MUP tour. Please note if you are a 2020/2021 Deferred Rider check your email and mailbox for your instructions on how to register. If you are a LMB Member you can access the registration from the member portal button below and then choose the tour you want from the drop down menu once you are logged in.
Location
1401 Presque Isle Ave
Marquette, MI 49885