Hotel Tour with Pavement Routes
Check out the Sunrise Adventure Rider Guide. This guide will help ensure you have the best experience and can enjoy your trip with us to the fullest.
08/30/2023 UPDATE: ALL ROUTES HAVE BEEN UPDATED. RIDERS GUIDES GETTING EMAILED OUT THIS WEEK.
---
LMB has new policies and features for Sunrise 2023:
MINORS AND PRIVATE SAGS COME FOR FREE!
2023 Sunrise Adventure Jersey Designed By: Brian Lee Fritz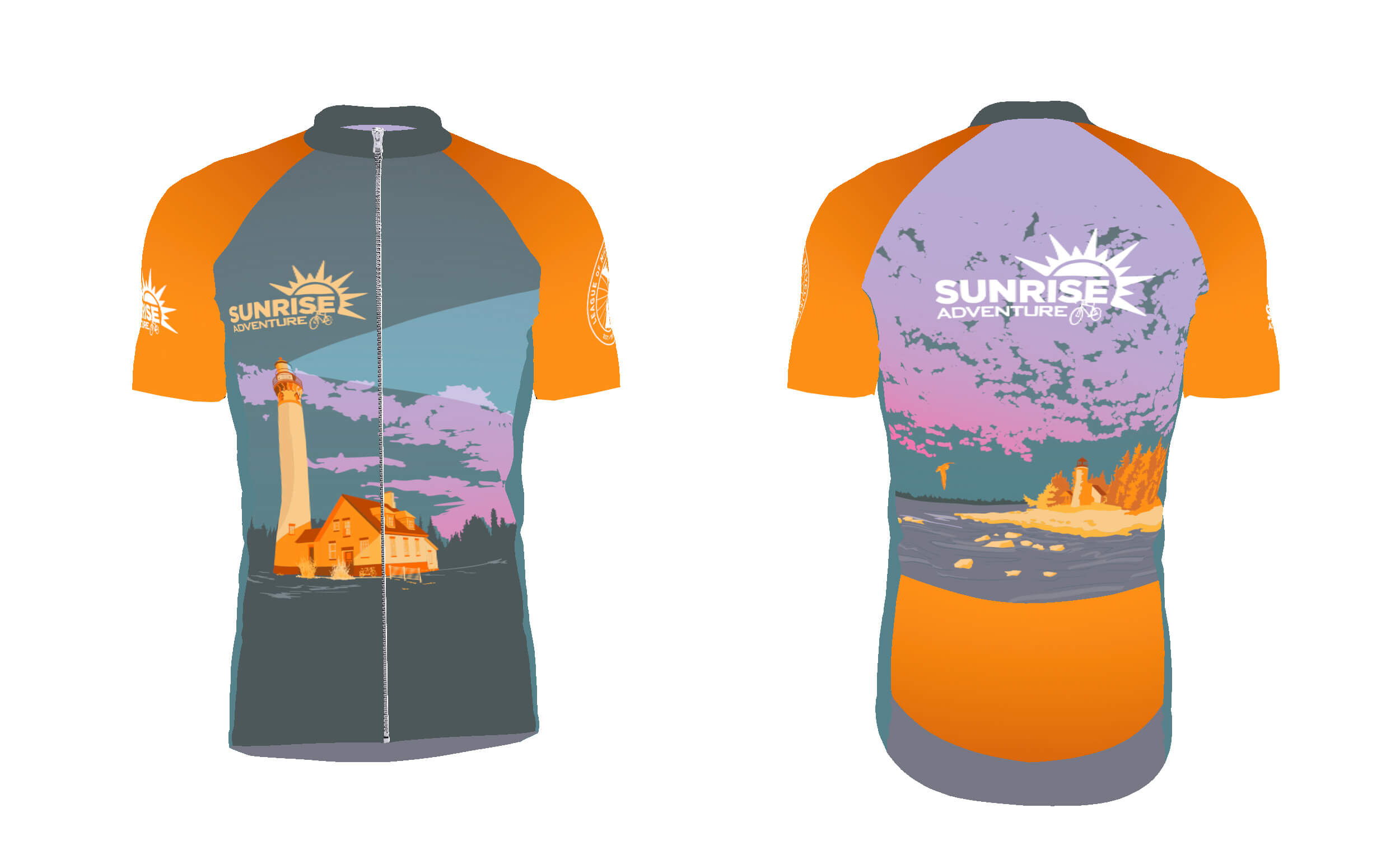 PLEASE NOTE: JERSEY, T SHIRT AND SOCK ORDERS HAVE BEEN PLACED. FOR ANYONE WHO REGISTERS AFTER 06/20/23 WE CAN NOT GUARANTEE THAT LATE REGISTRANTS WILL HAVE THESE ITEMS AVAILABLE.
Artist's Statement:
The Sunrise Adventure art was inspired by early morning rides before the world wakes up, when we cyclists get the sunrise all to ourselves. The way it flavors the air and colors the light, the subtle chill of a late Summer morning on your skin. This is a tribute to the hours we put in on the bike before everyone else even gets out of bed. The sunrise is our treasure and it turns everything it touches into gold for a few beautiful fleeting minutes. This is my tribute to you, the morning champion. You've earned this sunrise, soak it in!
---
2023 Sunrise Adventure Event Scope
Join the League of Michigan Bicyclists for a Sunrise Adventure in Alpena, Sanctuary of the Great Lakes. Cycle your choice of routes, either short, medium or long, down forested roads and past historic lighthouses. Enjoy a glass-bottom boat cruise to see some of the 200 shipwrecks lying just off the Lake Huron coast, learn their history at the Great Lakes Maritime Heritage Center, kayak the beautiful inland waters of Thunder Bay River, and leave your worries behind as you relax in Alpena's peaceful downtown.
Cycle your choice of routes down forested roads and past historic lighthouses. Enjoy a glass-bottom boat cruise to see some of the 200 shipwrecks lying just off the Lake Huron coast, learn their history at the Great Lakes Maritime Heritage Center, kayak the beautiful inland waters of Thunder Bay River, and leave your worries behind as you relax in Alpena's peaceful downtown.
Did you know that our bike tours are for everyone? Yes, everyone! Touring bikes, road bikes, tricycles, E-Bikes, handcycles, recumbents, gravel bikes, and mountain bikes, bring them all! Let us know and we will see what we can do to make it happen. If you are facing a disability or have a unique challenge in participating in one of our tours please reach out to [email protected] and we will contact you directly to discuss the needs and accommodations.
---
Sunrise Adventure Itinerary
To start, click each day below to expand the section and see details. Use the Sunrise Adventure Itinerary as a source for route maps, guides to local attractions, and an easy way to develop your sightseeing plans. Please note, routes and itineraries may change without notice due to road closures, construction or inclement weather.
Click each day below for daily details.
Thursday - Check-In and Reception
Friday - Lake Huron, Amish Country and Watermelon
Saturday - Lighthouses & Shipwrecks
Sunday - Go Your Own Way
Please note, registered participants will receive detailed itineraries and timelines for each day during the Rider Meeting.
---
Bicycles on Sunrise Adventure
CLICK HERE FOR BICYCLE INFO
You can ride any human-powered cycle in good mechanical condition on Sunrise Adventure. This includes trikes, recumbents, tandems, unicycles, and of course e-bikes. The standard route is designed to accommodate road bikes. Mountain, hybrid, cyclocross, and gravel bikes will have a blast on the routes. If you are using a standard road bike or touring bike, consider fitting wider tires for comfort.
To create a safe and scenic tour, Sunrise Adventure will at times travel along crushed limestone trails and unpaved country roads. To best traverse the route on a road bike or touring bike, we recommend fitting the widest possible tires. Road bikes with 23c-28c tires will do fine on the route but may have to work a little harder on unpaved sections. Any optional routes or loops labeled "Gravel" can have sandy sections and are best attempted with a 37c or wider tire that has a tread or knobby surface.
SAG on Sunrise Adventure
CLICK HERE FOR SAG INFO
LMB thinks of SAG as the "Support Assistance Group." SAG service includes mobile SAG wagons, stationary SAG stops, SAG shuttles, and Sweep. SAG vehicles are marked with LMB flags and magnetic LMB signs
SAG stops are stationed along the primary route. During the Riders Meeting as we review the next day's route, we'll provide the approximate location of these SAG stops. They are spaced on an average about 15 miles apart, but this will vary depending on route conditions. SAG Stops are rest stops located on route and identified with LMB signage. They are stocked with water, electrolytes, light snacks, basic tools, floor pumps, and close to restrooms or porta-potties. Our daily Super SAG Stop will also have a generator to provide e-bike charging.
SAG wagons will provide assistance to riders experiencing physical or mechanical issues along the primary route and gravel route. SAG wagons will transport riders and their bikes to a SAG stop or to seek medical treatment. Please be aware that SAG wagons do not go to Alpena, they stay on the route to provide the fastest possible service in emergency situations.
SAG shuttles will periodically travel along the route picking up riders at SAG stops and transport them to the start/finish in Alpena.
Each SAG Stop and SAG wagon carry basic tools and a floor pump. They also carry spare tubes for sale. Our SAG service is designed to transport all supported cycles! Please note, SAG support is not available off route or after hours.
Private SAG's are allowed. A private SAG is a person or group of people who are on the tour to provide support to their rider. We simply ask for vehicle and rider information, and to use alternate routes to intersect with the tour route which helps keep riders safe.
Meals – none provided
CLICK HERE FOR MEALS INFO
There are not any meals provided for this tour.
We ask that you patronize the local restaurants, breweries, and shops for all your meal needs.
Lodging
CLICK HERE FOR LODGING INFO
Visit the Alpena Area Convention & Visitors Bureau for great lodging options, including camping. We recommend staying close, so you can enjoy all that Alpena has to offer. Unfortunately the hotels in Alpena are no longer doing block reservations for us, here are some direct numbers to call to book a reservation.
Alpena Days Inn (989) 356-6118
Holiday Inn Express & Suites (989) 340-1800
Ramada Alpena (989) 356-2151
Alpena Resorts (989) 356-9087
Other options include: AirBNB and VRBO
Please remember, lodging is not included with your registration and you are responsible for making any lodging arrangements for this tour.
Transportation Options
CLICK HERE FOR INFO
All Riders
Since Sunrise Adventure starts and ends at your lodging in Alpena, you only have to get yourself, gear and bike to the start/finish line.
PACKING LIST
Sunrise Adventure does not provide lodging. If you are not camping, you'll want to edit that portion of the packing list. Required rider gear remains for all events. A list of required and recommended items can be found – HERE.
Sunrise Adventure Merch
CLICK HERE FOR MERCH INFO