A Weekend Adventure!
Update, 4/28/20: All LMB tours have been canceled for 2020. We hope you can join us June 18-20, 2021!
Update, 1/5/21 on 2021 tours: We are still determining our registration opening date and some of the details for the tours, including capacity. We've got a lot of additional considerations this year to hold the tours safely, as you might imagine. We'll be sure to announce the opening date with plenty of advance notice, so watch for an announcement soon!
Gravel, Road, Mountain, Rail Trail, Casual, Racer, Young Rider, we advocate for all, to Make Michigan Bicycling Better. Our Sunrise Adventure Tour helps to fund LMB's mission to make bicycling safe and convenient for everyone in Michigan. It also supports LMB's Micro-Grant Program to help fund on-the-ground advocacy work that promotes safe bicycling, especially among youth and underserved populations.
Join the League of Michigan Bicyclists for a Sunrise Adventure in Alpena, Sanctuary of the Great Lakes. Cycle your choice of routes, either short, medium or long, down forested roads and past historic lighthouses. Enjoy a glass-bottom boat cruise to see some of the 200 shipwrecks lying just off the Lake Huron coast, learn their history at the Great Lakes Maritime Heritage Center, kayak the beautiful inland waters of Thunder Bay River, and leave your worries behind as you relax in Alpena's peaceful downtown. The whole family will enjoy cycling and sightseeing during the League of Michigan Bicyclists' Sunrise Adventure.
Thank you for riding with League of Michigan Bicyclists in 2020.
---
REGISTER FOR SUNRISE NOW!
---
Fees 
Sunrise Adventure registration fees are based on membership status and registration date. Members enjoy exclusive members-only access and early-bird discounts from December 2 through December 31. We welcome all to join the League of Michigan Bicyclists to make Michigan bicycling better. Prior to registering, please take a moment to review and understand our Cancellation and Refund Policy.
Members, please make sure to log in when you register to access member rates. Need to Join or Renew? Do it before you register and save!
LMB Member: $165
Non-LMB Member: $185
Minor (17 & Under): $40
Non-Rider: $40
Meal Voucher Options
 Breakfast & Dinner Vouchers (1 each): $30
 Breakfast Voucher (each): $12
 Dinner Voucher (each): $20
---
Itinerary
Routes are subject to change. Click each day below for daily details.
Thurs. 6/18/2020 - Check-In and Reception. Click here to read more.
Packet Pick Up (2:00 to 8:00 PM)
Pre-Ride Orientation (5:30 to 6:00 PM)
Wine and Cheese Reception (6:30 to 9:00 PM)
Packet Pick Up for the Sunrise Adventure will be at the Great Lakes Maritime Heritage Center between 2:00 and 5:00 pm. Make sure to check out all the discounts and swag to help you plan the weekend. Afterward, take some time to explore downtown Alpena and the surrounding area. If you need some bike work, check out Harborside Cycle & Sport located in downtown Alpena and a great supporter of LMB.
At 5:30 pm, we'll hold our mandatory Pre-Ride Orientation in the auditorium of the Great Lakes Maritime Heritage Center. At this short meeting, we will review the rules of LMB's tours and go over the next day's route.
At 6:00 PM, back in the museum, we'll enjoy a private reception with complimentary beer, wine, and cheese. The beer is from Alpena, the wine is from Alpena's Thunder Bay Winery, the meat is from Nowicki's Sausage Shop in Alpena, and the cheese is from all across Michigan. We're sure you'll enjoy this time to meet your fellow riders and enjoy the offerings of Michigan vintners, brewers and farmers!
Fri. 6/19/2020 - Lake Huron, Amish Country, Watermelon Hill. Click here to read more.
Sunrise Adventure begins, of course, with spectacular views of the sunrise over Lake Huron! Get up early, grab the camera and head over to the spot that speaks to you and capture the first sunrise of the tour. After a hearty breakfast at a local restaurant of your choosing, head downtown where we'll have a shotgun start at 8:30 AM. Of course, feel free to start earlier or later, SAG support begins at 8:30 AM and continues until 4:30 PM.
Today, we'll cycle out to the Hubbard Lake area. Hubbard Lake is the 12th largest inland lake in Michigan. The area boasts many places to fuel up and have lunch (check the rider packet for discounts). Enjoy the beautiful scenery while circling Hubbard Lake. At the top of Mt. Mariah (Watermelon Hill), take the time to soak in the spectacular views of the lake and celebrate reaching the top with some delicious watermelon!! Our Sunrise Scavenger Hunt begins today so make sure to pick up the list at the starting line!
The route between Lake Hubbard and Ossineke meanders through Amish country. Ossineke, home of Thunder Bay Vineyards, is a quaint village with family fun for all ages with sandy beaches along Lake Huron that are excellent for swimming. After getting your fill of sun and fun in Ossineke, ride on the wide shoulders of US 23 hugging the coast of Lake Huron back into Alpena.
On the way back, stop and get a photo crossing the 45th Parallel (halfway between the Equator and the North Pole – home of Santa). Fun fact, just 322 miles due west in Poniatowski, Wisconsin the 45th Parallel marks the exact center of the northern half of the western hemisphere. Here in Alpena, we're just a little off-center! The route will take you through downtown Alpena before ending back at the shores of the Thunder Bay River. After freshening up at your lodging choice, come on downtown and enjoy the many restaurants and activities!

Sat. 6/20/2020 - Presque Isle, Lighthouses, Shipwrecks and BBQ. Click here to read more.
All the routes for today are out and back so the miles you ride depend on your starting and turn around point. This is a great way to choose a comfortable distance and be supported by the outstanding LMB Volunteers along the entire route! There is a lot going on in Alpena today so you may want to adjust your miles accordingly. SAG support begins at 8:30 AM and continues until 4:30 PM.
The Alpena Farmers Market is open 8 AM to 1 PM and just a few blocks from the start/finish so you may want to stop by to pick up a few locally fresh items. All three routes today will take you to Presque Isle Harbor on Lake Huron. The Presque Isle Harbor Wooden Boat Show is open today from 10 AM until 4 PM. Stop by and support these local festivities!
Down the road from the Harbor are the Old and New Presque Isle Lighthouses, keeper's house, and gift shop. There is plenty of maritime history here to keep those aficionados interested, and the picnic area is an ideal setting to stop and have a snack or eat your lunch.
Along the way to Presque Isle is the Maplewood Tavern. This must-visit, tavern/museum is the home of the Guinness World Record's longest-serving bartender, 101-year-old Clarice Grenkowicz. She has been the primary bartender at the tavern for eighty years! This will be the site for lunch, a SAG stop for the long route, and the starting/finish point for the medium route, so you can experience it either on the way out or the way back. But don't miss it! Just a short ride from the Harbor you will find the Old Presque Isle Lighthouse and have an opportunity to tour the light keeper's cabin and climb the old light tower. It has a reputation for being haunted…so they say.
If you've purchased VIP Shipwreck Cruise tickets, come enjoy an afternoon on the water with our 3-5 PM cruise. You'll spend 2 hours in a glass-bottomed boat touring Lake Huron shipwrecks in Thunder Bay, capturing their images and afterward enjoy a lovely rooftop deck reception with beer, wine, non-alcoholic beverages and hors d'oeuvres. Don't get full because the BBQ dinner is included with your cruise.
From 6 – 8 pm, everyone is invited to join us for an outdoor BBQ (dinner ticket required) down by the water at the Great Lakes Maritime Heritage Center. If you didn't pre-purchase a dinner ticket you can get one at the door. During the BBQ we'll announce the Sunrise Scavenger Hunt winners. Afterward, spend your last evening enjoying the night air and establishments of Alpena!
Sun. 6/21/2020 - Thunder Bay River, Trails and Posen potatoes. Click here to read more.
The last sunrise is upon us, for the tour that is! We began the weekend with a sunrise, and we finish by giving you the choice on how to end your weekend. You can go short along the North Eastern State Trail (NEST) which is a 16.5-mile flat ride on crushed limestone. For those who want to challenge themselves with a few more miles of crushed limestone, stay on the NEST and take a break at the halfway point in Posen before heading back for a total of 36.5 miles. Posen is a sleepy little village and the "Potato Capital of Michigan", its rich farmlands and rolling woods provide an excellent backdrop for a bike ride. SAG support begins at 8:30 AM and continues until 2:00 PM when Sunrise Adventure officially closes.
If you want to make another stop at the Maplewood Tavern, chose a road option. The short road route is 27 miles riding west along Thunder Bay River and Lake Winyah. The long road option is just over 34 miles as you continue out to Long Lake before turning south past the Maplewood Inn and back to Alpena.
With our last Sunrise Adventure ride behind us, it will be time to say goodbye to both old friends and the new ones made along the way. As you pack up your gear and head home you'll understand why Alpena, Lake Huron, and Sunrise Adventure is a wonderful place to visit and experience year after year!

---
Bicycle
You can ride any bicycle in good mechanical condition on Sunrise Adventure. This includes trikes, recumbents, tandems, unicycles, and e-bikes. Mountain, hybrid, cyclocross, and gravel bikes will have a blast on the routes. If you are using a standard road bike or touring bike, we recommend fitting the widest possible tires to best traverse the crushed limestone trails and un-paved country roads. Road bikes with 23c-28c tires will do fine on the route but may have to work a little harder. Any optional routes or loops labeled "Gravel" are best attempted with a 32c or wider tire.
---
Lodging
Riders must secure their own lodging for this tour.
Visit the Alpena Area Convention & Visitors Bureau for great local options, including camping. We recommend staying close, so you can enjoy the many downtown events and enjoy all that Alpena has to offer. Alpena Community College is our host for Saturday and Rider Meetings but does not permit camping on their grounds.
---
Sunrise Adventure Jersey
We're still designing the 2020 Jersey so stay tuned to your email for the big reveal of our 2020 Jersey. For 2020 we'll be offering different styles along with women's and men's sizes!
But you can still order the 2019 Jersey along with our other LMB Gear (note sizes limited on some styles):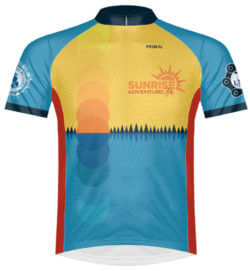 ---
T-Shirt Upgrades
A standard cotton T-shirt is included with all registrations. Upgrade to a moisture management performance fabric T-shirt for $20. We're still designing the 2020 t-shirt so stay tuned to your email for the big reveal!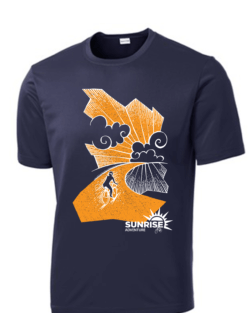 ---
Safety Requirements
Helmets are required every time a rider is on a bicycle
Riders must be able to full mileage for route each day.
Riders must carry spare tubes and be able to change a flat
Riders must have at least one and preferably two water bottles on their bicycle
Riders must have a positive attitude at all times
---
Learn about our cancellation policy
---
Thank You Sunrise Adventure Partners and Sponsors!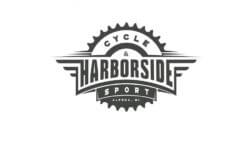 Location
665 Johnson St
Alpena, MI 49707