Camping Tour with Pavement Routes
Check out the Shoreline West 2023 Rider Guide. This guide will help ensure you have the best experience and can enjoy your trip with us to the fullest.

MEMBER PRICING EXPIRED ON 05/31/23

ROUTES HAVE BEEN POSTED 07/11/23 (View Routes HERE.)

If you purchase a membership to gain access and decide to cancel your event registration you will retain your membership until the expiration date. We do not refund membership purchases. Membership must be purchased before the registration to gain member benefits as it relates to registration. 

INDIVIDUAL MEMBERSHIP: Grants early access/pricing for tour registration as well as member benefits under LMB's Cancellation and Refund Policy for a single tour registrant.

HOUSEHOLD MEMBERSHIP: Grants early access/pricing for tour registration as well as member benefits under LMB's Cancellation and Refund Policy for multiple tour registrants within a single household that are tied to the membership account.

In other words: an individual membership will give you early access and more flexible refund options, but just for a single registrant – if more than one person from your household is taking part in the tour, you'll want a Household membership! Check your membership type at our member portal and upgrade to Household if needed. 

We are accepting volunteer applications. Visit our volunteer portal to learn more.
---
LMB has new policies and features for Shoreline West 2023:
We also have Padres Cycle Inn coming back to Shoreline for 2023! Visit their site for tent rental and other great services to supplement your adventure on Shoreline WEST!
LEARN ABOUT FUNDRAISING OPTIONS – NEW FOR 2023!
SNOOZE BOX WILL NOT BE ATTENDING SLW 2023. Updated 07/26/23
We have a new accommodation option coming to Shoreline West for you Hotel loving riders. Check out their site and book your on site hotel room today!
2023 Shoreline West Jersey Designed By: Brian Lee Fritz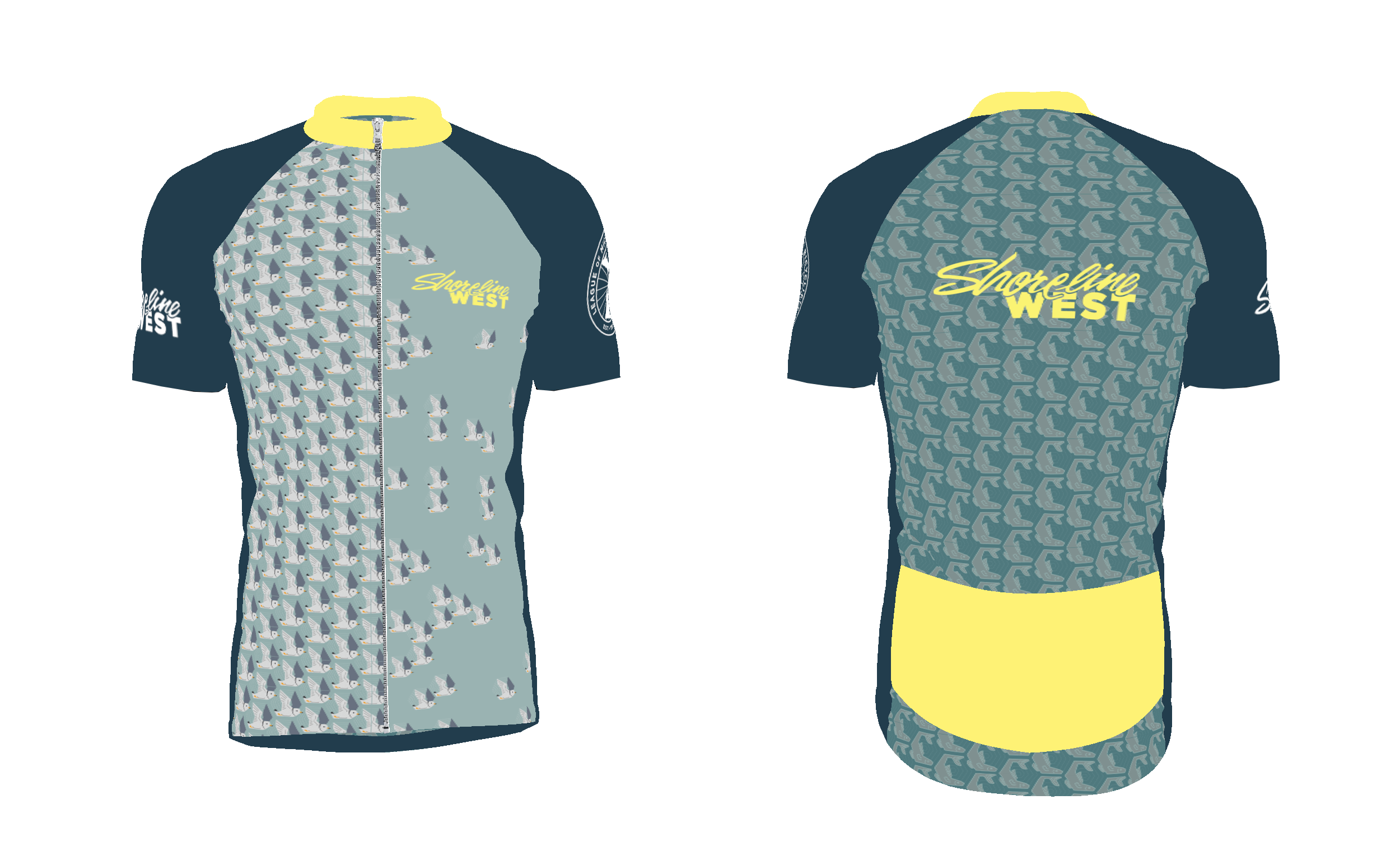 Artist's Statement:
The Shoreline art is all about the horizon way out there on Lake Michigan where the heavens meet the water. To highlight this contrast I chose Lake Whitefish and our beloved Piping Plover, both local attractions in their own right. I took inspiration for the patterns from the great M.C. Escher, tessellating the birds and fish across the panels of the jersey. I was also moved by the vast shades of blue that you can see in the lake and sky, from pale cerulean hues in the sky to deep aquamarines at the depths and lively teals when you can see the sand beneath. I remember my first trip to Lake Michigan and how those blues made me feel huge waves of emotion and I did my best to pay tribute to that experience as well. I remember how I felt the first time I biked up the hills of South Haven and rounded the corner to the beach and saw the lake in all its azure majesty. Maybe it was the twenty hilly miles I rode to get there, but my breath was certainly taken in that moment and I hope you feel the same when you get there!
---
2023 Shoreline West Event Scope
Lake Michigan's shoreline is a spectacular feast for the senses. Enjoy the feast on LMB's 2023 Shoreline West Bicycle Tour, August 5-12, 2023.
Be part of an unforgettable vacation as you pedal tree-lined roadways past breathtaking lakeshore views. Enjoy local wineries, micro-breweries, farmstands, crystal-clear lakes, historic resort towns, and the interesting people on the tour!
Pre Tour Bus – Ride your bike back to your vehicle. Start with charter bus transportation from the finish line in Mackinaw City to the start at Montague High School on Saturday morning August 5. Bicycle loading begins at 8 a.m. at the Mackinaw City Rec Complex. Long term parking in Mackinaw City included. Price $110.
Post Tour Bus – Ride a charter bus back to your vehicle. Finish with charter bus transportation from the finish line in Mackinaw City back to your car in Montague. Drive to the start at Montague High School on August 5. Ride your bike to Mackinaw City. Ride the charter bus back to Montague High School on Saturday afternoon August 12. Long term parking in Montague included. Price $110 3 day riders pick this option to get back to your car in Traverse City.
---
Shoreline West ITINERARY
PLEASE NOTE: FINAL ROUTES, LOCATIONS AND TIMES OF SERVICE MAY CHANGE. FINAL ROUTES WILL BE SENT TO RIDERS 30 DAYS PRIOR TO THE EVENT. 
Planning is underway and we will post up information as it is available. Check back to this page for any updates. Once available you can click each day below to expand the section and see details. Use the Shoreline West Itinerary as a source for maps, guides to local attractions and an easy way to develop your sightseeing plans. Please note, routes and itineraries may change without notice due to road closures, construction or inclement weather.
Saturday – Montague Schools – Registration and Riders Meetings 
NO ROUTE FOR THIS DAY
Sunday – Montague Schools to Ludington Treetop Meadows
Monday – Ludington Treetop Meadows to Frankfort Open Space Park 
Tue – Frankfort to Traverse City Civic Center Park
Wed – Layover in Traverse City
Thur – Traverse City to Charlevoix 
Friday – Charlevoix to Petoskey
Saturday – Petoskey to Mackinaw City
Please note, registered participants will receive detailed itineraries as the event date grows closer. 
Did you know that our bike tours are for everyone? Yes, everyone! Touring bikes, Road Bikes,Tricycles, E-Bikes, Handcycles, Recumbents, Gravel Bikes, and Mountain Bikes, bring them all! We didn't list what you want to ride? Let us know and we will see what we can do to make it happen. Please note that some sections of the Shoreline West route may not be comfortable for road bikes. If you are facing a disability or have a unique challenge in participating in one of our tours please reach out to [email protected] and we will contact you directly to discuss the needs and accommodations.
---
Bicycles on Shoreline West

See More

You can ride any bicycle in good mechanical condition on Shoreline West. This includes trikes, recumbents, tandems, unicycles, and e-bikes. The standard route is designed to accommodate road bikes. Mountain, hybrid, cyclocross, and gravel bikes will have a blast on the routes. If you are using a standard road bike or touring bike, consider fitting wider tires for comfort. All main routes on Shoreline West this year are paved.

LMB provides a professional mechanic for the entire tour. Minor adjustments are free. Any repairs, parts, assembly, disassembly, and shipping will incur a fee. Each SAG Stop and SAG wagon carry basic tools and a floor pump. SAG and the mechanic also carry spare tubes for sale. Our daily Super SAG Stop will have a generator available to provide charging for E-bikes. Our SAG service is designed to transport all the above-named cycles!

To create a safe and scenic tour, Shoreline West may at times travel along crushed limestone trails and unpaved country roads. This year optional routes include over 10 miles of such surfaces. Any optional routes or loops labeled "Gravel" can have long sandy sections and are best attempted with a 37c or wider tire that has a tread or knobby surface.

Bike transport is included as part of your charter bus transportation. Click here for details on how to prepare your bike for truck transport. We try to be as careful as possible, but we are not responsible for damage during transport by our trucks or SAG.

Click here for details on shipping your bike to and from the tour.

SAG on Shoreline West

See More

LMB thinks of SAG as the "Support Assistance Group." SAG service includes mobile SAG wagons, stationary SAG stops, SAG shuttles, and Sweep. SAG vehicles are marked with LMB flags and magnetic LMB signs

SAG stops are stationed along the primary route. During the Riders Meeting as we review the next day's route, we'll provide the approximate location of these SAG stops. They are spaced on an average about 15 miles apart, but this will vary depending on route conditions. SAG Stops are rest stops located on route and identified with LMB signage. They are stocked with water, electrolytes, light snacks, basic tools, floor pumps, and close to restrooms or porta-potties. Our daily Super SAG Stop will also have a generator to provide e-bike charging

SAG wagons will provide assistance to riders experiencing physical or mechanical issues along the primary route and gravel route. SAG wagons will transport riders and their bikes to a SAG stop or to seek medical treatment. Please be aware that SAG wagons do not go to camp, they stay on the route to provide the fastest possible service in emergency situations.

SAG shuttles will periodically travel along the route picking up riders at SAG stops and transport them to camp.

Each SAG Stop and SAG wagon carry basic tools and a floor pump. They also carry spare tubes for sale. Our SAG service is designed to transport all supported cycles! Please note, SAG support is not available off route or after hours.

LMB provides a professional mechanic for the entire tour. Minor adjustments are free. Any repairs, parts, assembly, disassembly, and shipping will incur a fee. The mechanic will be posted on the route each day and also in camp each afternoon. If your bike requires repair beyond the capacity of our mechanic, you will be referred to the nearest bike shop.

Private SAG's are allowed.  A private SAG is a person or group of people who are on the tour to provide support to their rider. We simply ask for vehicle and rider information, and to use alternate routes to intersect with the tour route which helps keep riders safe. If private SAG wants to use overnight facilities, meals and tour resources then we ask that they register as Private SAG/Non-Riders.

Meals on Shoreline West

See More

Registration includes meals EVERY RIDING DAY! You'll enjoy professionally catered breakfasts and dinners with options for vegetarian, vegan and gluten-free lifestyles. Breakfast is 6:30 – 8:00 am, dinner is 5:00 to 7:00 pm. Meals vary and you'll always find a few staples offered each day. For breakfast you'll always be able to find oatmeal, yogurt, granola, fresh fruit and cereal in addition to various hot dishes. During dinner you'll always be able to find fresh salads, fruit, bread, peanut and almond butter, along with hot entrees, side dishes and dessert. All meals are served in camp except where noted in the itinerary. You're on your own for lunch every day.

Luggage on Shoreline West

See More

How serious is the weight limit for bags?

Serious. Each rider may bring two bags (duffle bags are ideal). Each bag cannot weigh more than 35 pounds. This weight limit includes your tent and sleeping bag. Bags over the limit will be charged $35 per bag. We ask you to honor the limit and help protect the health of both you and our volunteers. Remember, you'll have to haul these bags to the camping area and back!

Can I bring an extra bag?

Yes! If you need more luggage space then please purchase the additional bag option for $35. Any bag over the 35-pound weight limit will be charged the extra bag fee.

Shoreline West Merch

See More

---
Location
Us 31
Montague, Michigan, MI