A Michigan Classic!
Update, 4/28/20: All LMB tours have been canceled for 2020. We hope you can join us Aug. 7-14, 2021!
Update, 1/5/21 on 2021 tours: We are still determining our registration opening date and some of the details for the tours, including capacity. We've got a lot of additional considerations this year to hold the tours safely, as you might imagine. We'll be sure to announce the opening date with plenty of advance notice, so watch for an announcement soon!
Gravel, Road, Mountain, Rail Trail, Casual, Racer, Young Rider, we advocate for all, to Make Michigan Bicycling Better. Our Shoreline West Tour helps to fund LMB's mission to make bicycling safe and convenient for everyone in Michigan. It also supports LMB's Micro-Grant Program to help fund on-the-ground advocacy work that promotes safe bicycling, especially among youth and underserved populations.
Celebrate 34 years of traveling spectacular Lake Michigan during the 2020 Shoreline West Bicycle Tour, August 1-8. Be part of an unforgettable seven-day vacation as you pedal tree-lined roadways and past breathtaking waterfront views. Enjoy local wineries, brewpubs, farmer's markets, crystal-clear lakes, historic resort towns, and the iconic Sleeping Bear Dunes National Lakeshore, voted Most Beautiful Place in America! This fully supported tour begins in Montague and ends at the head of the world-famous Mackinac Bridge. Come and see why the west side of Michigan has been heralded as a must-cycle destination for riders of all ages.
Thank you for riding with League of Michigan Bicyclists in 2020.
---
SORRY REGISTRATION IS CLOSED!
---
Fees
7-Day – Montague to Mackinaw City
Shoreline West registration fees are based on membership status and registration date. Members enjoy exclusive members-only access and early bird discount from December 2 through December 31. We welcome all to join the League of Michigan Bicyclists to make Michigan bicycling better. Prior to registering, please take a moment to review and understand our Cancellation and Refund Policy.
Registration dates are as follows:
Early Registration is January 2 – May 30, 2020
Regular Registration is June 1 – July 17, 2020
Late Registration is July 18 – August 1, 2020
Registration Fees are as follows:
Members, please make sure to log in when you register to access member rates. Need to Renew or Join?
Non-Members, please make sure to log in when you register to access Early Registration rates. Want to save more? Become a Member!
LMB Member Pricing:

Early Registration $475
Regular Registration $475
Late Registration $995

Non-Members:

Early Registration $495
Regular Registration $525
Late Registration $995

Minors (17 & under):

Early Registration $300
Regular Registration $335
Late Registration $695

Non-Riders/Private SAGs:

Early Registration $300
Regular Registration $335
Late Registration $ 695
3-Day – Traverse City to Mackinaw City
Members, please make sure to log in when you register to access member rates. Need to Renew? Do it before you register and save!
LMB Member Pricing:

Early Registration $350
Regular Registration $350
Late Registration $500

Non-Members:

Early Registration $365
Regular Registration $395
Late Registration $750

Minors (17 & under):

Early Registration $225
Regular Registration $275
Late Registration $500

Non-Riders/Private SAGs:

Early Registration $225
Regular Registration $275
Late Registration $500
---
SHORELINE WEST ITINERARY
---
Routes are subject to change. Click each day for details.
Saturday 8/1/2020 - Montague Check-In
Check-in for 7-day riders.
Pre-tour bus from Mackinaw City to Montague.
Optional ride (no SAG support).
Welcome to Shoreline West! Join us in the afternoon at Montague High School between 2 pm and 6:30 pm for packet pick-up. Once you've settled in, feel free to visit the White Lake area or hit the beach at Duck Lake Channel or Lake Michigan – the former will put a smile on your face, while the latter will definitely wake you up! If you're hoping to get a feel for some local history, the White River Light Station Museum is worth a visit. There are plenty of charms to be found in downtown Montague as well, including the world's largest weathervane.
Our first dinner will be served at the high school between 5 pm and 7 pm. We want to thank the Montague Band Boosters who have served us a great meal for many years! It's great to know that some of your registration goes to support this local school band! Once you've had your fill, we will convene for a mandatory rider meeting at 7:00 pm. Welcome to Shoreline West!
Note: There will be no access to the school facilities on Friday night, but you may camp at the school. School facilities will be open for use on Saturday at 10:00 am.

Sun 8/2/2020 - to Ludington (60 miles)
After enjoying a hearty catered breakfast, thanks again Montague Band Boosters, get ready to sample a little bit of everything that Lake Michigan has to offer. Our route will begin with a brief cut south and west to join with the coast. After that, it's smooth sailing as we wind our way north towards Ludington, all the while shadowed by pristine beaches and breathtaking views. In the process, we'll pass the Little Sable Point Lighthouse. Built in 1874, it is one of the oldest brick lighthouses on the Great Lakes, and an excellent spot for a quick break.
Just on the outskirts of Silver Lake, we pass by one of our favorite stops of the whole trip: Cherry Point Market, where you can chill out with your fellow riders and sample some of the delicious home-baked goods on offer. On your way around Silver Lake, feel free to explore the dunes on one of several dune rides offered there.
The best lunch stop today is the small but bustling Pentwater. A number of public parks in the town offer excellent access to Lake Michigan.
As we get closer to Ludington, check out the Consumers Energy Pump Storage Facility, which offers a scenic overlook of the coastline that is sure to impress.
The fun doesn't stop once we've arrived in Ludington, though. Our dinner tonight is provided by long time tour partner and supporter Dawn Fresh, for years they have provided you with breakfast and dinner in Ludington, Traverse City, and Charlevoix. They are a local family operated business that also owns Ebels General Store. After getting your fill, check out the Waterfront Walkway which stretches from Stearns Park to Waterfront Park, where a number of awesome sculptures depict scenes from local history. Around 7:00 pm, you can watch the docking of the SS Badger, a historic car ferry that runs daily to Manitowoc, Wisconsin. You can also choose from a number of great beaches and a state park. All this and it's just the first day!

Mon 8/3/2020 - to Frankfort (64 miles)
Ahhhh, Monday on vacation! On our second day, you'll get a peek at some of Michigan's more varied terrain. Dawn Fresh will fuel you up in camp at breakfast, then make your way towards Frankfort, on the way, enjoy the charming towns of Manistee and Onekama. Each has its own unique character and strong history. In Manistee, the North Pierhead Lighthouse was established in 1927 and is still in use today.
Just after passing through Arcadia and Jungle Inn Drive, you'll reach today's big climb up Watermelon Hill. At a 12% grade, the half-mile climb can be challenging – but your mind is sure to be set on the juicy watermelon we'll be serving at the top. As you enjoy your reward, be sure to climb the steps to the top of the scenic overlook. The view is absolutely stunning.
Frankfort is an ideal town for us to stay in: easily walkable with a number of great restaurants and shops. Tonight we again work to benefit local education by having Frankfort High School provide us a catered dinner in camp. Afterward, you can then finish out the evening by strolling along Betsie Lake down to Lake Michigan and watch the sunset from the public beach. On your way back, check out Stormcloud Brewing on Main Street,

Tues 8/4/2020 - to Traverse City (62 miles)
Early check-in for 3-day riders.
Today is the day many of you have been waiting for – Shoreline West Jersey Day!! Oh yeah, and Sleeping Bear Dunes National Lakeshore, a federally protected stretch of coastline that is consistently voted one of the most beautiful places in the country.
We'll fuel up with another great breakfast from Frankfort High School and then roll out past the Point Betsie Lighthouse, established in 1858 and is still active today. Until 1996, the U.S. Coast Guard used the attached quarters as a residence.
Along the way, you can also stop at Riverside Canoe Trips, a popular rest stop for our riders who are looking for some light refreshments. You might even be able to sneak in a quick float in a canoe or kayak!
As we enter Leelanau peninsula and approach the small town of Empire, the terrain will begin to transform into the characteristic beauty of the Sleeping Bear Dunes Lakeshore. The rolling hills will take us past coastal dunes and clear lakes, dense beech-maple forests, and bluffs that tower nearly 500 feet over the water. You'll need to see it to believe it. And on Shoreline West, you get just that!
According to Ojibwe legend, the lakeshore is named after a mother bear who fled with her two cubs from a forest fire on the Wisconsin shore of Lake Michigan. The three of them swam across the lake, but upon reaching the safety of the opposite shore, the mother realized that her cubs were nowhere in sight. She decided to wait for their return. The Great Spirit, impressed with her resilience, created the North and South Manitou Islands to commemorate the cubs, and then covered the sleeping mother bear with sand. The mound that is the original 'sleeping bear' can still be seen today.
Glen Arbor provides an ideal opportunity to stop for lunch and enjoy some local cherry delights. As we leave town, the scenery will change again into the rolling hills of peaceful farming communities. After a few challenging climbs, you'll be rewarded with a long descent into Traverse City. Tonight Dawn Fresh Catering is back to provide us a hearty meal so you have the energy to start exploring the many attractions that make this the Cherry Capital of Michigan!
Riders who opted for the Early Check-in when registering may check-in at the Civic Center in Traverse City today from 3:00 – 5:00 pm.
Wed 8/5/2020 - Layover and Traverse City Check-In
After a few challenging days of riding, you owe it to yourself to take it easy during our layover day! The Traverse Bay area is one of the top vacation destinations in the Midwest, and you're sure to see why as you explore all of the wonders that it has to offer – from local wineries and breweries to kayak tours to independent boutiques, you're sure to find something that strikes your fancy.
For those whose legs are still itchy for more pedaling, feel free to cruise up the Old Mission Peninsula, which is known for its beautiful homes, bright cherry orchards, and plentiful wineries. It is also possible to visit the Old Mission Lighthouse, established in 1870 and deactivated in 1933. These routes are unsupported but you'll find plenty of places to fuel and hydrate.
Today starts with Dawn Fresh serving us breakfast, but not lunch or dinner, so you're free to enjoy some of the best restaurants in northern Michigan. Check at the info desk to see if there are any coupons for local dining and attractions. LMB will also offer you a chance to rest your legs but still see the area with two charters today, One to Old Mission Peninsula on a tour of local wineries and the second on a rambling tour of several local downtown breweries and distilleries. For those who want to see the town on their own, there is an extensive bicycling infrastructure along with public transportation and rideshare options, so get out there and enjoy!!
Riders who opted for the 3-day portion of Shoreline West can check-in today from 3:00 – 5:00 pm (recommended), and Thursday, August 6, 6:30 – 8:00 am.  Please bring your confirmation letter and photo ID to check-in. Camping will be at the Civic Center. Your first meal will be breakfast on Thursday, 6:30 – 8:00 am so go out and enjoy dinner in Traverse City!
Thu 8/6/2020 - to Charlevoix (58 miles)
It's Sunflower Day!! Wear your favorite sunflower or yellow jersey! For those sunflower lovers among you, this will be your lucky day! Dawn Fresh is back to cater our breakfast. Afterward, we will strike out from Traverse City along the TART Trail before curving to the north as we head towards Elk Rapids, a small town situated right between Lake Michigan and Elk Lake. This is the best time to get your sunflower fix – the fields approaching Elk Rapids are absolutely full of them! Once in Elk Rapids, you'll find many food options including bakeries, coffee shops, ice cream, a cajun restaurant, Shorts Brewing Company, and Ethanology a micro-distillery.
After leaving Elk Rapids, we ride along Michigans longest inland lake, 19-mile long Torch Lake. Shortly after rejoining US Bicycle Route 35, around mile 37, we'll pass Pine Hill Nursery, yup it's a traditional nursery but they also have a great lunch menu where you can refuel. Between here and Eastport you'll ride along the ridge and pass several farm-stands where you can get fresh local products until we turn onto Old Dixie Hwy.
We will continue north, hugging the coastline as we pass through tiny villages. Blink, and you'll miss them! The terrain becomes slightly hilly as we approach Charlevoix, but you'll be rewarded by the most peaceful and secluded campsite of the whole ride. Tonight your in for a special treat as Dawn Fresh provides us dinner. Tonight and tomorrow's breakfast is their last day with us, so take a moment to thank them for the great food and service supporting Shoreline West!! After dinner, sit outside and enjoy the stars.

Fri 8/7/2020 - to Harbor Springs (three options)
GIVE ME AN S!! Today is Spirit day! Show up for breakfast (again provided by Dawn Fresh) wearing your favorite jersey featuring the school, club, or ride. We will gather for a photo in the morning before rolling out on our penultimate day for Harbor Springs.
For this journey, riders have three options:
Little Travers Wheelway – The champaign route with awesome views of Lake Michigan and gentle grades.  Ride the Little Traverse Wheelway route on a more-or-less direct path from Charlevoix through the town of Petoskey and into Harbor Springs. This beautiful trail passes multiple locations where you can stop, enjoy Lake Michigan and visit many local businesses.
Ironton Ferry – The GC route using the Ironton Ferry, a little bit of everything with few more miles and a few more hills. Enjoy the Ironton Ferry route, which features a four-car cable ferry that crosses a narrow point on the South Arm of Lake Charlevoix. After getting off the ferry, continue along Lake Charlevoix into East Jordan and Boyne City where you can refuel at many of the local restaurants and cafes. From there you'll continue on wooded roads that head north to join the Little Traverse Wheelway just outside of Petosky.
KOM – Miles and miles of hills including "The Wall".  A wooded route that follows the south arm of Lake Charlevoix, through the quaint ski towns of East Jordan, Boyne City, and Walloon Lake. As you prepare to leave East Jordan you'll turn onto Division Street and start climbing towards your date with destiny to test your mettle against the infamous Wall –  a half-mile that hits 18% plus grades and has many a rider pushing their bikes. The reward is an easy ride into Boyne City where you can refuel at the many local restaurants and cafes. From there you'll continue on the wooded roads of the GC route that head north to join the Little Traverse Wheelway just outside of Petosky.
Regardless of how you get there, Harbor Springs offers much to the touring cyclist. The ride into town along Beach Drive takes us past some beautiful summer homes, while Harbor Springs itself hosts gift shops, great restaurants, tasteful art galleries, a large marina, ice cream, coffee and fudge shops galore! It's fitting that we share our last meals tonight and tomorrow morning supporting local schools. Harbor Springs Schools always does a fantastic job feeding our hungry group and we're grateful for their help!

Sat 8/08/2020 - to Mackinaw City (43 miles)
Ride end.
Post-tour bus returns to Montague.
The final day,  Shoreline West ends with a scenic smorgasbord!! As you pedal through the historic and endlessly scenic Tunnel of Trees, along the shores of Lake Michigan and sneak a peek of the Mighty Mac on your way to our final destination of Mackinaw City, your mind is sure to be overflowing with all of the memories made over the past days. The final day is a beautiful sendoff and sure to fill your feed with awesome pics.
Passing through the town of Cross Village, be sure to stop and check out the Legs Inn where we'll have a Super SAG stop complete with snacks and hydration. The historic building is built on a bluff overlooking the lake, so it's a great place to fuel up while looking out on the lighthouses and islands visible from the back. As we cycle past Sturgeon Bay and reach Cecil Bay, make sure to stop by the Cecil Bay Trading Post and grab yourself an ice cream cone! If you're riding the bus back, make sure to get here by noon so you'll have pleeeenty of time to enjoy pictures at the Mackinac Bridge!
Once you see the unmistakable towers of the Mackinac Bridge, you'll know that you're nearing our destination. Enjoy these last few miles, visit Fort Michilimackinac which began in 1715 as a French outpost, then head back to the Mackinaw City Rec Center. Here we bid our new and old friends goodbye, rest our legs and start planning for next year!
The Post-Tour Bus back to Traverse City and Montague departs Mackinaw City Recreation Center at 2 pm. If you are riding the post-tour bus, you will not have time to visit Mackinac Island.
---
Bicycle
You can ride any bicycle in good mechanical condition on Shoreline West. This includes trikes, recumbents, tandems, unicycles, and e-bikes. Mountain, hybrid, cyclocross, and gravel bikes will have a blast on the routes. If you are using a standard road bike or touring bike, we recommend fitting the widest possible tires for comfort. All main routes on Shoreline West are paved. Any optional routes or loops labeled "Gravel" are best attempted with a 32c or wider tire.
---
For more information about Shoreline West check out the
---
Bus Options
LMB offers two busing options to ensure you and your bike get back to your car after ride's end:
Pre-Tour Bus – Aug. 1 from Mackinaw City to Montague – $75
Post-Tour Bus – Aug. 08 from Mackinaw City to Traverse City and Montague – $75
Bus tickets can be purchased during registration or by clicking on the button below.
Please note that riders who are signed up for the post-tour bus will not have time to visit Mackinac Island at the end of the ride.
For additional information concerning busing, please consult the
Shoreline West 2020 Rider Info Guide.
---
Mackinac Island Ferry Tickets
Don't miss out on your chance to visit car-free Mackinac Island – voted one of America's best islands by Condé Nast in 2018. Sample delicious fudge, enjoy a horse-drawn carriage ride, or simply marvel at the countless breathtaking views scattered throughout miles of protected wilderness. With no cars to get in your way, you're sure to love the time spent pedaling around the island – and around, and around…
Tickets can be purchased during registration or by clicking the button below. They can be picked up from the Shepler's Ferry booth in Mackinaw City. Please note that riders who are signed up for the post-tour bus will not have time to visit Mackinac Island at the end of the ride.
For additional information concerning Mackinac Island Ferry tickets, please consult the
Shoreline West 2020 Rider Info Guide.
---
Shoreline West 2020 Jersey
We're still designing the 2020 Jersey so stay tuned to your email for the big reveal of our 2020 Jersey. For 2020 we'll be offering different styles along with women's and men's sizes!
But you can still order the 2019 Jersey along with our other LMB Gear (note sizes limited on some styles):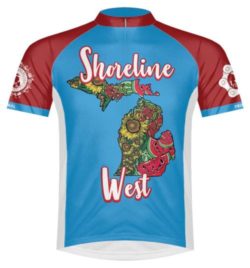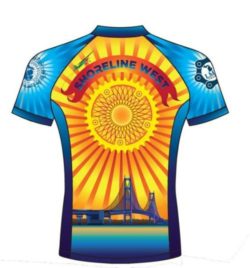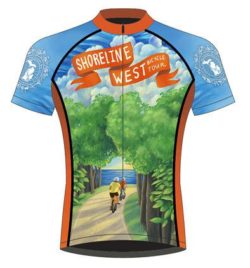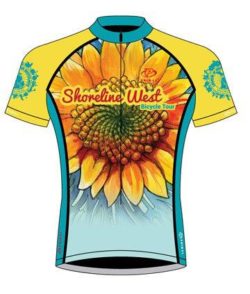 ---
T-Shirt Upgrades
A standard cotton T-shirt is included with all registrations. Upgrade to a moisture management performance fabric T-shirt for $20. We're still designing the 2020 t-shirt so stay tuned to your email for the big reveal!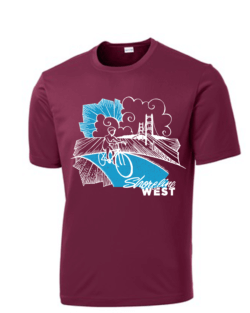 ---
Tent Services
Tired after a long day of riding? Camping not exactly your specialty? No worries. Joining us for their eighteenth year on Shoreline West, Bubba's Pampered Pedalers are ready to cater to your every need.
Amenities provided by Bubba and his crew include tent setup and teardown, air mattresses for added comfort, bath towels, baggage transportation, and much more. Click the button below to check out a full list of benefits and to register for pampering.
And remember: with Bubba, it's ALL GOOD!

---
Testimonials
From Our Riders
"I love Michigan, to ride my bike, and this tour was like a trip back in time to childhood places I knew and loves. I really enjoyed meeting so many people from all over…that be the best part of the trip!"

B. Flannery, Highland, MI

"I love the beautiful route! I love that there are too many things to do each day. I love the wonderful, helpful staff and volunteers! I love the maps and daily information sheets. Loved all of the fruit and vegetables offered with the meals. I've done numerous state rides over the years and while they all have something to offer, this is my all-time favorite ride."

J. Grey, Milton, FL

"It goes through a beautiful part of the state; wonderful to meet so many people from out of state and fun to 'show off' Michigan. Makes me proud to be a Michigander. I like large group rides, and I like the energy it generates."

D. Sherman, Honor, MI

"Not being familiar with Michigan, I enjoyed seeing the beautiful countryside and becoming acquainted with the charming towns along the route. Specifically, I enjoyed the miles of Michigan's respect for keeping the countryside trash-free. The spectacularly crystal-clear lake water was stunning, and being an avid swimmer, I made sure that I took time out from riding to get some laps in! I also enjoyed meeting so many nice bicyclists who participated in the ride. One of the most incredible highlights of the ride were the long-term volunteers who were the backbones of the tour."

J. Dvorak, Columbus, IN
---
Safety Requirements
Helmets are required whenever a rider is on a bicycle.
Riders must be able to ride 60+ miles a day. The terrain can be hilly.
Riders must carry spare tubes and be able to change a flat tire.
Riders must have at least one and preferably two water bottles on their bicycle.
Riders must have a positive attitude at all times!
---
Learn about our cancellation policy
---
Location
4900 Stanton Blvd
Montague, MI 49437