League of Michigan Bicyclists is proud to host the online home of Share-a-Bike.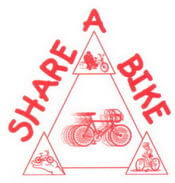 The Share-A-Bike Program is a community bike project, operating out of the red trailers behind the East Lansing Fire Station No. 1, 1700 Abbott Road. The Program, started in 1994, has given away thousands of bikes (in adult and childrens sizes) and helmets to needy folks over the years. Each person must present a letter of reference from a human services agency, religious organization, or employer saying they can't afford a bicycle.  The letter must be on the organization's letterhead and include the person's name.
Summer hours (April thru October) are every Saturday morning from 9 til 11 a.m. (except the Saturdays BEFORE AND AFTER Memorial Day, the Saturday celebrated with the 4th of July, and Saturday BEFORE Labor Day).  During the winter we're open every 2nd Saturday of the month, same time.  For information, call Mike Egan (517) 627-3797 or Dick Janson (517) 675-7340. You can also email Dick Janson at [email protected].
Oct. 2020 Update: For the protection of the firemen, Share A Bike is prohibited from distributing bicycles from behind the fire station at 1700 Abbot Road in East Lansing at least through the end of 2020, and probably beyond. When we re-open, we will try to contact all of the organizations that provide vouchers to those of you who need bicycles. Each previously issued voucher / letter will still be valid for the person it was issued to.
Donations
We receive many used bicycles every year. We repair what we can, and salvage parts from those we can not repair. Sometimes, bikes need parts we don't have enough of, like brake pads, cables, and rear wheels. We buy helmets by the case to get a decent price, then give them to recipients. We can provide you with a receipt for your tax records. If you have any bikes or bike-related items to donate you can drop them off anytime.
If you want to make a cash donation, please make your check payable to Share-A-Bike.
Mail to:
Mike Egan
8201 W. St. Joe Hwy,
Lansing, MI 48917
$10 can buy brake pads for a dozen bikes. $25 can buy tools. $100 can buy an air pump.
Supporters
Tri-County Bicycle Assn
League of Michigan Bicyclists
MSU Bikes