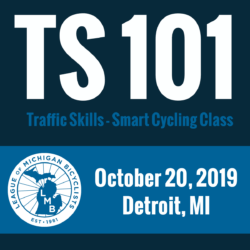 Attention to anyone interested in bicycle education: LMB will be hosting a Traffic Skills 101 class in Detroit on Sunday, October!
The Traffic Skills 101 course is designed for cyclists who want to become more confident in riding on the streets and riding with traffic.  For anyone interested in becoming a League Cycling Instructor (LCI), this class is the required first step in becoming an LCI.
The Traffic Skills 101 course provides an overview of how to ride safely and legally in traffic.  It aims to give cyclists the confidence to ride more often and to more destinations.  Specifically, the course topics will include:
Bicycle laws
Rules of the road
Lane positioning
Crash prevention
This course will include an online component prior to the five-hour hands-on course focused on handling skills, emergency maneuvers, and on-the-road training.  The online component must be completed prior to the on-the-road training.
Traffic Skills 101 course details:
When:     Sunday October 20, 9 AM – 2 PM
Where:    Garvey Academy, 
2301 Van Dyke St, Detroit, MI 48214
Cost:       $35 (covers course and lunch)

Other:     Online component to be completed prior to course
To register, please use this
link.
  Registration will be available until Thursday, October 10 at 5 PM.
Location
2301 Van Dyke St.
Detroit, MI 48214