LMB is thrilled to announce the recipients of funds from the 2019 Micro-Grant Program!
The projects that received funds through the 2019 Micro-Grant Grant Program are:
MoGo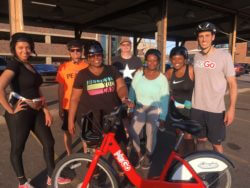 MoGo is Detroit's first public bike sharing system, with 430 bikes at 44 stations across 10 Detroit neighborhoods. Designed for quick trips around town, MoGo is a fun, flexible, and convenient way to get around. Their Micro-Grant helped fund the MoGo Street Skills that provided free public bike safety education for people of all ages and cycling abilities to promote proper biking techniques and inspire confidence on two wheels.
Below is some feedback from participants in who took the Street Skills class, made possible by LMB and Micro-Grant donors:
"This experience would not have been possible if not for the generosity of others. I was provided basic road instructions while street cycling in a friendly and informative manner. I had a terrific time!"
"I was impressed. I love riding my bike but was almost hit by a car last year. And I have been afraid since. This class helped me overcome my fear and made me more knowledgeable of riding with traffic. Ex. How to change lanes and signaling. Everyone should take a class like this before riding in the city streets!"
Northwest Goldberg Community Park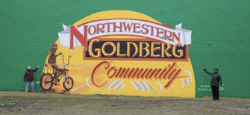 The 15th Street Block Club in Detroit applied for a Micro-Grant to build a bike repair station and bike racks in a run down park in their neighborhood. They hoped that installing these would encourage the neighborhood to use the park more and that the city of Detroit would respond by supporting their efforts to clean up the park.
Thanks to their hard work and a Micro-Grant from LMB, that's exactly what happened. Shortly after the bike repair station and the bike racks were installed, the city provided the funds for them to paint a mural and add benches and a path in the park. The addition of the bike repair station and bike racks has also caught the interest of a local news source, ModelD:
"Over the decades, it fell into disrepair, and the city eventually removed the playground equipment. The 15th Street Block Club adopted the park in 2011 to help restore it to its past glory. Last year, the block club obtained a grant from the League of Michigan Bicyclists to install bike racks and a bike repair station. The city installed the new bike benches, and a path running through the park. The city also arranged for the new mural.
The 15th Street Block Club cares for the park year-round. It also participates in community events, including programming for children like the neighborhood trunk or treat. Seay and Evans want the neighborhood to be welcoming to children and eventually want to see playground equipment installed in Crockett Park again.
"We wanted to put something in this neighborhood that's accessible to the children that live here," Evans says.
Evans, who was born in the neighborhood, moved back 5 years ago and appreciates the sense of community in the neighborhood. She says, "We don't always agree on everything, but an awful lot of times, when something's going on, you get a lot of people to chip in. And that's kind of gratifying."
You can read the rest of the article here:
https://www.modeldmedia.com/features/parks-nw-goldberg-032420.aspx
Salem-South Lyon District Library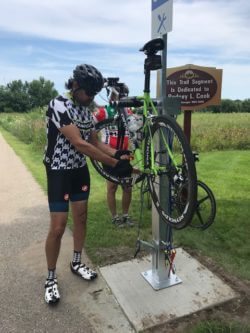 The Salem-South Lyon District Library, in partnership with the South Lyon Cycle shop, received a Micro-Grant to install a bike repair station at the library. The Huron Valley Rail Trail is adjacent to the library and the installation of the bike repair station will help to ensure a safe place for riders to repair their bike if they should need it.
"We knew there was a young family who came to the library often and they were usually coming by bike unless it was snowing. Shortly after the bike rack was installed, one of their children got a flat tire on the way to return a book. The parents were able to teach their child how to change a flat tire using the station. It was a great learning moment for the kid and we know the bike repair station is getting a lot of use!" – Kelly Soerens, Salem-South Lyon District Library
Capital Area District Library – South Lansing Branch
The South Lansing Library Branch saw a need to make bicycling to the library an easy and accessible way to access the library's resources. Patrons would come in to ask for bike locks when they arrived or ask to store their bikes inside the library because they were worried about theft or all of the four bike rack spots were taken.
"We wanted to make the South Lansing Branch bike friendly. Before we installed the bike rack we had inadequate parking for bikes. It was our goal to provide more bike parking and locks to check out, so that more patrons felt comfortable and safe riding their bike to the library, and LMB made that possible." – Melissa Cole, South Lansing Library Branch
St. Anthony of Padua Parish – Mackinaw City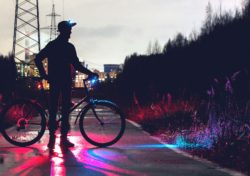 The St. Anthony of Padua Parish in Mackinaw City saw a major safety crisis in their community. There were hundreds of international workers that came to the area every summer to work in the tourism industry and many of them were riding their bikes home after shifts in the dark without any lights. Their Micro-Grant application was for lights to provide to these bicyclists to keep them safe.
"Thanks to a grant from LMB, we were able to outfit every bike we loan to international summer workers with front and back lights. This is very important since 99% of the bikers ride distances to their housing units late at night. Since we are a tourist area, we worry that drivers are extra distracted and not watching for bikers. I believe the front and back lights on the bikes made the riders more visible and helped prevent what could have been serious accidents. We are extremely appreciative of the Micro-Grant and could not have added this safety feature to our program without your help. Thank you." – St. Anthony of Padua Parish
Huron-Clinton Metroparks
Huron Clinton Metroparks applied for a Micro-Grant to add a handcycle to their fleet of rental bikes. This handcycle would make bicycling through their beautiful metroparks accessible to people with limited or no leg mobility.
"The handcycle we purchased with the Micro-Grant from LMB funds will be available in our bike rental fleet for the entire season of warmer months. In addition, we're working hard on a campaign to advertise the availability of this accessible bike and will be undergoing construction of our first handcycle- accessible mountain bike trail, which will give us an opportunity to further promote the use of the handcycle." – Huron-Clinton Metroparks
Congratulations to all the Micro-Grant recipients! We truly wish all those who applied the best with their projects.
Check back on the LMB website for updates about the progress of our Micro-Grant recipients.