May 11th 2022
The Ride for Peace will occur in various towns throughout the great state of Michigan. This FREE all ages event will be co-hosted by a number of groups and clubs across the state. If you want your town, group, club, or shop to be a part of this event reach out to [email protected] and we can get you set up.
Ride Locations are listed below and will be updated as more locations come on board. These rides are being lead in some locations by LMB staff and in other locations by clubs, teams, and organizations that are helping to support the efforts. We cannot thank all of them enough for chipping in on this. Click on the cities below to see that city's specific event.  If one of these times and locations do not work out for you check out the alternate events below.
Lansing: 6:30 pm River Trail  starting at the LMB Office located at 410 S Cedar St. Lansing, MI 48912
Detroit: 6:30 pm City Streets starting at Lexus Velodrome located at 601 Mack Ave Detroit, MI 48201
Flint: 6:00 pm Flint River Trail starting at the Flint River Watershed Coalition  located at 630 W. Kearsley St. (Overflow Parking Lot) Flint, MI 48503
Brighton: 6:30 pm Mike Levine Lakelands Trail Starting at JC Penny's in the Green Oak Mall located at 9480 Village Pl Blvd Brighton, MI 48116
Traverse City: 6:00 pm. F&M Park Corner of Washington St. and Railroad Ave Traverse City, MI
Clarkston: 6:00 pm Independence Elementary School 6850 Hubbard Rd. Village of Clarkston, MI 48348 A and B group paces.
Grand Rapids: 6:30 pm City Built Brewing Company 820 Monroe Avenue NW Suite 155 Grand Rapids, MI 49503
To Register click on the "VISIT WEBSITE" button on the right hand sidebar. Or click HERE
ALTERNATE DATES/TIMES:
Linden: May 10 6:00 pm Linden County Park 15349 Linden Rd. Linden, MI 48451 17 Mile Gravel Road Route.
Traverse City: June 9th 5:00 pm Darrow Park out and back 5.5 Miles to Farm Club.
On May 11th 2022 at the time listed near the city of your choice, the LMB will partner with cycling organizations across the state to host a Ride for Peace to ride in solidarity and show support for the relief efforts in Ukraine and neighboring countries.
This ride is a part of a broader program we here at the LMB have been organizing to aid in relief efforts. Please visit our RallyBound page for details on how you can help raise funds for the World Central Kitchen. Or scroll down on this page for quick links to buy a jersey, stickers, or make a donation to the cause.
We stand in solidarity with the people of Ukraine. No moral person can support this senseless war. We insist on an immediate ceasefire and an end to the Russian invasion.
To put these words into action, the League of Michigan Bicyclists (LMB) is offering a custom Ride for Peace jersey and t-shirt for a limited time. Both are designed by Zoya Shevchenko, an LMB staff member whose family members are in Ukraine and whose artist statement is below.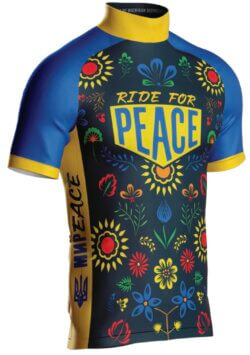 BUY A JERSEY
BUY A T-SHIRT
EARN A JERSEY
DONATE TO WCK
All proceeds from sales of the jersey and Ride for Peace sticker, aside from production costs, transaction fees and shipping expenses, will be donated to World Central Kitchen for refugee relief in Ukraine and surrounding countries.
Pre-orders open until May 1 (jerseys and shirts will be shipped 7-8 weeks once the order is placed on May 2)

Purchase the jersey for $85 + $5 shipping or earn a free jersey if you fundraise $250 to support WCK
Of the $85 minimum purchase price, at least $60 goes to WCK (exact amount depends on quantity produced and shipping cost; Primal has agreed to a special, sharply discounted production rate)

The Ride for Peace jersey and t-shirt is high-quality, breathable fabric, manufactured by Primal

Both are available from XS to 5X sizes

SpeedPro Fabric; Raglan Sleeve Style; 3 Rear Cargo Pockets; Standard Fit

The jersey is Full-zip design

The Ride for Peace sticker is also available; of the $5 minimum purchase price, at least $3 goes to WCK

You can also choose to raise funds for WCK through this platform! Raise at least $250 and receive a Ride for Peace jersey as a thank you. To learn more about this, click on the "event info" tab above.
​​
ABOUT WORLD CENTRAL KITCHEN (WCK)
All net proceeds from the sale of the Ride For Peace jersey, aside from production costs, transaction fees, and shipping expenses, will be donated to World Central Kitchen (WCK) for refugee relief in Ukraine and surrounding countries.
Founded in 2010 by Chef José Andrés, WCK is first to the frontlines, providing meals in response to humanitarian, climate, and community crises while working to build resilient food systems with locally led solutions. WCK has served more than 60 million fresh meals to people impacted by natural disasters and other crises around the world. 
With bombs still falling day and night, millions of Ukrainians continue to flee the country or relocate west to the city of Lviv. In response, WCK is rapidly expanding its #ChefsForUkraine response to distribute food—including hot, fresh meals—in five countries. WCK has now opened a kitchen and food supply depot in Poland, right on the border with Ukraine, and has multiple warehouses active in Lviv where trucks are filled with food to head east reaching cities like Odessa and Mykolayiv. WCK is also supporting more restaurants to serve meals in Ukrainian cities including Kharkiv and Kyiv, which remain under active attack.
ARTIST STATEMENT
When I envision Ukrainian garments, I think of flowers: beautiful, flowy blouses covered in intricate daisies, poppy, and sunflowers, hand-embroidered in the brightest shades imaginable. I picture a flower crown braided from a captivating bouquet, resting above a long braided hairstyle. In my jersey design, I tried to mimic Ukrainian folk art and its abundant use of these elements. On the sides of the jersey, you will find the word мирeace. This is actually the word for peace in both Ukrainian – "мир" – and English – "peace" – merged into one. The jersey's collar also features a gold trident, the Ukrainian Coat of Arms and a symbol of protection. The deep azure on the sleeves and maize on the cuffs, borrowed from the Ukrainian flag, represent the country's calm blue skies and expansive wheat fields. 
Albert Camus' words on the back of the jersey speak for themselves — there is simply no territory or economic gain worth more than human life. For me, peace means safe living conditions for my grandmother and aunt. It means turning on the news and no longer seeing my family's country up in flames. It means feeling confident in my own future and that of mankind. Today, tomorrow, and every day that follows, I ride for peace.
– Zoya Shevchenko, Design and Communications Associate, LMB
ABOUT THE QUOTE
The quote featured on the back of the jersey, "peace is the only battle worth waging," is taken from an essay by Albert Camus in response to the atomic bombing of Hiroshima in 1945. It concludes:
Let us be clear about this. If the Japanese capitulate through intimidation after the destruction of Hiroshima, we will rejoice. However, we refuse to take anything from such grave news other than the determination to plead even more fervently for a veritable international society, where the great powers will not have greater rights than those of small and medium-sized nations, where war—a plague made into a reality solely by the application of human intelligence—no longer depends on the appetites or doctrines of one state or another. In the face of the terrifying prospects opening up to humanity, we see more clearly how peace is the only battle worth waging. It is no longer a prayer but an order which should rise up from the people to governments, the order to definitively choose between hell and reason.
RIDE FOR PEACE STICKERS
The Ride for Peace sticker is a perfect companion to the jersey. 3" by 3" vinyl die-cut sunflower design. Perfect for your water bottle, vehicle bumper, laptop, or journal cover. Click here to purchase.
1 for $5

3 for $10

10 for $25
All proceeds from sales of the jersey and Ride for Peace sticker, aside from production costs, transaction fees and shipping expenses, will be donated to World Central Kitchen for refugee relief in Ukraine and surrounding countries.
Location
Ride For Peace
Various Cities, MI