Come Learn With Us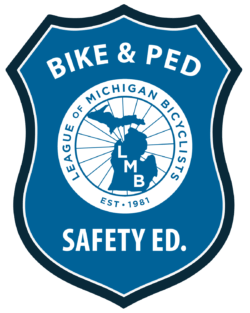 On how to identify legal vs. illegal behavior by motorists, bicyclists, and pedestrians – and make sure you are traveling safely and within the law. The League of Michigan Bicyclists is offering multiple sessions of Bike & Pedestrian Safety Education, a newly updated version of its educational program for law enforcement professionals and the citizens of the communities they serve.
Learn Michigan's laws related to bicycle and pedestrian use of the roadways
Learn how to accurately report bicycle and pedestrian-involved crashes using the UD-10 form
Explore new approaches to traffic safety through data and reimagining traditional practices through the lens of equity, empathy and ethics in transportation
Law enforcement will receive MCOLES credit for participation
After this session, you'll be ready to educate and enforce bicycle and pedestrian laws correctly when on duty, and help your friends and family drive, ride, walk, and wheel safely off duty. This material was developed through a project funded by the Michigan Office of Highway Safety Planning and the U.S. Department of Transportation.
Whether on patrol by foot, car, motorcycle, or bicycle, your officers will benefit from this free, 3.5-hour course, co-presented with the Michigan State Police, and accredited by the Michigan Commission on Law Enforcement Standards (MCOLES).
---
Courses in 2022
In Person Courses
October 12, 2022
8:00 a.m. – 12:00 p.m.
Wisner Center
2870 Jacksmith Ave. SE
Grand Rapids, MI 49546
Attendance limited to 40 people
After clicking the "Learn More and Register" button below you will receive a pop-up requesting you "create and account". Please "x out" of the pop-up and complete your registration.
Masks may be optional based on local requirements and trainings will follow all state COVID-19 Guidelines. 
Instructors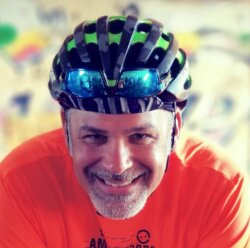 Jeffrey Carek is the Education Director for the League of Michigan Bicyclists.  Jeff retired from the Washtenaw County Sheriff's Office in 2016.  Following his retirement, he served as the Assistant Director for Public Service Training at Washtenaw Community College.  Most recently Jeff worked for MILO Cognitive as the Training Content Specialist.  He is an avid cyclist who embraces every aspect of the sport.  Along with riding he enjoys van life and anything outdoors with his wife, Wendy, and their three dogs.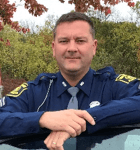 Sergeant Scott Carlson has been with the Michigan State Police for over 24 years. He is currently assigned to the State Police Traffic Crash Reporting Unit as the statewide training coordinator for the UD-10 Traffic Crash Report. Sgt. Carlson also chairs the Capital Area Traffic Safety Network, which helps provide solutions to traffic safety issues in Ingham, Clinton, Eaton, Jackson, Hillsdale, and Lenawee counties.
---
Questions?
If you have questions or think that your community would be a great place to host a training, please contact course instructor Jeff Carek at [email protected].
---
This material was developed through a project funded by the Michigan Office of Highway Safety Planning and the U.S. Department of Transportation.