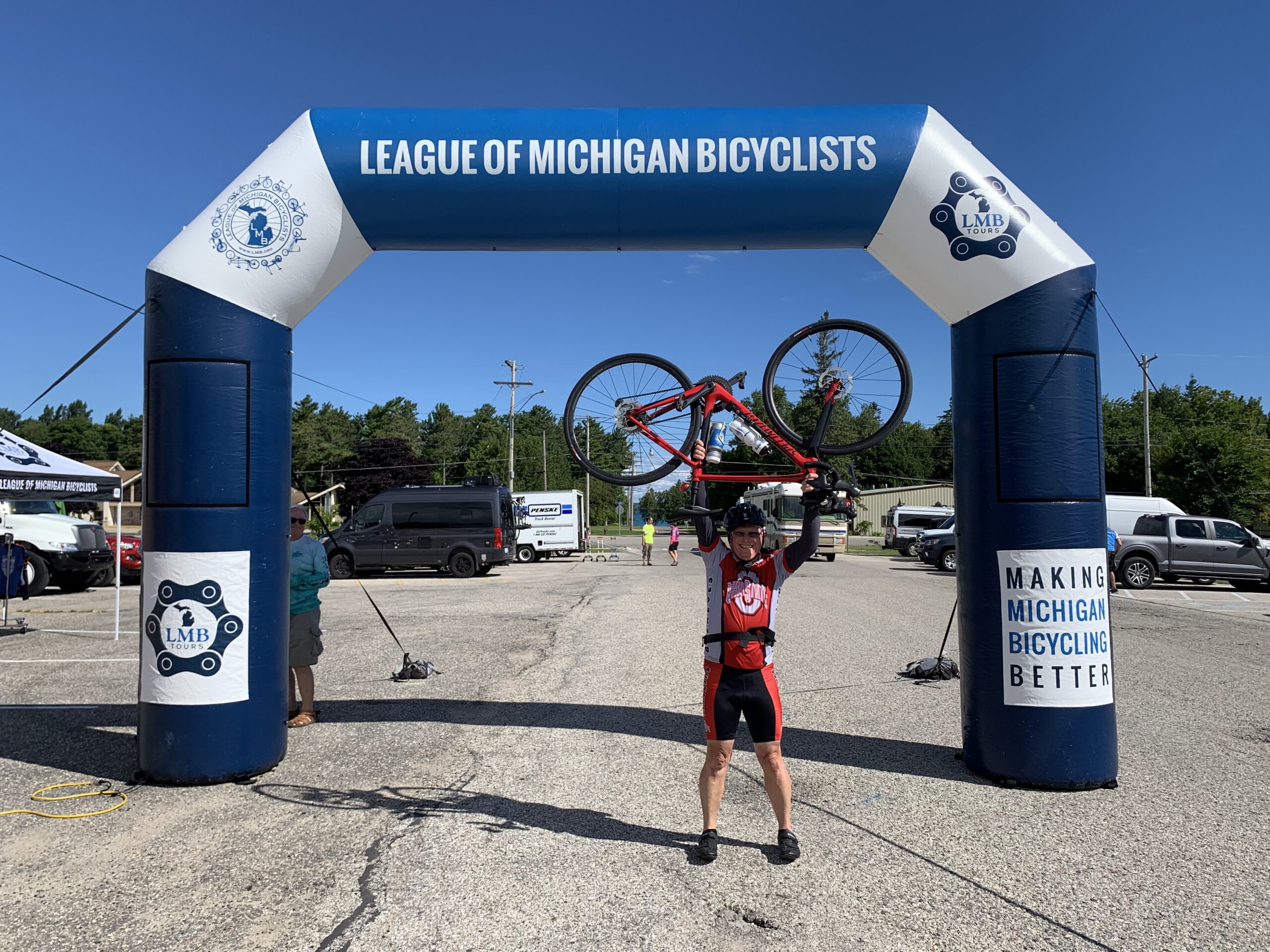 February 23, 2023
The League of Michigan Bicyclists is seeking a practiced storyteller and strong writer who loves bicycling and people who ride bikes to join our team as Communications Coordinator. This is a full-time remote/hybrid position open to any US resident who is willing and able to travel to our Lansing, Michigan headquarters when needed. 
As Communications Coordinator, you will be responsible for expanding the reach and sustaining the pace of LMB's communication about our efforts to improve lives through bicycling. You will be part of a team working to make Michigan a state where bicycling makes life better for everyone; serves as an everyday option for more people to commute, get around and have fun on roads and trails; and connects us to the natural world and each other.
PRINCIPAL DUTIES AND RESPONSIBILITIES
Advance LMB's mission to improve life through bicycling

Write content for articles, reports, editorials, press releases, newsletters, action alerts, website, social media, direct mail, and other publications

Design graphics, printed materials, and LMB merchandise using Adobe Photoshop, Illustrator and InDesign

Assist with content management on LMB's websites, including online store

Coordinate design and production for LMB publications such as the

Michigan Bicyclist Magazine;

coordinate and oversee contributing writers, and create content for magazine

Contribute to publication of the

Michigan Ride Calendar

, including data collection, design, and advertising sales

Market and grow ridership of LMB bicycle tours and events, including some travel (one to three days at a time) as needed to create marketing content and outreach for future events

Help to compose and execute membership communications including recruitment, retention, constituent relations, and direct mail solicitations, including annual and special appeals

Manage data and build lists, reports, emails and templates in Neon CRM, LMB's Customer Relationship Management platform

Assist in coordinating LMB programs including Micro-Grant Program, $1 Per Rider Program, Photo Contest, and annual awards

Work collaboratively with the Communications Director to jointly edit and polish pieces, follow LMB design and branding standards, maintain a consistent voice, and execute on communications strategy

Other duties and office responsibilities as needed in small non-profit environment
IDEAL QUALIFICATIONS
Previous experience at a non-profit organization or relevant business 

Previous experience in a communications or design role

Working knowledge of MS Office and Google Workspace

Working knowledge of email marketing best practices

Graphic design portfolio is a plus

Basic video production and editing experience is a plus

Extremely strong verbal and written communication skills and strong editor

Conscientiousness, strong work ethic with attention to detail

Professional demeanor, sense of humor, and a strong ability to collaborate

Capacity to solve problems and identify ways to complete tasks more efficiently

Self-motivated and self-directed, seeking guidance when appropriate

Enthusiasm for bicycling!

COMPENSATION & BENEFITS
$40,000 – $50,000 commensurate with experience and qualifications. Benefits include paid time off, health coverage, employer-matched retirement plan, flexible work environment, cellphone and wellness reimbursements, professional development opportunities including participation in LMB tours, and opportunities for bonuses.
SUPERVISION
The Communications Coordinator will report directly to the Communications and Advocacy Director.
APPLICATION
To apply, please send resume, cover letter, and three references as a single PDF to Matt Penniman at [email protected] with subject line Communications Coordinator. Feel free to include links to past work or a portfolio site in the cover letter. The PDF file should be named as follows: LastName_FirstName_CommunicationsCoordinator.pdf. The position is open until filled.
ABOUT LEAGUE OF MICHIGAN BICYCLISTS
At the League of Michigan Bicyclists, our mission is to improve life through bicycling. Cooperating with state and local agencies and other like-minded groups toward this goal, LMB is making Michigan bicycling better. LMB advocates for bicycle-friendly policies at the State Capitol; provides financial assistance to individuals and organizations with a shared mission; develops and promotes educational materials for bicyclists, motorists, engineers, and law enforcement; runs several annual multi-day cycling tours; and provides bicyclists with an annual Ride Calendar featuring statewide bicycling events. Founded in 1981, LMB is a 501(c)(3) tax-exempt nonprofit organization.
We envision a state where bicycling makes life better for everyone; serves as an everyday option for more people to commute, get around and have fun on roads and trails; and connects us to the natural world and each other. Our communities benefit through healthier people and stronger economies. Our transportation system becomes more equitable and environmentally sustainable. Our streets and trails are safe and accessible to people of every age, race, gender, ability, and economic status.
LMB is an equal opportunity employer, committed to creating a diverse and inclusive staff and workplace. All qualified applicants will receive consideration for employment without regard to race, color, age, religion, gender, gender identity or expression, sexual orientation, pregnancy, political ideology, marital status, national origin, ethnicity, genetics, disability, veteran status, and all the other fascinating characteristics that make us different. We strongly encourage applications from people who have historically been under-represented in the bicycle industry, advocacy, and nonprofit work. LMB strives to offer a COVID-safe work environment, doing everything we can to keep our team safe. Interviews for this position will be conducted virtually.
LMB is an at-will employer. This is a full-time exempt position. The above position description describes the position currently available and is not intended to be an employment contract. LMB reserves the right to modify the duties or position description at any time.
Categorised in: Uncategorized